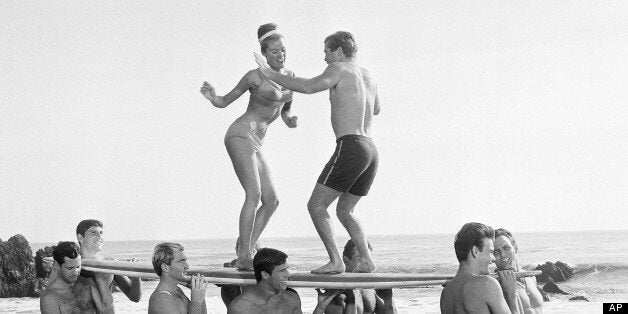 The story goes that when The Beatles landed stateside in 1964, they killed surf music. But one lone surf act escaped Americans' selective amnesia of what they had been spinning just months before: They were called The Beach Boys, and if you ask most anyone today, chances are they'll equate the genre with the band.
Talk to a few surf music purists, however, and they'll throw you a curveball: When The Beach Boys took over our consciousness as the official purveyors of the "sound of summer," they killed surf music.
How does surf music kill surf music? Let's backtrack. The Beach Boys, and similar-minded bands like Jan and Dean, were part of a school of surf rock that played up vocals and four-part harmonies. Their pop-friendly style was present in the American International Pictures beach party films of the early 1960s -- think "Beach Party" and "Beach Blanket Bingo." The series, which celebrates its 50th anniversary this July, sparked mainstream interest in surf music, but bears little resemblance to the instrumental surf that purists call the real thing.
"Surfers remained fairly loyal to the instro school while the general public lapped up the vocal school," Kent Crowley, author of "Surf Beat: Rock 'n' Roll's Forgotten Revolution," told The Huffington Post.
So what does real "instro" sound like? According to John Blair, who formed the '70s surf revival band Jon and the Nightriders, that question has been asked a thousand times to no avail. Geographically, the answer is located between the guitar and amp, in the reverb unit, which adds an effect to make the chords sound "wet and drippy." "Once you explain that to someone, they're still looking at you like they don't know what you're talking about," said Blair, who also wrote "The Illustrated Discography of Surf Music, 1961-1965."
Other approximations of the sound: Loud. Aggressive. Twangy. With a distinctive, staccato guitar picking pioneered by "King of the Surf Guitar" Dick Dale (who you may recognize from the Pulp Fiction soundtrack).
Or just picture these parallel universes: While Annette Funicello and Frankie Avalon were singing and dancing to surf on the big screen, Dale was blowing out amps (approximately 50 of them in all) and driving hundreds of stomping kids wild at a series of concerts at the Rendezvous Ballroom in Balboa, Calif.
"It was pre-punk punk," musicologist Elliot Kendall said.
Click here for a Spotify playlist of surf bands from the 50s to today.
Dale's deafening approach is why if you set up a Pandora radio station for Finnish surf rock band Laika & the Cosmonauts and let it go for a while, something strange happens — the music service's algorithm veers off course and hightails it for heavy metal. (Dale's second nickname? "The Father of Heavy Metal.")
Pandora — a music service that plays songs of a certain genre based on what artist the user selects — is perhaps best channeled for aberrations like this: discovering the weird trajectory of a genre like surf music, one that has spawned hundreds of local bands across the world, with crossovers to punk, heavy metal, ska and psychedelia.
That may really be why traditional surf music was unable to survive The Beatles: It was too local. While acts like Jan and Dean were enjoying national success pre-Beatles, instrumental surf remained a Southern California phenomenon. Blair describes the scene this way: When The Beach Boys came to local venues in SoCal, the kids literally threw vegetables at them.
"They thought they were purveyors of something fake," Blair said. "They thought they were putting something wrong on the face of instrumental music."
That's not to say vocal surf wasn't a legitimate form of surf music, or that the two camps can't coexist. But the second wave of surf that eventually reemerged in the late 70s had more in common with the first stirrings of punk than it did The Beach Boys.
"We were playing on the same stage with punk bands, and we were playing loud and we were playing fast," explained Blair, whose band was one of the leaders of wave two. "The kids were picking up on it because it was exciting, and not so dissimilar from the new wave bands."
The connection isn't lost on the beach partiers. In 1987, Funicello and Avalon starred in a parody of their own films, "Back to the Beach." The scene: Annette and Frankie are settled down in Ohio and decide to visit their daughter in California, only to discover their beach has been taken over — by a punk rock surf gang.
Check out our timeline of the evolution of surf music, from 1958 to today. (Disregard the days and months -- only the years are important here):
This story appears in the special Summer Issue of our weekly iPad magazine, Huffington, in the iTunes App store, available Friday, May 24.
Popular in the Community