I would travel the world to find such a place, and I was surprised it even existed: an oasis to surf, do yoga, and eat gourmet meals before the ocean, the sound of the waves a constant -- and nearby a tiny traditional town with little girls in burqas hopping through the streets, boys carrying boogie boards on their heads, and old men sipping tea. I had simply googled surf and Morocco, and found this place: SurfMaroc in Taghazoute. Yoga and surf go together, I learned: the balance of one informs the balance of the other. The surf-yoga combo is a hot new trend--at least in a handful of countries.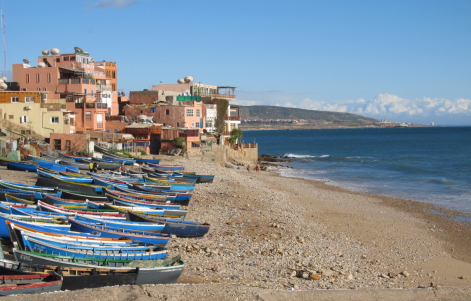 Started by two former university (and surfing) buddies from England -- Oli and Ben -- SurfMaroc is on the crest of this new trend. Since its launch eight years ago, it has expanded into three different sites, described to me, by one of their surf instructors, as first class, coach and economy: Villa Mandala, Villa Taghazoute and L'Auberge. I decided to stay at Villa Taghazoute myself, and, on arrival, I was charmed by its cozy upscale hostel feel. Right on the ocean, the villa has two terraces, one for the (fantastic) communal dinner and the other for sunbathing and yoga. The rooms are spanking clean (a feat with the surfing sand) with a thick Moroccan throw rug in each -- and from mine, I can hear the ocean waves against the rocks all night.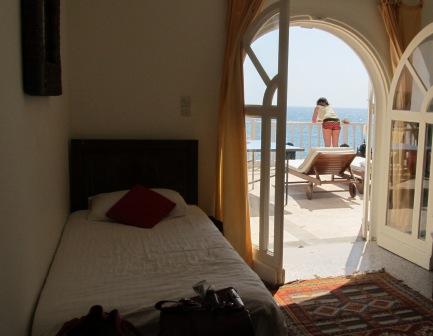 I was surprised that the "surf camp" -- for this is what Surf Maroc is -- has a particular appeal for women. Sharing the villa was a gathering of British schoolteachers on holiday, a Norwegian nurse, a few German NGO world travelers and a lanky Australian, all in their twenties and thirties, and mostly women. Perhaps it was because it is low season for surfing, and the waves are small, and women are just now entering the beginning surfing market in droves. Indeed, next month, the owner Oli informs me, the surf camp will feature an "all-girls" week, so none will feel intimidated by boys.
The surf-camp holiday also appeals to rugged surfer dudes. The waves of Taghazoute are world-famous; the surf champion Kelly Slater once rented an apt here, and nearby, a Saudi Arabian prince (perhaps a surfer?) has a beachside palace (enclosed by miles of red-stone walls).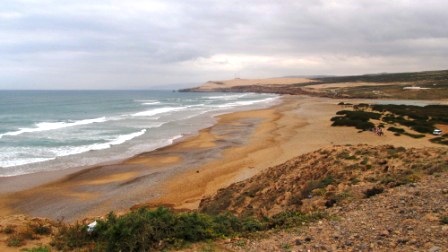 By my first morning, my incessant making-hundreds-of-deadlines in Paris mode subsided into a state I am rarely in: relaxed. To wake up and have as the morning's duty the challenge of trying a new surf board, with a group of cheerful British girls--on green waves that curled on a long dry rock beach, nestled in a desert grove, with cacti and salt-dried argan trees in the background (the source, I learned, of a massage oil only to be found in Morocco) -- is quite nice.
The only challenge was using a wet-suit for the first time: aside from a cold trickle of water down my back, it was squishily warm.
SurfMaroc provides boards -- and instructors on request. Kind-hearted Youness is the perfect instructor for me, not only because of the warm twinkle in his eyes, but because he has a detailed eye for technique. Within half-an-hour, he corrects a year of bad habits: my arms once flailed behind me, now they go in front. My left foot should move closer to the center when popping up. He also laughs in joy and waves his arms yahoo, yahoo, when I get a wave, asks me each time spray crashes my face: "ca va?" and promises me a new hair band when mine flies off my hair.
And he knows the basic rule of surfing; it's a mental exercise: "The most important thing is to believe in yourself." If you don't believe in yourself, you will never imagine riding an energetic stream of water.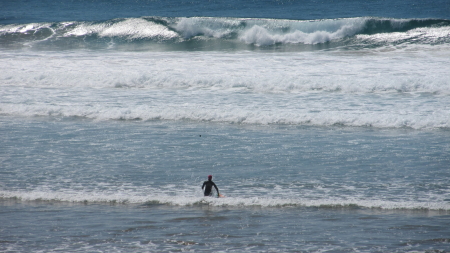 I surf all morning with Youness, the sea scattered with happy surfers (and camels, horses and dogs), each of them with the same addiction. It is addictive, surfing, perhaps because it washes you clean: in the rush of water, all worries and thoughts get wiped out. No wonder so many I have met have chased the waves from Indonesia to Hawaii, every chance they can. One factory owner from Denmark tells me he has been surfing on and off for years, in about ten different countries. And Laura, a schoolteacher in London, had saved her money up since Christmas to be here in Morocco. An easily pleased customer, she was smiling away in the waves, on her horse (bareback on the beach) and in the Auberge as well, delighted that the maid made up her bed.
After a tajine lunch in a dusty town (with bull heads displayed in the market), in a campy raucous "jump in the van" mode (this is surf camp), we scooted off to another beach, an hour north, to chase a swell. Too frightening a swell for the bulk of the group, beginners, who sun-creamed on the beach, but by the end of the day, I went off into the green waves with another instructor, Soufiane, who gallantly accompanied me, despite having tripped on a rock and twisted his knee badly. "Come," he winked, as we dove into the strong current. "Just remember, no fear, no panic," he added, waving his finger ironically, as the waves rose four feet high, knocking me off my board. For one hard stretch, he even offered me his non-injured leg, to hold onto, while he paddled out for both of us.
Wow! The adrenalin-thrill of making it far from the shore, to balance on a board in a huge green rolling tub, before a vista of deserted shrub mountains, the waves swelling and swelling before me! No need to even take a wave. ( I am one of the few surfers who enjoys paddling -- the chance to feel like a rubbery fish -- as much as flying on a crest).
I caught a wave and zipped and bounced all the way to the shore.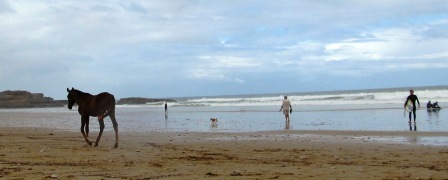 At sunset, the yoga class, to the sound of the waves, with only four students, and a very devoted teacher correcting every move, makes one remember that life, at its simplest, can be quite pleasant.
All the guests raved about their holiday, especially the attentiveness they get from the staff.
And the food. At sundown, the staff prepares home-made hors d'oeuvres -- chickpea dip, black olives, fresh guacamole and Moroccan breads -- as the guests gather on low couches to chat. Dinner awaits on the table: carefully arranged bowls of fresh vegetables and salads, grilled fish or lamb kebabs, followed by a home-made dessert. And no alcohol (this is a dry town), unless you bring your own.
At night, the guests play pingpong, and lounge under the stars.
It was a good idea to start the holiday in such a communal and friendly youthful environment. Nevertheless, out of curiosity, I shifted for my second week, to the upscale villa, a few miles south.
From the vivacious chatter of Villa Taghazoute, I suddenly entered deep silence, as the villa overlooks an undeveloped wide deserted beach, with at night just the sounds of frogs, waves, and grasshoppers (and the Muezzin's call for prayers), under a vast canopy of dark skies and a full glimmering moon. My room is elegantly simple, with a framed captured purple butterfly on the wall (morpho sega), small Moroccan glass vases on a shelf, and a king sized white bed.
The treat is the view on the distant mountains, with purple vine flowers growing on the stone wall below.
Another treat is the terrace above, overlooking the entire coast, with a beautiful yoga room with polished dark wooden floors and open windows. Owner Ben's wife is a yoga instructor, hence the added boon to the surf camp. Here I learn to do -- for the first time -- a headstand.
I also like the smell of linen soap that emanates down the long corridors. Everything smells freshly scrubbed, including the large communal bathrooms, tiled in Moroccan blue, where one can brush one's teeth while looking through a windowpane at the ocean crest.
Villa Mandala has a different feel to it, more isolated, private and elegant. After yoga, the guests of Villa Mandala, a range of couples in their thirties and forties, from a British investment banker and his primary school teacher wife to a UNCR resettlement officer, sit at a long dark table, to candlelight, by the swimming pool. If it were colder, we might have gone inside the camel-hair Saharan hut (like a squat teepee) constructed on the patio, or in the indoor dining hall, but tonight (the climate in April is ideal) the guests dine outdoors.
After dinner, the guests continue speaking in low voices, sipping mint tea.
I myself take off for a midnight walk along the beach, my only company three friendly stray dogs, that run alongside, under an enormous sky, the ocean waves crashing low to the shore, the stars quiet.

Along the same beach, the next evening, a Berber woman appears on the sand. She smiles, touches my arm, and leads me along to see her seven new pups, huddling under a shrub, and then her "garden" with frogs hopping in a night-dark pond. "Come," she says, inviting me into her home, where I sit on cushions and talk with her and her Guadaloupe-born husband about "living light" on the planet, especially after the eco-disasters in Japan.
"We must take care of Mother Earth," the husband says, with a grin.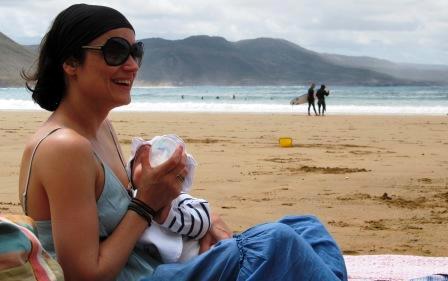 Surf Maroc is an ideal getaway for a vacation, if one wants a perfect formula to become centered, calm and restored -- and not necessarily see the country. The car picks you up at the Agadir airport, and scoots off to this protected retreat -- all for a very low cost (one can't even rent surf-boards in the US for the amount the accommodations cost here). The only downside, for me, was having to wait (some mornings) for tides to come in -- and being constrained to stay on the beach by the group van. (Perhaps rent your own car?) I recommend Villa Taghazoute for social fun, l'Auberge for relaxed backpackers (it is spick-and-span clean with great views), and Villa Mandala for an artist/writer/businessperson retreat -- or even to get some work done. One guest at Villa Mandala, a Canadian graduate student, worked on his grant proposals on the terrace overlooking the sea ("can't beat the quiet,' he said), and I myself -- exhilarated by the cardiac tumble in the waves (surfing makes your mind intensely alert) -- edited a novel.
You can also spend the afternoons in the local hammam, getting two hour massages by very sweet Moroccan women for less than fifty dollars (your feet washed with rose water; your ears massaged as well). Some of the wives of the surfer dudes did exactly that.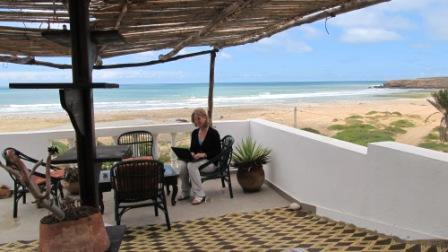 And here's to Morocco. It is a very friendly, relaxed country to be in, with a wonderful tradition of hospitality (one boy waited at the side of the road, to make sure I was safe walking home at night; the masseuse lady held my hand as she led me through a village to find batteries, smiling under her thin purple veil) and one of the mildest climates in the world, dry and warm, with a gentle breeze.
Popular in the Community