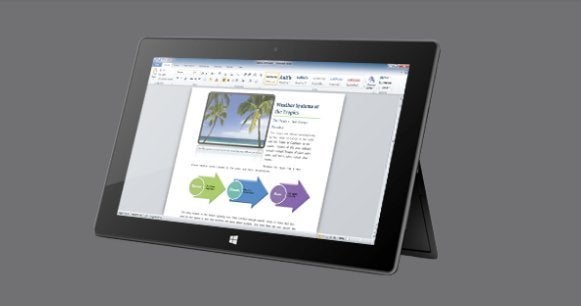 We really wanted the Microsoft Surface to succeed, if for nothing else but to light a fire under Apple to step its game up on the iPad. And with sales of the basic Surface RT apparently "modest," according to CEO Steve Ballmer, Microsoft needs its more heavy-duty Surface Pro tablet to catch consumers' eyes. After all, the Surface Pro comes with processing power that is supposed to appeal to Windows-using business types.
Too bad suits will hardly be able to open a spreadsheet without draining the battery down to nothing.
On Thursday, among the other details we learned about Surface Pro, set to hit shelves in January, Microsoft exposed a fatal weak spot in Microsoft's $899 super-tablet: It has half the battery life of Surface RT.
Microsoft has officially advertised the RT's battery life at 8 hours of reading and 7.5 of video time; some reviews, such as Engadget's, were able to eke out an extra 1.5 hours more. Thus, a conservative estimate for Surface Pro battery life would peg it at 4.75 hours. At worst, the tablet's battery life would last only 4 hours.
The iPad, by comparison, gets 10 hours of battery life "while surfing the web on WiFi, watching videos, or listening to music," according to Apple. What's worse, the iPad's price tag starts at $400 less than the Surface Pro.
Tech blog after tech blog has joined the pile-on that ensued over Microsoft's tweet. The New York Times' Brian X. Chen even tweeted a preemptive eulogy for the Surface Pro: "RIP in advance".
In 2012, a tablet device with a 4 or 5-hour battery life doesn't look all that appealing (especially when its price tag is significantly higher than the most popular device on the market). Users -- especially businesspeople on the road -- are away from power outlets for more than four or five hours practically every day.
Maybe Microsoft has another explanation. If it does, we're willing to wait for it because, again, the Surface was supposed to be a new hope against the Apple empire. Until then, Surface Pro may very well be D.O.A.
Update: Some readers have written in the comments section that the comparison between the Surface Pro and the iPad is misguided and that Surface Pro ought to be compared to the MacBook Air instead. It's true that it's difficult to decide whether the Surface Pro should be classified as a tablet or ultrabook, as Ars Technica's Peter Bright explains here. The MacBook Air gets "up to 5 hours of battery life on a single charge on the 11-inch model and up to 7 hours on the 13-inch model," according to Apple's website, which compares better to the supposed 4 to 4.75 hours the Surface Pro would get based on the tweet above.
Correction: The original version of this article implied that the Microsoft Surface RT does not come with Microsoft Office. It has been changed to reflect the fact that Surface RT comes with a pre-installed, non-business version of the software.
Check out the reviews of Microsoft's other tablet, the Surface RT:
PHOTO GALLERY
The 7 Surface Reviews You Should Read
REAL LIFE. REAL NEWS. REAL VOICES.
Help us tell more of the stories that matter from voices that too often remain unheard.
BEFORE YOU GO