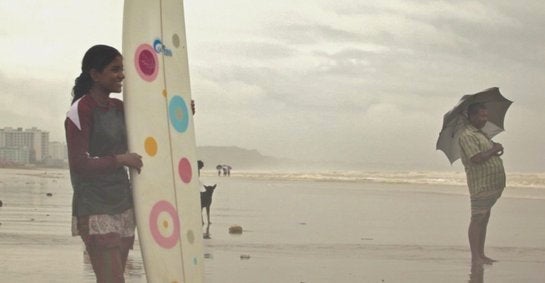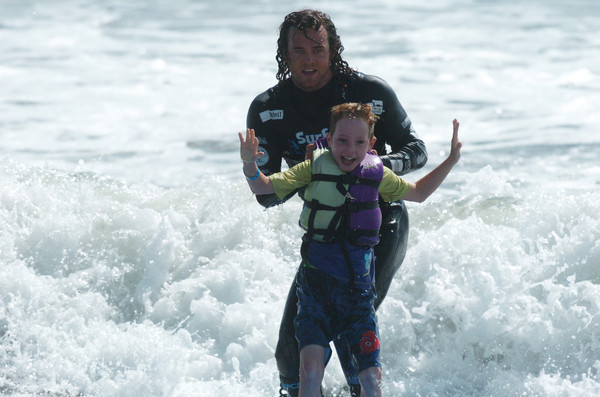 To say that he had been looking forward to it all week does a disservice to the magnitude of his new-found obsession.
Surfing. On a real surfboard. With a real surfer.
Sunday could not come fast enough. And no neurotypical child can possibly fathom the fantastic, all-encompassing, living-and-breathing obsession that my 9-year-old son had lived these past few days.
He didn't just look forward to surfing on Sunday with Surfers Healing -- a nonprofit group that takes kids with autism for an authentic surfing experience. It was simply the only reason the sun rose and set. And it was pretty obvious to everyone at the event -- held Sunday in Belmar, NJ -- that my boy just might be the day's most willing participant.
"(Your son) is psyched!'' said Evan Carlson, a volunteer who helped my boy put on his life jacket and get him ready for his first surfing run.
Surfers Healing, founded by a couple who accidentally found their autistic son calmed when his father took him surfing, was among the activities at the 8th annual Beach Bash, sponsored by Autism Family Services of New Jersey. The group took out more than 200 kids on the Atlantic to ride some waves, many for their first time.
Six-year-old Olivia Stack, of Matawan, NJ, appeared a little apprehensive when her surfer -- one of about a dozen competitive surfers who volunteer their time for the event -- put her on his board and began paddling out to sea.
That's typical. It's a strange, new experience for kids adverse to both strange and new. The surfers guiding them are people these children have never met, and these are kids who don't necessarily warm to new faces readily. Worse, strangers are touching them. Some of these kids don't let their own parents do that.
"But after we hit the first couple of waves, you can see them relax and start to get into it,'' said Peter Schloemer, a volunteer surfer with the organization.
And so it did. Two waves into her surf and there was no sign of apprehension on Olivia's face.
"It's a really good sensory thing for her,'' Olivia's father, Brian Stack, said. "She really likes it. It kinda helps calm her down.''
When he was younger, my son was quirky. But some saying or another about apples not falling far from trees prevented me from seeing that what I thought were idiosyncrasies were actual neurological symptoms of something larger.
Maybe I didn't want to see. Maybe that was just too big. I don't know, really. But it wasn't until well after he was diagnosed on the autism spectrum that it actually sunk in that, yeah, there was something wrong with my son.
When he was very young, maybe 1 or 2, he'd play with trucks and stuff like kids do. But he would do it differently. He'd lie on the floor, his head resting on its side, rolling a truck back and forth in front of his eyes.
Nothing too alarming, right? But he wasn't playing with the truck. He wasn't making truck noises. He didn't make it pull in for gas, or light up the rubber, or even drive, really.
He was watching the wheels turn, clockwise and back, clockwise and back, clockwise and back. He'd do it for hours if you'd let him.
He'd play outside, too, running around in our back yard like kids do. But it wasn't the same as other kids. He'd run, sure. But he'd run only along the fence, in a straight line, keeping his at least one eye fixed on the fence.
My wife and I would eventually call this "Patrolling the Perimeter,'' or, more simply, "Patrolling.'' He'd also do this for hours if you let him.
I dismissed it. Maybe he was just a little weird. Being my son, I'd expect nothing less. Weird is good.
My wife knew something was wrong. And she pushed, pushed for services, for diagnoses, got him into early intervention. Therapists began coming to the house, then school for special needs. My dismissal meant nothing, thank goodness.
Without my wife's relentless pushing, I don't know where he'd be, socially, academically or otherwise. I don't know how much autism would have taken from us, from him. I firmly believe, because of her, and despite me, it was far less.
Anecdotally, I hear my response, or lack thereof, is typical. I don't know that there is any hard evidence, but I'm told that Dads are often the last to accept an autism diagnosis.
I don't remember exactly what it was, what event my son was participating in with neurotypical kids or what, exactly, triggered it. But I do remember the crush of saying out loud the words for the first time: "He really does have autism, doesn't he?''
Don't let anyone fool you, the weight of crumbling denial is significant, and painful.
The free Beach Bash featured music, dancing, yoga, a zumba lesson, games, food and resources for families who have a member with autism.
The event was expected to attract between 4,000-5000 people, according to Jillian Daidone, spokeswoman for The Family Resource Network, parent company of the Autism Family Services of New Jersey.
Daidone credits the Belmar First Aid Squad with supporting the event throughout the year with fundraisers and cooperation and says their support is the primary reason the event is held in Belmar each year.
"We really found them to be a good partner in this,'' Daidone said.
My son takes a couple of runs with Schloemer. Some end with Schloemer raising my son up by his life jacket to a standing position and the two of them ride a small wave into the shore. Some end with the two of them face down in the surf.
During those times, a phalanx of volunteers descends into the water. Each time, Schloemer appears first, cradling my son in his arms. I can't hear from my position on the beach, but I can see he's gauging my son's reaction.
Schloemer doesn't get a bad reaction. My boy's an avid boogie-boarder who has seen more than his share of scary nosedives and already has a healthy respect for the ocean. A couple of years and he'll give Schloemer a run for his money, mark my words.
Out they go again. The water's freezing. My son's shaking. But he wants no part of coming to shore. He's been waiting for this.
Two more runs and it's time to come in. My boy gets a trophy, which sits on his dresser as I write this.
"I can't believe I was surfing today,'' my son said. "It was awesome!''