For surfers, countering President Donald Trump's plan to slash federal funding for climate change research is personal. 
Surfers, no strangers to environmental activism around events like World Water Day, are creating task forces to save the ocean, their multimillion-dollar industry and the scientific research that shows both face incredible threats if global temperatures continue to rise. 
"Surfers are kind of like a giant tribe, a giant worldwide tribe of people," said Terry Hardy, a longtime surfer and one of the owners of the World Surf League (WSL), the governing body for professional surfers. "We feel like we have an army we can activate that can create real change."
The athletes Hardy represents have a lot at stake. If the sea level continues to rise, as scientists warn, there will be a serious consequence for the sport: smaller and fewer waves. 
Consistently higher tides will change the way waves break on reefs and beaches, explained Stefanie Sekich-Quinn, coastal preservation manager of Surfrider Foundation, a nonprofit dedicated to the protection of the ocean and coasts. 
Surfers are kind of like a giant tribe, a giant worldwide tribe of people.

Terry Hardy, World Surf League
For beach breaks, "they'll break closer to the shore, closer inland, and that means that they could be smaller waves or not break at all,"Sekich-Quinn explained. "The same goes for waves that break on a reef. When the reef is being inundated with additional levels of sea level rise, the wave just won't break as it used to, and some fear it might not break at all."
Without climate change intervention, those effects could become apparent in as a little as 50 years, she warned.
While that threat looms, surfers and other ocean enthusiasts are already grappling with polluted water caused by sewage overflow linked to higher temperatures.
"As the climate changes, we're starting to see more intense and frequent storms," Sekich-Quinn said, pointing to California's intensely wet winter, which scientists have pointed to as a symptom of climate change. Infrastructure unable to handle that much water can give way, sending massive amounts of sewage into the ocean. Last month, heavy rains led to a sewage spill that closed popular beaches in Long Beach, and a study from Climate Central found such incidents may become more common.
Last April, Hardy's organization launched WSL Progressive Understanding and Respect for the Environment, or WSL PURE, a foundation dedicated to funding ocean research. In its first move, the no-overhead-costs foundation co-chaired by Hardy contributed $1.6 million for research at Columbia University's Lamont-Doherty Earth Observatory.
WSL PURE has continued to collect money from influential people in the surfing community, said Hardy, who hopes to partner with more scientists and eventually establish the foundation as "a centralized hub for ocean-related science, health and advocacy."
As those environmental concerns become more politicized, private donors, such as those now involved with WSL PURE, will realize they need to take on a bigger role endowing science, Hardy predicts.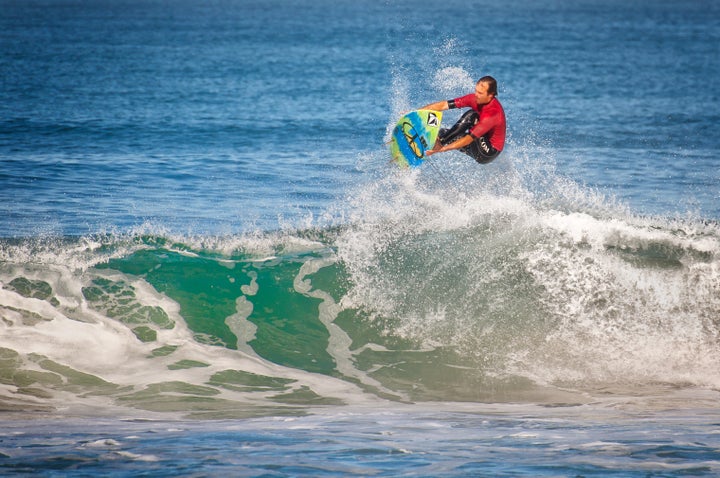 "Private funding is going to become more important for research in general, whether it's health research or environmental research," he said. 
"We're interested in making sure that the good work that's going on, that there's not lapses because of loss of funding."
And when it comes to doling out money, data suggest many surfers are equipped to help fund research. According to one national survey conducted by Surfrider of more than 5,000 respondents, the average surfer in the U.S. earns $75,000 a year. 
With its climate change efforts, the surfing community joins the likes of former Vice President Al Gore, who in January announced he would host his own climate change summit after the U.S. Centers for Disease Control and Prevention abruptly canceled one it had been planning for months.
Trump's presidency has upped the stakes, surf activists say.
"This is a whole new dawn of the day right now for us," Sekich-Quinn said. "What we're starting to see is this new administration is certainly not friendly toward climate change, and therefore we need to increase what we're doing on the ground."
In January, she said, Surfrider released a "climate change activist toolkit" and trained nearly 50 people to conduct outreach and activism in their communities. 
This is a whole new dawn of the day right now for us.

Stefanie Sekich-Quinn
Trump has already lost one battle with some surfer activists. The Save the Waves Coalition (STW), another surf conservation organization, has been leading a campaign called #NatureTrumpsWalls against a controversial seawall the Trump International Golf Links wants to build on a public beach to protect its golf resort in western Ireland. Following arguments from activists that the wall would harm the habitat of a rare prehistoric snail and affect surfing and recreation at the beach, the Trump organization withdrew its bid. 
But the fight continues, the coalition's director of programs, Nick Mucha, says. Trump's team has submitted another wall proposal that STW and others are currently fighting. 
While they await the decision on the second proposal, STW plans to release a cell phone app this year that will let surfers collect their own data for research.
"[I]t will allow surfers around the world to take photos of their observed issues, geotag that issue, and create a repository of coastal information that can be used to support partner organizations and informed policy decisions around climate change," Mucha wrote in an email to The Huffington Post.  
"Surfers will be the canaries in the coal mine on climate change."
CORRECTION: A previous version of this story misquoted Terry Hardy as saying "wolf-like tribe of people." He said "worldwide tribe of people."
REAL LIFE. REAL NEWS. REAL VOICES.
Help us tell more of the stories that matter from voices that too often remain unheard.
BEFORE YOU GO
PHOTO GALLERY
Garbage In The Pacific Ocean