Baseball has a hall of fame to honor its greatest players. So does football, basketball and, of course, rock 'n' roll. There is a hall of fame for Canadian cartoonists and even pinball. However, the sport known as "dog surfing" has been one activity that hasn't had a "hall" to honor its best and brightest.
The lucky dog? He's Buddy, a 14-year-old Jack Russell terrier, who has been surfing with his owner, Bruce Hooker, off the coast of Ventura County, Calif., for the past 10 years.
In the process, he won numerous tournaments, including the first four Surf Dog Surf-A-Thons, and became the Fido face of dog surfing thanks to appearances on Animal Planet, Pet Star, ESPN, CNN, NBC and the CBS Morning Show.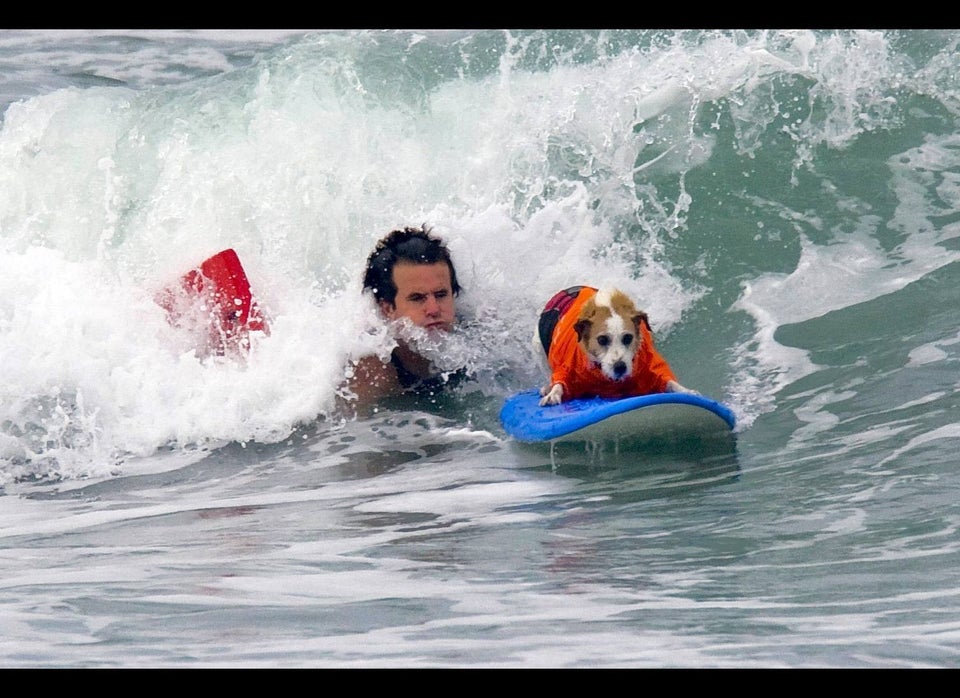 Surfing Dog Photos
In addition, Buddy helped Steve Jobs launch the iPad when his clip called "Wet and Woofy" was the featured video.
It's not a bad resume and Hooker is pleased that Buddy is getting recognized for doing something he loves.
"This honor is validation that Buddy's a good surfer," Hooker told HuffPost Weird News. "He's a special dog."
Former surf journalist Nedra Abramson, who now organizes the Surf Dog Surf-A-Thon, agrees, hence the decision to honor him as the first inductee.
"Buddy does it for the right reasons," she said. "He loves to surf -- and he does turns! It's like he's a reincarnated surfer. He's brought the sport great notoriety."
Need proof? This year marks the sixth year of the tournament and, in that time, the number of participating pooches has gone from 10 to 80, and Abramson credits Buddy playing a big part.
She hopes to add other dogs to the Surf Dog Hall in future years, and while there are no plans to build a shrine to the great surfing dogs of yore like the ones in Cooperstown, N.Y., or Dayton, Ohio, she plans to honor Buddy and future honorees in a room at the Helen Woodward Animal Center, an animal charity in Rancho Santa Fe, Calif., that gets the proceeds from the event.
"We will also be giving Buddy a plaque and a banner, although he won't have to give a speech," she said. "He can bark if he wants."
Buddy's surfing style gets thumbs (and paws) up from his human counterparts, such as pro surfer and former world champion Guy Takayama, who has judged a few dog surfing events in the past.
"What sets Buddy apart is that he actually turns the board and manuevers it," he said. "He doesn't just sit on the board and ride the wave in straight.
Ten years ago, when Buddy first got on a board, Hooker never thought it would start this such a wave of popularity.
"I was teaching my son to boogie board and he lost the board and Buddy found it and jumped on it," he said. "My daughter pulled him on it and it progressed from there."
Getting a dog to surf isn't easy, he said. The dog has to want to go in the water.
"I see people who throw their dogs on a board and expect them to surf," he said. "That never works. I needed three separate training sessions before he was comfortable on the board, and learned to compensate for his weight.
Since then, Hooker and Buddy experimented with different sizes and styles of boards, even a remote-controlled board so Buddy could go out in the ocean on his own. The board that works best seems to be a 5-foot, 6-inch soft board.
Although Buddy sticks with smaller waves more associated with longer surfboards, he's surfed waves as big as five feet.
However, Peter Noll, who leads a San Diego-based group called SoCalSurfDogs, says the message of Buddy's success is more than just the fact he's a good surfer.
"The thing is, Buddy and [Hooker] didn't start dog surfing to win contests, but because they liked it," he said. "A dog has to enjoy being in the water and standing on an unstable board."
Because 14 is supposedly equivalent to 98 human years, the Sept. 11 Surf-A-Thon may not just be his day of glory, but also his last tournament.
"He still likes surfing so we'll do this one, but this may be the last time," Hooker said.
But Noll and Abramson say he is a major reason why dog surfing has become a growing sport with four major tournaments and more to come, such as one taking place in Ireland this fall.
Still, other surfing dogs may follow in his pawsteps, but Takayama says there may not be one like Buddy ever again.
"He sets the bar very high," Takayama said. "It's going to be hard to find another dog who can surf like him."
Hooker, for one, doesn't plan to try.
"I do have another Jack Russell terrier -- a girl. She has no interest," he said. "But I am not a dog surfing trainer. I am a surfer that had a dog that wanted to surf."

Related
Popular in the Community