An urban mecca full of skyscrapers, concrete and traffic-clogged streets, New York City may not be the first place that comes to mind if you are thinking of hitting the waves on a surfboard.
But according to surf enthusiasts who live and surf in and around the Big Apple, the city is actually a great spot for beginners and advanced surfers alike. With several surf beaches that are accessible by public transportation, a few decent surf shops and a burgeoning surfer culture that's gaining steam, there's really no reason why a New Yorker shouldn't get stoked about riding some swells.
"As odd as it may sound, we surf in New York and it's awesome," says Peter Frolich, co-owner of Aegir Boardworks, a surf shop located in Brooklyn's Dumbo neighborhood, according to this video (above) about surfing in New York.
"It's not Hawaii or California, but New York is still a great place to surf," Shaun Tangen, the shop's other co-owner, told The Huffington Post. "The beaches are awesome and the surf scene is definitely growing."
Interested in surfing in the city? Here, we'll give you a few tips to get you started, as well as a list of the best surf beaches in and around New York City.
Surfboard. This may seem obvious but according to Tangen and Frolich, choosing the right surfboard is a process that requires some thought. You'll want to choose a board based on your skill level. Generally speaking, the more inexperienced you are, the longer the board you'll want to pick. If it's your very first time hitting the waves, a funboard or longboard may be your best option.
Rashguard and wetsuit. Protect yourself from the sun's rays and the dreaded "surfer belly rash" with a rashguard during the warmer months and a wetsuit when temperatures dip. Tangen recommends investing in a good 4/3 wetsuit (a suit with a torso thickness of 4 mm and a limb thickness of 3 mm). It is great for its versatility and will "last you the longest," he explains.
Wax and other stuff. To prevent slipping off your board, get some surfboard wax or track pads. You will probably also want to get a leg rope or leash to keep your board close if you happen to fall off it. If you have a set of keys on you, pick yourself up a surf key necklace (or just tie a piece of twine, string or shoelace around your neck) so you don't lose them.
If you've never surfed before and don't know where to begin, Frolich recommends that you take a lesson or two from a pro to get you on your feet. "It's going to shorten the learning curve," he says.
There are a number of surf schools in and around New York City that offer group, semi-private and private lessons. Locals Surf School and Skudin Surf are both good options. Boarders Surf Shop, located near Rockaway Beach, also offers surf lessons. We recommend calling around to find out which school is the best fit for you.
If you're tight on time, take the subway to the Rockaways, or the Long Island Rail Road out to Long Beach, Long Island, for good waves and a killer surf scene that you don't have to travel far to access. Have a weekend -- or a week -- to spare? Head to Montauk or Fire Island for a surf getaway that's affordable and accessible.
(For more details on the best surf beaches in and around the city and how to get there, scroll down to see our slideshow of top picks.)
4) CHECK YOUR SURF REPORT:
Will the waves be ginormous or nonexistent? Don't waste your time going out to a beach if the waves aren't going to suitable for you. Frolich and Tangen recommend checking the local surf report before heading out the door. Better yet, take a peek at a webcam feed of the swells, if one is available. Websites Surfline, Magic Seaweed and Swell Info are all good bets to find out what the waves are like on any given day.
And remember: If you're a beginner, avoid waves bigger than 3 or 4 feet. Surfing when there's lightning in the vicinity is also not recommended.
Surf etiquette? Yes, that's a thing, and surfers are dead serious about it. Being safe and considerate when you're on the water is of the utmost importance. The golden rule: Don't attempt waves that are beyond your capability; it could be dangerous for both you and your fellow surfers.
After watching the video above for more surf etiquette tips and information about surfing in NYC, click through the slideshow below for the best surfing spots in and around the city. Surf's up!
Before You Go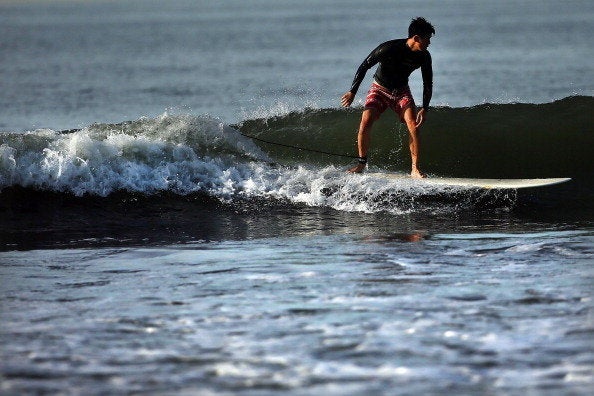 Best Surf Beaches In Or Near NYC
Popular in the Community