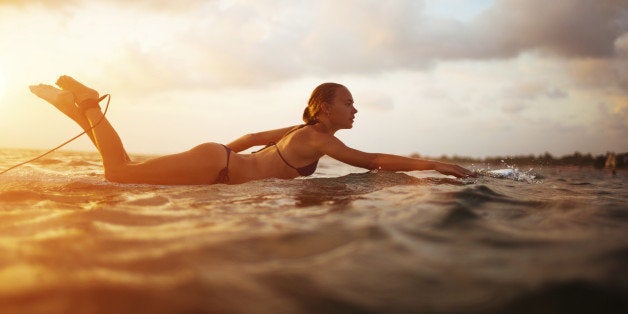 Over the last few years, I've taken up summer surfing in a major way. For me, it's an exhilarating and dangerous sport -- and a spiritual experience.
It's fun, but I still prefer my bikini.
It all began when my first company, Social Diva, hosted several day trips from NYC that involved yoga and surfing. We transported about 40 people to the beach, offered yoga on the sand and optional surf lessons for those who wanted them. I took a few of the lessons myself. During my first lesson, I managed to stand up on the first wave. My 17-year-old instructor was impressed.
"Are you sure you've never surfed before?" he asked. I was flattered by high praise from such a young, cool surfer. I said no, figuring I didn't need to tell him about that one time when I was 17 myself.
The only thing I remember from that experience is that I immediately thought, This is not for me. I'll stay and look good in my bikini on the beach instead.
Said differently, I enjoyed my lesson. I thought surfing was super fun, but I wasn't hooked yet.
But it seems the power of surfing is more of a sticky sport than I first realized. For example, during Social Diva's event, one attendee came out of the water with a bloody knee.
"Wow, are you OK?" I asked.
"Oh my god," she responded. "That was awesome!!!!"
I was amazed, but it wasn't until two summers ago that I woke up one morning and realized I wanted to learn how to surf myself. When I asked a good friend who's known for taking newcomers into the water to teach me, he offered to take me on the spot.
"Now?" I asked "OK! Let's go!"
This time around, I wiped out on the first wave and hit my head. I hit it so hard that I needed to go into shore and take something called a "surfer's cold shower." The cold water made me scream, but it was partly from pleasure. I was so excited to be surfing!
As I continued surfing, I found paddling, getting up and riding a wave to be absolutely exhilarating. At times, wipeouts were easy. Other times, they were terrifying. A few times, while being tousled under water, I felt extreme fear that I was about to die.
Through it all, I experienced a lot of unexpected support from the guys in my life who also happen to surf. Every time something happened, they'd say, "Oh yeah, that's happened to me." That sense of community encouraged me to keep at it during those first few tries, and they still do.
Plus, every time I resurface above and the water, I get calm again. And I wonder why I bothered with fear at all.
Today, I surf often during the summer. The conditions can change daily or even hourly at the same surf spot, and I like that I keep going back, regardless. In a sense, I'm cultivating perseverance.
Plus, the entire experience is richly spiritual. There's the beauty of the ocean, the sky, the beach. These surf spots, to me, are what heaven will feel like. Sitting on the board, whether I'm waiting for waves or resting, is a simple meditation.
Ultimately, surfing is a metaphor. Moving through the waves is like moving through life. Sometimes the waves are bigger than others, but you just keep on paddling -- no matter if you just wiped out gently or pretty hard. Of course, the best moments are those when I catch a perfect ride and ride all the way to shore. It's exhilarating, empowering and beautifully spiritual.
REAL LIFE. REAL NEWS. REAL VOICES.
Help us tell more of the stories that matter from voices that too often remain unheard.