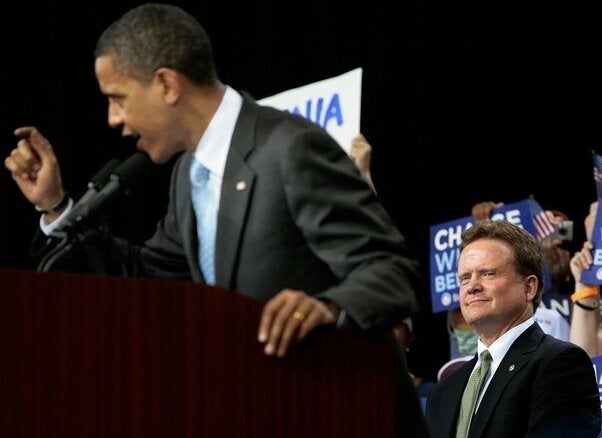 McLEAN, Va. -- Virginia increased its voter rolls by a whopping 6.2 percent during the 2008 New Voter Registration period ending today, a figure that is more than double the Obama campaign goal. All these new voters could have a huge impact in a tossup state with fewer than 5 million registered voters. The official tally so far -- 307,482 new voters -- will be even higher once October registrations are counted.
Who are these new decision-makers? "Mostly they're young, independent, and tired of what's going on in Washington. Many moved to Virginia from other states. More than 60 percent are under age 35," Jared Leopold told OffTheBus. Leopold is communications director for the Democratic Party of Virginia Coordinated Campaign.
How many of these newbies are Democrats? There's no way of knowing because Virginia's registration is non-partisan, but the Obama campaign is encouraged by their demographics. One-third live in heavily Democratic northern Virginia: Arlington, Alexandria, Fairfax County, Fairfax City, Falls Church City, Prince William, Manassas, Manassas Park, and Loudoun. More than 5,000 new voters registered in Richmond, and more than 3,500 in Norfolk and Newport News -- all areas where John Kerry had a majority in 2004.
At a GOP rally over the weekend, John McCain's brother Joe referred to northern Virginia as "communist country," and then quickly apologized. The Pentagon is located in Arlington.
McLean, a northern Virginia community with a median home price of $1.4 million, once was famously red on the political map. Conservative political commentator Pat Buchanan lives here. So does former GOP presidential candidate and television actor Fred Thompson. But McLean today is as purple as the leaves on the city's flowering crab trees. So on Saturday, OffTheBus drove to Lewinsville Park in the center of town to grill soccer moms and football dads on the issues while they were grillin' hot dogs as part of a youth football fundraiser.
Soccer Moms, Football Dads Want A New Team
"I don't think McLean is a Republican stronghold anymore, unless people are lying," Janis Thomas told OffTheBus. "I know I'm tired of the Republicans and want them out. It's definitely time for a change." Like Obama, Thomas has been against the Iraq War from Day One. "Spending $10 billion a month on that war is disgusting," said the soccer mom. Many of her friends are voting Democratic this time, having been "turned on to Barack Obama by their kids."
About 84 percent of the people living in this community are white. Will race will be a problem for the Obama-Biden ticket? "In this day and age, basing your vote on color is a tragedy," said Thomas.
"At the end of the day, another Republican administration would put America in such a dangerous position," added soccer mom Anne Marie Marenburg. "All this maverick talks scares me. I find it alarming. Do we really need another gun-toting maverick coming to town?"
At the other end of the park, pint-sized football players were playing their hearts out while their parents cheered them on from the sidelines. John (who preferred not to give his last name) told OffTheBus he's concerned about taxes: "The top one percent pay 39 percent of the taxes, and that's enough." John is an undecided voter who favors McCain but is afraid Sarah Palin doesn't have enough experience. "I wish she had some kind of world view. I prefer listening to Obama speak, but I'm afraid his tax plan will kill small businesses."
Football parents James and Heather Devlin are voting for Obama. So is Heather's sixty-year-old father, a southern gentleman who is "fed up with Bush" and the Republican Party. "The world perceives Americans as aggressors. I'd prefer they see us as tempered and thoughtful," said James Devlin. "I think the damage is reversible, and I look forward to it being reversed."
Devlin, an information-technology expert, is surprised how many of his Republican colleagues are "undecided" about this election. His wife Heather, an elementary school teacher, wants Virginia to be the tipping point for Obama in the election. "This is where it's going to happen -- right here in northern Virginia."
Could Virginia Be The Tipping Point?
The population growth in northern Virginia has been dramatic, but it takes more voters than you might think to substantially change the political balance of an entire state. Here's the reality check: in 2004 northern Virginia accounted for 32.4 percent of all registered voters in the state; today that same area accounts for 32.8 percent of the state's registered voters.
Here's another pivotal consideration. The southwestern corner of Virginia is a land of small farms and coal mines settled by Scots-Irish Calvinists. Obama was trounced here during the primaries. In May Gov. Tim Kaine (D) urged the candidate not to write off this region, because it could give John McCain the entire state. "Presence really matters," Kaine told Obama. "Go and show 'em you're really interested."
The Obama campaign opened eight field offices in southwestern Virginia, and engaged many of Hillary Clinton's former canvassers. It's probably no coincidence that the DNC keynote speaker was Virginia's popular former governor Mark Warner (D). So tempting is Virginia to Obama that the day after he secured Clinton's capitulation in the Democratic primary, he was in Bristol, Va. campaigning. The day after the first presidential debate, he was in Fredericksburg, Va. speaking at a huge rally.
In 2004, Virginia Sen. Jim Webb (D) told the Wall Street Journal that "the greatest realignment in modern politics would take place rather quickly if the right national leader found a way to bring the Scots-Irish and African-Americans to the same table, and so to redefine a formula that has consciously set them apart for the past two centuries."
Is Obama that kind of leader? "There's not a lot of difference between the situation of those people he was trying to help in Chicago and the people in southwest Virginia," Webb told New Yorker writer Peter J. Boyer.
Today the race in Virginia is tight because a significant number of people who voted for Bush in 2004 say they will vote for Obama in 2008. Should the race be close on Election Day, watch for all these new voters to tip the balance.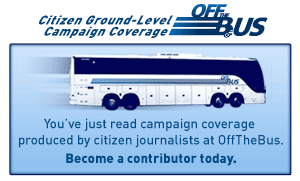 Popular in the Community