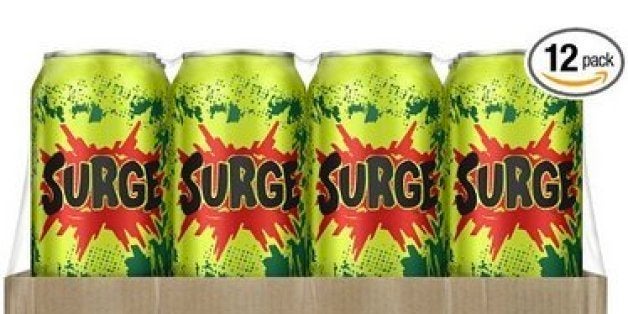 Surge needs some reinforcements.
This past Monday, when Coca-Cola began selling 12-packs of the lemon-lime soda on Amazon -- marking the first time in more than a decade that the product was for sale anywhere -- it almost immediately sold out.
The company vowed on Twitter to replenish the item by Monday.
The first time the product sold out, earlier in the week, new supplies were available before the end of the day. It was not clear why it would take until Monday this time for Coca-Cola to restock.
Coca-Cola did not immediately return a call from The Huffington Post.
Surge was discontinued amid slumping sales 11 years ago. Coca-Cola revived the beverage, which has attained cult status amid the current wave of 1990s nostalgia, at the behest of three superfans who organized a group called the SURGE Movement.
With the drink out of stock at the moment, some vendors are wholesaling 12-can packs of Surge for nearly $244. The same 12-packs sold for $14 on Amazon earlier this week.


A screenshot of an outside vendor's listing on Amazon for a 12-pack of 16-ounce cans of Surge.

The soda was first produced in 1996 as one of what would be several failed attempts on Coca-Cola's part to topple rival PepsiCo's popular Mountain Dew. But the highly caffeinated Dew dominated the market after branding itself as an energy drink with ads featuring athletes performing extreme sports.
Unable to sway Mountain Dew's mostly young, male consumers, Surge targeted pre-teens. The move backfired after schools banned the soda, fearing that its high caffeine content would be harmful to children. Perhaps ironically, a 12-ounce can of Mountain Dew contains about four more milligrams of caffeine than an equivalent amount of Surge.

Related
Popular in the Community