WASHINGTON -- With the Senate likely to vote this week on surgeon general nominee Dr. Vivek Murthy, a handful of red state Senate Democrats will determine whether President Barack Obama's pick for the nation's top public health post is confirmed.
Democratic Sens. Mark Begich (Alaska), Joe Manchin (W.Va.), John Walsh (Mont.), Joe Donnelly (Ind.) and Heidi Heitkamp (N.D.) are among those who have yet to come out publicly in support of Murthy, even as a few key members of the caucus said they would be willing to vote for the Harvard- and Yale-educated physician if his nomination is brought to the floor.
Murthy's nomination has been stalled since March, when controversy erupted over his advocacy for stricter gun laws. But health care activists have been making a final push for a confirmation vote during the lame-duck session, given the widespread Republican opposition toward Murthy. Democrats can either confirm Murthy with a simple majority vote, or face the reality that the nomination will die next year in a GOP-controlled Senate.
Sen. Mark Kirk (Ill.) was the lone Republican to vote for Murthy when his nomination was cleared by the Senate Health, Education, Labor and Pensions (HELP) Committee. Kirk confirmed to HuffPost on Thursday that he would also vote for Murthy if his nomination came to the Senate floor.
"I'm going to be consistent in my support for him," Kirk said.
Kirk's support is a big boon to Senate Majority Leader Harry Reid (D-Nev.), as he continues to lack enough votes from his caucus to confirm Murthy. The confirmation remains a "top priority" for the White House this year, according to a senior administration official.
"The Surgeon General plays an important role in the education of Americans on public health issues," the official told HuffPost. "His breadth of leadership and experience makes him an ideal candidate for this position."
The Ebola crisis also highlighted the fact that a surgeon general had not been confirmed, giving advocates renewed momentum to lobby for Murthy's confirmation.
With a vote possible on Thursday or Friday, according to health care activists who are working behind the scenes to rally support for Murthy, HuffPost tracked down several of the Democratic holdouts on Capitol Hill to determine where they stand.
Walsh said he has met with Murthy but is "still considering" the nomination. Manchin also said he hasn't made up his mind and declined to discuss what his reservations are. "I met with him one time," Manchin said. "He was a very nice person."
Begich said he hasn't had a chance to focus on Murthy's nomination and will make a decision closer to the vote.
"I had a good meeting with him and I'm just thinking about it," Begich said, adding that his concerns are not about gun control but over whether Murthy has the experience required for the role.
Donnelly referred HuffPost to his office, which did not return a request for comment. Julia Krieger, a spokeswoman for Heitkamp, said the senator is "examining all nominees" currently under consideration by the Senate.
Reid had previously delayed a vote on Murthy's confirmation amid the dust-up over his comments on gun control, which put Democrats who were up for 2014 re-election in a particularly uncomfortable position. But with midterms over, bringing Democrats heavy losses, health care activists believe the party has nothing to lose by confirming Murthy.
At least two ousted Democrats, Sens. Mark Pryor (Ark.) and Mark Udall (Colo.), have publicly come out in Murthy's favor. Pryor told HuffPost early last week that he is prepared to vote for Murthy, while Udall spokesman Mike Saccone confirmed in an email Thursday that "Sen. Udall is strongly inclined to support the nomination."
Sen. Jon Tester, the Montana Democrat who was recently elected to chair the Democratic Senatorial Campaign Committee, also said he would be supportive of Murthy's confirmation, and is regarded as influential with other centrists in the caucus.
Maine Sen. Angus King, an independent who caucuses with Democrats, said he is a "likely yes" after meeting with Murthy and combing through his background.
"My only real concern was his relative youth and what his management experience is," King told HuffPost. "I'm doing some of my own research on that and it's coming up very good."
King's Maine colleague, Sen. Susan Collins, is also considered a key vote among Murthy supporters. The Republican senator, who is known to work across the aisle, remains undecided, according to her office.
Some lawmakers have said Murthy, who is 36, might be too young for the role. But a letter signed by more than 100 national groups hailed Murthy as "a well qualified, forward thinking and innovative leader with a strong commitment to public health." Dr. David Satcher, who served as surgeon general under Presidents Bill Clinton and George W. Bush, also wrote a letter of support for Murthy earlier this year when his confirmation was being considered by the HELP Committee, as did Tom Barker, a general counsel and policy adviser under Bush for the Department of Health and Human Services.
Several lawmakers have been urging their colleagues to support Murthy, including Sens. Chris Murphy and Richard Blumenthal, both Democrats from Connecticut. Senate Democratic aides said Sen. Elizabeth Warren (D-Mass.), who was recently elected to leadership, has also been pushing for a vote behind the scenes, and raised the issue in at least one caucus meeting.
If confirmed, Murthy would become the first Indian American surgeon general. India Abroad, the oldest and most widely circulated South Asian newspaper in North America, dedicated its weekly cover to Murthy on Friday with the headline "Now or Never," and called on the South Asian American community to ramp up pressure on lawmakers by calling their senators' offices.
"This is a political call to arms for the the Indian-American community -- the success or failure of which will define the community's clout and influence (or the lack of it) vis-à-vis our political involvement and empowerment," wrote India Abroad editor Aziz Haniffa. "Now that the midterm elections have come and gone, it's long past time that all of these so-called friends of the Indian-American community, particularly all of these who've enjoyed the largesse of Indian-American contributions to their campaign coffers and who incessantly talk the talk, are challenged to walk the walk."
This article has been updated to include comment from Heidi Heitkamp's office.
Before You Go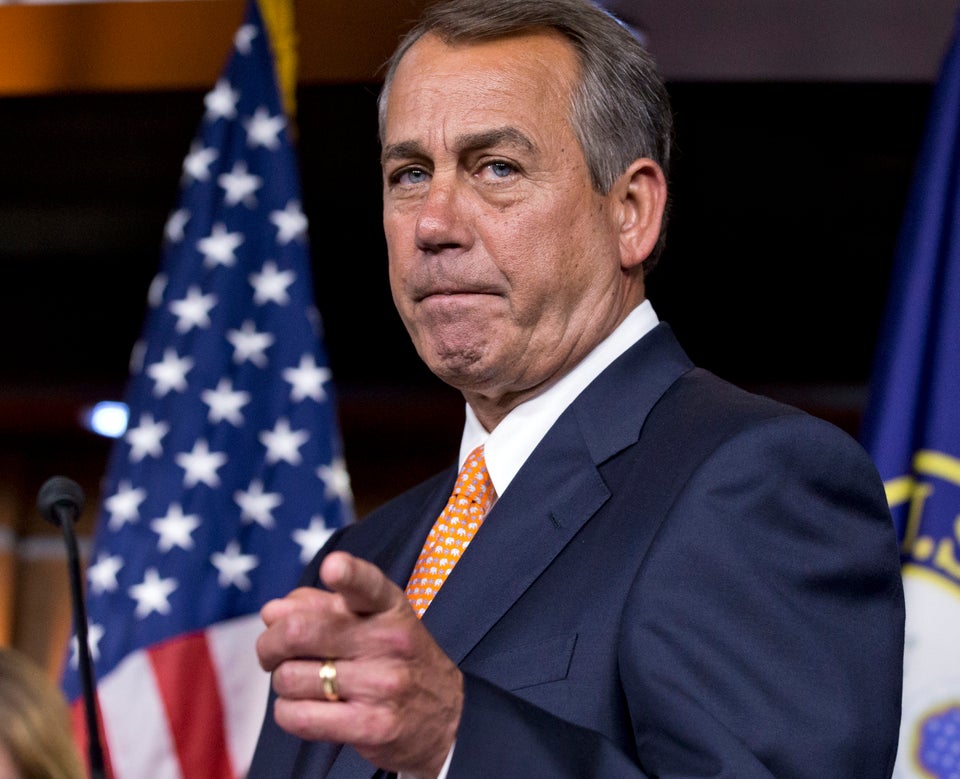 Conservatives Pointing Fingers
Popular in the Community