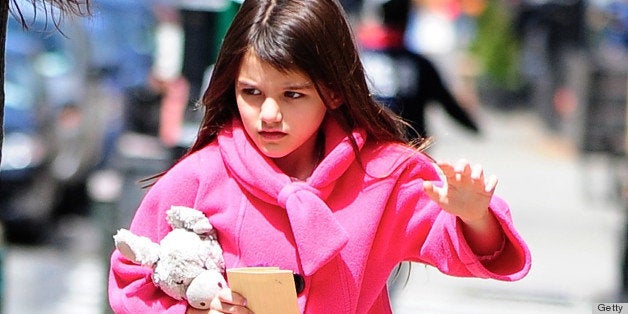 What did you do at the age of seven? Finish a puzzle? That's cute. Well, Suri Cruise is apparently launching a clothing line.
We're taking this one with a big 'ole grain of salt [and we were right to be skeptical -- see update below], but The Sun is reporting that the celebrity kid has just landed a £1.5 million deal to create a fashion brand aptly named Suri. We couldn't make this stuff up. The first collection, launching next fall in "a New York department store," will supposedly include dresses, shirts, jeans, shoes and accessories. A "source" explained why the deal appealed to Suri:
"Suri is only seven but she is incredibly interested in clothes. She has been through a very difficult year and adapted amazingly to her new life in New York, including the upheaval of starting normal school. This is a nice hobby for her, it's certainly not going to take over her life. Most girls dream of being able to make their own clothes, this just means her drawings will now become a reality. It'll be interesting to see how it pans out, there's nothing around quite like it."
Interesting indeed. We've seen grown-up stars like Heidi Klum and Tori Spelling launch clothes for little ones. We've even seen pre-teens like Madonna's daughter Lourdes and the Olsen twins release age-appropriate collections at ages 13 and 12, respectively. But we can't recall anyone as young as Suri taking on such a weighty business venture.
Like we said, we plan on adding this "news" to our ever-growing list of hilarious celebrity gossip -- that is, unless Suri proves us wrong next season. Do you think a Suri Cruise fashion line is in the works?
UPDATE: Vogue UK confirmed with Katie Holmes' spokesperson that the rumors are "100 percent" false. Let's give the kid a few more years before we start speculating about her professional pursuits, shall we?