One of the treats of the Lisbon & Estoril film festival is the shuttle ride. Every hour the shuttle picks up guests from their Estoril hotels and takes them to the screenings and debates.
You never know who will be inside.
"Who are you?" I said to a man in the backseat in the dark.
I could not see his face because it was dark.
"Oh I?" said the man in a jovial German accent. "I am Peter. Peter Braatz. I made the film Blue Velvet Revisited which is showing tonight."
"Wow!" I said. "I really wanted to see that."
The film, Peter explained, is a return to footage he had taken on the set of David Lynch's Blue Velvet thirty years ago, in North Carolina, when he was a young film student from Germany. How did he come to be on the set? He had simply contacted the famous Lynch with an enthusiastic letter and a student essay he had written on Elephant Man.
"What did you learn about Lynch?" I said.
"He is a gentle man. Extraordinarily gentle with everyone on the set. He believes in other people and supports all sorts of creative ideas. He is very calm."
"And does he really meditate?"
"Absolutely. Every afternoon, he goes into an office for an hour and shuts the door. And no one can go inside."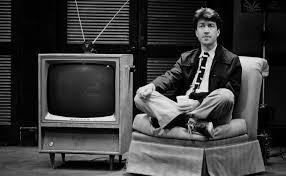 Later Peter sent me a link to his film. It's a hypnotically cool time-capsule film for anyone interested in seeing the legendary director at work as a young man, and Braatz' experimental dreamy hallucinogenic way of editing together the stills and Super-8 reels, to an eerie soundtrack, captures the spirit of Blue Velvet. A highlight is an off-camera conversation between the young Braatz and the young Lynch about a girl Braatz has fallen in love with back in Germany. Another highlight is hearing Lynch talk about how excited he is about Blue Velvet and the "awful lot of fun" he and the crew had making it.
But I couldn't see Peter's film right then as I was racing off (late!) to another film that evening: German director Corinna Belz' indepth look at famed writer Peter Handke: Peter Handke: In the Woods, Might Be Late.
Belz' documentary is a must-see for anyone who is a writer or an amateur of literary endeavor. Much of the film is seeing Handke in his calm rustic home in the outskirts Paris, speaking animatedly about what it means to write, with breathtakingly quotable insights. He speaks with equal passion about mushrooms and needlepoint. The camera rests calmly on his hands as he threads a needle and explains the challenge of getting the thread through the hole.

We also see debates from Handke's radical young days as a member of the Gruppe 47 movement, his vulnerability and passion apparent in his young raw facial expression. We see the writer in his family context as well: as a father to two daughters, one of whom looks stonily at her father over a breakfast table and explains her issues with him as a child. One of the film's most interesting moments: a delving into the political flack Handke received for his support of Serbia after the Bosnian war. Corinna's approach to this charged issue is balanced and calm, with no judgment.
I had the luck to run into Corinna after the screening to ask her about the film. She joined me at my table in the Monumental cafe, where I was eating a vegetarian lasagna.
"You really capture Handke in his intimate space!" I said. "Why did you ever do this project? And what is the most surprising thing you learned?"
She spent three months filming Handke.
"I have a reverence for writers," she confided. " I studied literature in university. For me, Handke is one of the top writers. Up there with Musil!"
She mused: "The most interesting thing I learned about him? That he has both a female and male side. For example, to hear him talk about writing while he is sewing in his armchair! Stitching created space for him where the words just arose. Language comes into being all the time. He's also so precise with words. He always tries to find the right word. He is patient. Writing creates that patience."
Corinna and I spoke all evening over wine in a bistro down the street.
My next shuttle ride, to another film, was crowded with a group of laughing Spaniards.
"Who are you?" I said in Spanish.
"The film directors of the documentary about Pessoa in Lisbon!" said the lively man sitting next to me. "Pessoa/Lisboa!"
"Pessoa!" I said, excited to hear about another genius of an author being featured on film.
"Yes, the great Pessoa. Incredible man. Imagine he invented over 120 personas, and wrote a book from each persona. In over 120 different styles. Metaphysical, quotidian, high language, simple language..."
The man waxed with enthusiasm.
"Didn't he spend his life with his mother?" I rejoined.
"Until his mother died," he said passionately. "Oh he had a fiancée, but he chose not to marry her. He was dedicated to his art! He made his choice. It was a lonely life! A very depressed life."
"So Pessoa was a depressed man! "
"Yes! A depressed man. That's why I love him! Happiness is boring. I love depressed people!"
The entourage of Spaniards in the back-seat laughed.
"You must see our film!" the man said.
"But how I will understand it? It's in Spanish with no subtitles."
"You understand us! So you'll understand it!"
"But what if Pessoa's poems are complicated?"
"Depends on the persona he takes!"
I was terribly tempted by this brilliant shuttle ride to see this film by my new friends (Alberto Ruiz de Samaniego and José Manuel Mouriño), but went to see the new Benoit Jacquot film instead.
A mistake. The first hour is a fetishizing of the benign pretty face of some girl in mourning about her lover played by Mathieu Amalric. There may have been a subtext there--of existential longing--but all I saw was a patriarchal French camera lingering on young facial skin. A conventional trope.
My shuttle ride home was a surprise.
We laughed and shared the dark ride up the ocean coast back to Estoril.
Popular in the Community