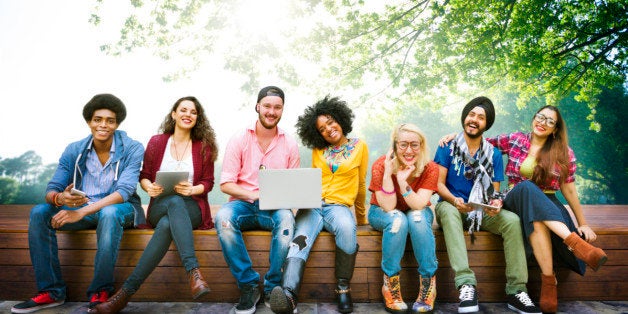 Chances are, if you haven't heard the phrase "You're in America, speak English," someone you know has, perhaps your grandmother, mother or a primo who recently moved to the United States. After all, some use English as a tool to gage just how American others are. In fact, Donald Trump once suggested Jeb Bush refrain from speaking Spanish and opt for English instead because it's "more appropriate." But does this limiting perspective really stand a chance in a country traditionally referred to as a melting pot?
One thing's for sure, the recent Democratic debate did an excellent job at highlighting this dilemma yet again. To the surprise (and dismay) of many, a portion of the debate was conducted in Spanish, and the Twitter backlash was palpable. "I'm watching a presidential debate in the United States tonight, being conducted in Spanish. Adios, America!" political commentator Ann Coulter tweeted. But Coulter didn't take into account that the U.S. doesn't have an official language. Moreover, 62 percent of U.S. adult Hispanics actually speak English or are bilingual.
As if language wasn't already an arbitrary scale to determine one's Americanism, in 2013 an 11-year-old Mexican-American boy's rendition of the National Anthem sparked racist remarks. That same year, singer-songwriter Marc Anthony was similarly condemned for performing "God Bless America" at a baseball game. Just months after the singer-songwriter faced heat for "not being American enough," Miami-bred rapper Pitbull had to deal with similar repercussions after hosting the American Music Awards. "Sorry, Pitbull. I thought this was the American Music Awards, not the Mexican Music Awards," one tweeter wrote.
But Pitbull isn't even Mexican, which might help shine some light on what it was like for How to Get Away with Murder star Karla Souza, who plays Laurel Castillo on the third hit in ABC's #TGIT lineup, to dispute her ethnicity with casting directors, nonetheless.
"I realized [casting directors] didn't believe I was Latin until I did a little bit of an accent, and I was like 'Wow, this is crazy!'" the Mexican-American actress revealed to Entertainment Tonight.
Social media users took to Twitter to express utter shock (and enthusiasm) upon realizing at the conclusion of the eleventh episode of the second season of HTGAWM that Laurel didn't just go off, but that she did so in Spanish. Though her character wasn't originally supposed to be Latina, Pete Nowalk, the show's creator, and Shonda Rhimes, the mastermind at the helm of the production company ShondaLand, agreed that it was important to make her ethnicity a part of who she is, as opposed to the only thing that defines her.
"I love it when Laurel speaks Spanish," several fans of the show rejoiced, perhaps proving that while English is the most spoken language in the U.S., it's certainly not the only American language.
REAL LIFE. REAL NEWS. REAL VOICES.
Help us tell more of the stories that matter from voices that too often remain unheard.