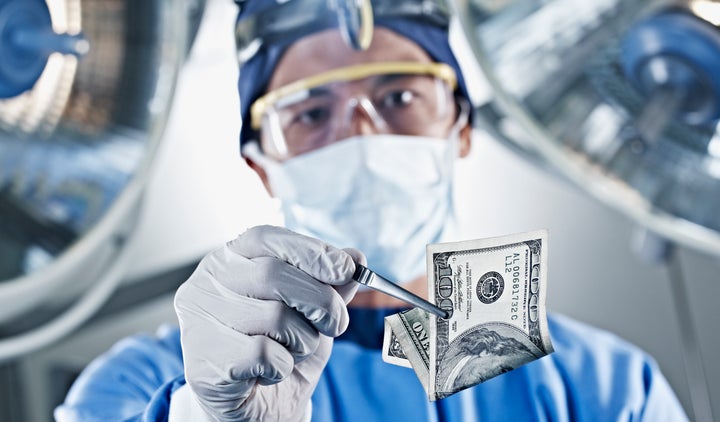 WASHINGTON -- The American health care system is confounding under the best of circumstances. But frustration can reach a boiling point when a patient thinks she's followed all the rules and still gets hit with a huge surprise bill.
That's what happened to Lisa Bettendorf in 2012. She had to pay almost $10,000 even though she said the doctors told her their treatment would be covered.
Bettendorf injured herself in a fall caused by fainting. "I had a fricking hole in my face that I could stick my tongue through," she said. So she visited the emergency department at a nearby hospital that was in her insurance plan's network.
"I was very aware that you had to be in-network and you had to ask the right questions when you were getting medical care," said Bettendorf, who lives outside San Francisco.
When she arrived at the emergency room, a physician informed her that the hospital's regular plastic surgeon wasn't available, but that a doctor from another hospital would come perform her surgery. As it happens, this wasn't the first time that confusion over her insurance network had led to extra costs, so Bettendorf expressed concern to the visiting physician that his services wouldn't be covered by her policy.
"He said, and the ER doctor agreed and the nurse nodded her head, 'It doesn't matter. You're in an in-network ER, and it does not matter that I am not in-network. You have come to an emergency room, you need emergency treatment on your face, they couldn't get the first doctor. It is moot,'" Bettendorf said. "He said it to my face."
"It's wrong, and shame on them."
But that's not how it worked out. During a follow-up visit to the plastic surgeon's office, Bettendorf learned that she owed him for the surgery because he didn't accept her insurance, despite his previous assurances. So she wound up paying him $4,400. She later received a bill from the hospital for another $5,290, and she paid that, too. Her health insurance company and the state insurance department were no help, she said.
Bettendorf wishes she hadn't just paid the bills because then the hospital, the doctor and the insurance company had their money and no incentive to negotiate with her.
"You are completely at their mercy and they want nothing to do with helping you and doing the right thing," she said. "It's wrong, and shame on them."
Bettendorf's experience isn't unusual: 30 percent of Americans have received an unexpected medical bill when their insurance didn't cover costs, according to a Consumers Union survey last year.
Oops, Sorry, You Have To Pay
What happened to Bettendorf is an aspect of what's called "balance billing," when a medical provider that isn't part of a patient's insurance network demands payment after treatment has been provided. Balance billing often comes as a shock to patients who have obtained care at a hospital that their insurance covers or visited a laboratory recommended by their physician. In most states, consumers have little to no recourse in these cases, and must pay the charges or see the debt sent to a collection agency.
Surprise medical bills are the result of an almost perfect storm created by the shortcomings of health care in America.
Health insurance rules are arcane and filled with exceptions. The networks of providers covered by plans are constantly changing, and the directories of covered hospitals, doctors and the like that insurers offer are often inaccurate. The prices charged by physicians, hospitals, labs and others are all over the map and difficult to discern in advance. Medical providers themselves don't understand how insurance works, and usually no one is responsible for keeping track of who is doing what when a patient gets care.
The problem is especially acute nowadays, because insurance policies that don't cover any out-of-network care have become more common.
"Everybody in the chain is culpable, but they also -- in this wonderful system we have -- have the ability to point to each other and say, 'See? It's not my fault because it's the way the system works,'" said Andy Slavitt, the acting administrator of the federal Centers for Medicare and Medicaid Services. Slavitt's agency also oversees the Affordable Care Act's health insurance exchanges.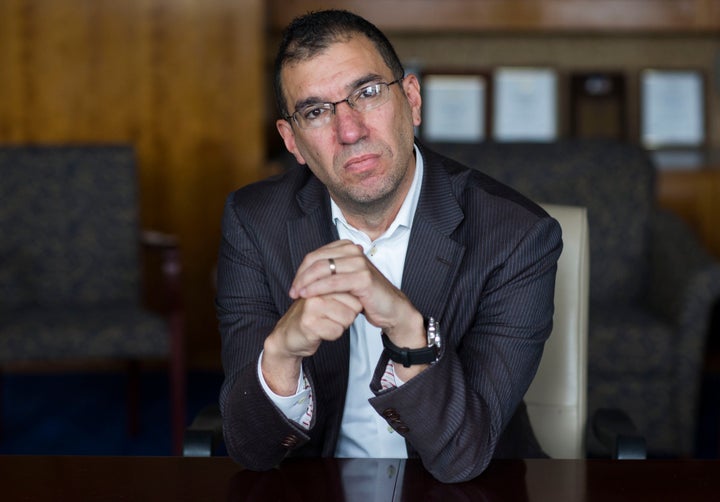 Hospitals, doctors, labs and others choose to stay out of some health insurance companies' networks because they believe those insurers pay too little. And when they treat a patient who has insurance they don't accept, these providers object to being forced to accept lower payments that they already rejected by refusing to contract with that insurer. Insurance companies, too, put the onus on policyholders to figure out where they're supposed to get treated.
"That should be between the plans and the providers. Let them figure that out. Duke it out. Just take the consumers out of the middle," said Elizabeth Imholz, director of special projects at Consumers Union in San Francisco. "It really shouldn't be that hard, but frankly it really does get down to, in some cases, greed and people not wanting to diminish their income at all."
Making matters even more complex is that certain types of medical providers are more likely to be out-of-network, and they're the same ones a patient has little to no say over choosing, Imholz said. Anesthesiologists, radiologists and pathologists who work in hospitals are examples, she said.
Regulators Bring Pressure
This isn't a new problem, and none of the consumer protection provisions in the Affordable Care Act address it. But federal and state authorities are increasingly taking steps to protect patients from surprise bills.
At the federal level, the Centers for Medicare and Medicaid Services is pressuring the health care industry to find a way to free patients from these billing disputes -- and warning that government action may come if they don't, Slavitt said.
"The industry can solve this problem without our help, but with a lot of strong encouragement, and I think they would be wise to do that," Slavitt said. "I refuse to believe that this is as difficult as people say it is."
"Everybody in the chain is culpable."
Solutions could range from merely requiring providers to disclose upfront that they aren't in-network, to creating blanket exceptions for emergency care, to designing health insurance plans that limit patient exposure to out-of-network charges, to instituting new payment models under which a hospital receives a lump sum and distributes the money to anyone who participated in caring for a patient, Slavitt said.
"You're going to be seeing me playing a very visible, public role trying to bring people to make progress on this issue on their own, and if they don't, we have regulatory tools," Slavitt said. "This is a personal passion of mine."
He has already begun to make his case to the health care sector in a public way. At a conference last month held by the Federation of American Hospitals, a trade group, Slavitt delivered that message directly to industry executives and lobbyists.
An Issue of Fairness
Pennsylvania's insurance commissioner, Teresa Miller, has gone further than that since Gov. Tom Wolf (D) appointed her last year. She's drafted a proposal for a new law to protect consumers from surprise medical bills and held public hearings on the issue. Under Miller's proposal, insurers and health care providers would have to work out payments in these cases and not bill the patients.
"We just don't want consumers to get stuck with these bills because we just don't think that's fair, especially since these are all situations where consumers don't know that they've seen an out-of-network provider," Miller said. "The only way I see that's fair is take the consumer out of the middle of this."
In Pennsylvania, the state Insurance Department has received just 35 complaints about unexpected balance billing since 2014, but Miller suspects it's more common than that and that patients aren't aware anything unusual has happened, because the health care system is already so convoluted.
The issue might be turning personal for the Keystone State's top insurance regulator. "I may be getting a surprise balance bill myself," Miller said. "I'm not even sure, and I've been looking at this issue."
It could take months to figure out what she owes, if anything, she said.
"We just don't want consumers to get stuck with these bills because we just don't think that's fair."
In the absence of rules guaranteeing that patients won't incur big charges when they act in good faith to select in-network medical providers, Miller said there are a few things consumers can do to protect themselves.
Prior to going for scheduled medical care, they can call ahead to their medical provider and the insurance company to make certain the care falls in-network. Consumers who get bills from medical providers for treatments they believe should have been covered can ask their insurer for help or complain to their state's insurance commissioner.
Some providers may be willing to negotiate a lower amount when the insurance company refuses to pay. People with job-based health benefits can also request assistance from their employers.
But the way things are set up now, unexpected bills can't be entirely prevented, Miller said. "We've seen instances where consumers have done that and still gotten hit with these surprise bills."
Popular in the Community