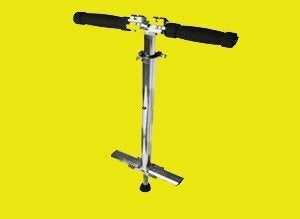 Confirming what young boys and girls across America have known from the moment they picked up a pogo stick and started pogo-ing, nearly 170,000 pogo sticks have been recalled due to risk of serious injury.
Injuries ranged from a chipped tooth, to facial lacerations, to an inner thigh injury.
While it is not surprising that falling off a pogo stick can cause injury, the commission believes that Bravo Sports' particular design is the culprit. The concern? The aluminum rivets can break and and release the spring, in which event the user could be scraped, or fall down.
Various products from the company were recalled between May 2010 and this month. Consumers are advised to stop using the recalled products and return them to any Sports Authority location, where they will receive full refund.
So are pogo sticks safe? Common belief is that when used correctly, modern versions of the toy are safe. But, there are some doubts. The blog Momversation included pogo sticks in a piece on "20 toys that make you go ouch." And a Good Housekeeping article on hidden dangers in outdoor activities also highlighted the toy.
Popular in the Community