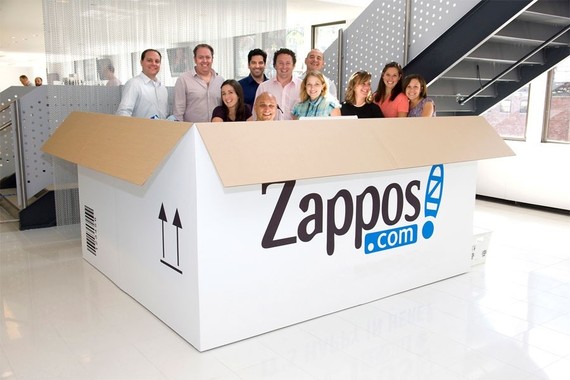 This is the 1 article in a 3-part series where I share my interview with Zappos' leader of training and development, Richard Hazeltine, as part of my focus on what it takes to create customers and employees positively fanatical about your brand.
I reached out to Rich after noticing that not only does he work for Zappos, but that he had an executive career in restaurants and also was a volunteer Incident Commander for the Civil Air Patrol.
How cool is that! He works for Zappos, one the most admired companies for customer experience and culture, and fly's planes? I had to talk to him.

Rich Hazeltine, Leader of Training and Development, Zappos
Despite the recent New York Times article about Zappos' conversion to an Holacratic organization and its loss of 18% of its employees as result, I was pleasantly surprised to find that the core of Zappos' culture is still intact.
I am not going to purport to know a ton about Holacracy or its overall effects on the teams that must adopt it principles, but some of what I learned really opened my eyes. Below is an excerpt from my interview with Richard.
Heather Younger: What role do you feel training and development plays in creating engaged and loyal employees?
Richard Hazeltine: "I think it has a lot to do with setting expectations with folks just starting with you and with those leaders who need to maintain that energy. If entry level folks understand what their horizon looks like and the leaders understand that they are the levers to everything, it can be impactful. As far as customer service goes, the leader understands that he/she has power to get employees going. The leader understands the he/she needs to remove barriers. As we move towards self-organization, the balance is in deciding how do you lead without managing. It is then more about managing your own performance... hands off."
Younger: It sounds interesting, but it must be challenging to reverse what you know as the traditional model of management, right?
Hazeltine: "Well, I agree and not. If a leader has a high degree of emotional intelligence and is aware of their people and knows how to unlock what is great in their people, then it's not as hard. I have to say that I have changed my views on this in the last 5 years to 10 years. Good leaders are not micro-managing their teams. They are just unleashing them."
Younger: How does this differ for Millenials and then those over 35 years old?
Hazeltine: "Someone who is closer to my age group, it is harder. You know- someone who has been in the workplace longer is used to a more traditional set up. Younger employees can learn about it and is not be clouded about their previous experience. In our model, there are those who want someone to give them problems to solve and fix it instead of do so much self-organization. That's part of the reason we had our recent losses as reported in the New York Times. Self- organization is tough and not many organizations have done it successfully. It's really hard to knock down walls to make it work."
I felt like I didn't have nearly enough time with Rich as he is a treasure chest of insights and information into leadership development, emotional intelligence, culture and a lot more. Richard and I both share the belief that managers who are fully aware of their team's strengths, weakness, goals and desires are better able to help them be successful and truly create a loyal and engaged workforce.
Stay Tuned for Part 2 of my interview with Rich as we dive into more effective ways for leaders to persuade their teams that pointed training and development is in their best interests and ways in which leadership development contributes to employee retention.
If you enjoyed reading this content, subscribe to our newsletter at our website.
Popular in the Community