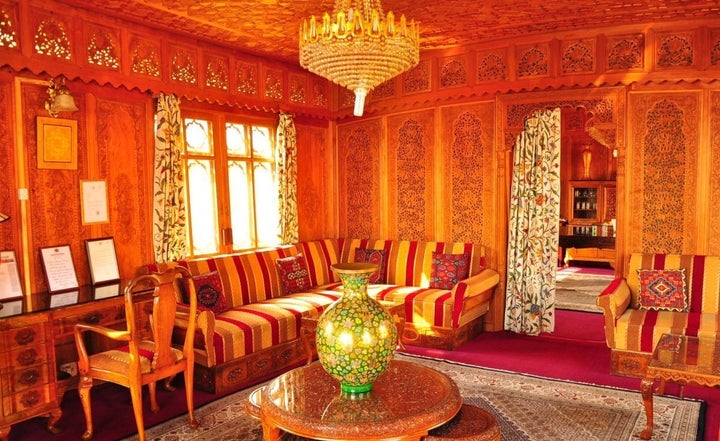 The mountains, the lake and the sky are all shades of blue. The Pir Panjal range hovers in the distance, reflected in the still, still waters of Nagin Lake, which is only disturbed by the occasional shikara, a paddle-powered gondola-like boat.
After waking on an intricately carved Gurkha Houseboat in a cocooned world of gently muffling, sumptuous fabrics - lace curtains on the four-poster bed, layers of embroidered drapes on the windows, Kashmiri rugs and wall hangings -- I padded on soft carpets up the passage, through the sitting room and across the sun deck to a shimmering azure world.
Dal Lake is the big one in Srinagar, with hundreds of houseboats and a busy boulevard; Nagin is smaller and more peaceful. It's easy to do nothing here and just enjoy the beauty. Or you can wait for passing entertainment on the shikaras.
A Flower Man paddled up and announced: "Hello! How are you? I'm Mr Marvelous!" I couldn't argue: It was painted on the side of his boat.
Water is integral to Srinagar, deservedly famous for its lakes and Mughal gardens. The summer capital of the Indian state of Jammu and Kashmir has a colorful horticultural legacy of terraces, fountains and flowers artfully arranged around mock fortresses, and even real palace ruins such as the Pari Mahal, which also has great views of the city and Dal Lake.
Geologists and Hindu sages agree that the entire 87-mile Kashmir Valley was once under water. The geologists think the lake was drained by a post-Ice Age earthquake, whereas the sages attribute the event to Lord Vishnu trying to kill a demon.
Once a Hindu kingdom, mystical Sufi Islam arrived in the 13th and 14th centuries, and Kashmiri mosques have distinctive, pointed roofs. The old city, with its attractive wood and brick buildings retains its medieval character, and I visited the atmospheric Khanqah Shah-i-Hamadan, a 1730s meeting hall and mosque richly decorated with vibrant papier-mache reliefs and elaborate wood-panelling (khatamband). "We're so glad you've come," cried an old bearded man who showed me around.
While the only source of tension when I was there was traffic congestion, Kashmir has suffered periods of unrest since Partition in 1947. Kashmir was divided between India and Pakistan and at times the two countries have battled for a bigger share. Kashmiris don't consider themselves to be Pakistani or Indian, and don't particularly like being part of either country, but they do like peace, which is bringing tourists and affluence to the area. "Tell people to come," they told me.
The name Srinagar comes from the Sanskrit for venerable (sri) and city (nagar). When I was there it was busily welcoming tourists and the town appeared to be booming, with construction everywhere.
Shankaracharya Hill is an excellent spot for a full panoramic view of Srinagar, along with a Shiva temple that is more than 2,000 years old. Cameras, phones and nail clippers must be left at the police checkpoint before climbing the numbered steps to the top.
The greater valley has scenic points of interest too. Sonamarg, or "Meadow of Gold", is a delightful day trip with gorgeous scenery and a gentle hike (or ride) to the base of the Thajiwas Glacier where visitors can perch on plastic stools to drink chai or on wooden toboggans to scoot down the ice. It's a 72-mile drive to parking at the functional town, which is industriously adding to its range of hotels.
Additionally Gulmarg, by the "Meadow of Flowers" for which it is named, is some 37 miles or 90 minutes' drive from the city and offers skiing from mid-December to March, and a cable car for a swift ascent of Mt Afarwat for its views and walks the rest of the year.
On a plateau 1,730m above sea level, Srinagar is cooler than the rest of India with a humid sub-tropical climate, which in Fall ripens into warm sunny days and crisp nights. Part of India, yet unlike the rest of India, it is full of surprises, and surprisingly lovely.
Getting there: Domestic Indian flights arrive at the new airport about 6 miles from town. Alternatively, you can go overland. It's only 186 miles (300km) but it's a long journey - up to 11 hours from Jammu depending on the traffic. However the scenery is dramatic, with winding roads carved into the sides of jagged valleys past the billion-dollar Baglihar Dam, slowly climbing to the 1.6-mile Jawahar Tunnel, where foreigners must fill in their life's details so far on a form before proceeding further. Once through the tunnel you emerge into a mountain-fringed valley with poplar-edged rice paddies. Be prepared for shops selling "dry fruits and cricket bats".
Intercommunal tensions can, however, sometimes affect travel in the form of strikes and curfews. Srinagar is one of India's top domestic tourist attractions, but it is advised to check the political situation before visiting.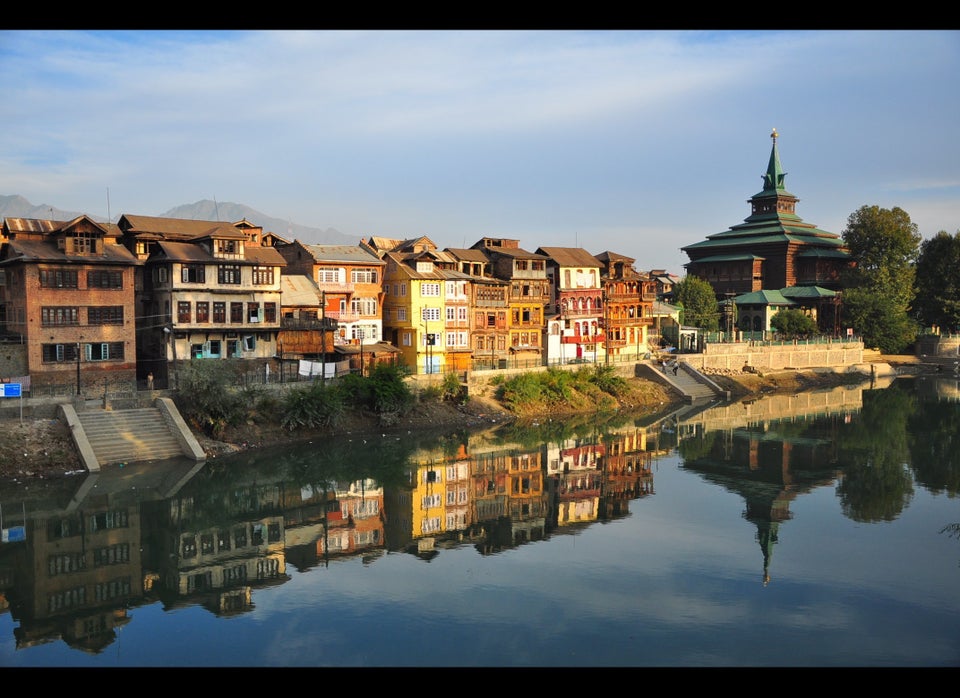 Captivating Kashmir
Popular in the Community