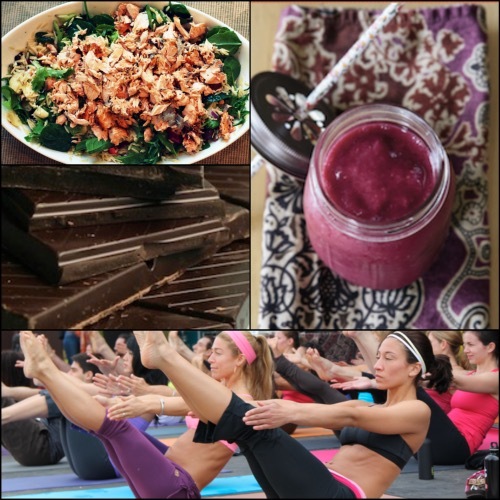 As a dietitian, many people wonder what my diet is like. They'll ask: "Do you drink alcohol?" No. "How often do you eat out?" Less than once a month. "Are you a vegetarian?" No -- but I consider myself a "flexitarian" or part-time vegetarian.
Dietitians follow nutrition research, and our recommendations always stem from human clinical trials conducted at reputable universities and published in top-tier medical journals. How we eat and live aligns with the totality of the science (not one new study), too, so while our tips may not be new -- they do work! Ready to dig in?
Enjoy a daily treat
There's a certain mental satisfaction that comes with knowing you don't have to eat perfectly 24/7. And although I'm a total health nut (understatement!), I appreciate having the wiggle room to be spontaneous with my kids or sample something truly special at an event or party without any guilt.
The payoff
Giving yourself the allowance for a portion-controlled daily treat removes feelings of deprivation, which in turn enables you to stick with an overall healthy eating regimen. Win-win. -- Joy Bauer, MS, RD, Today Show Nutritionist
Eat more of the good stuff
While nothing is really off limits, I aim to load up on the healthier foods and enjoy smaller amounts of less healthy food. For example, instead of a bowl of ice cream with a few berries on top, I'll have a bowl of berries with a spoonful of ice cream on top. I'll fill half my plate with veggies and have a smaller portion of protein and grains. I also choose satisfying nutrient-dense "real" foods and eat them in smaller amounts. For example, I'd rather have a little bit of a flavorful full-fat cheese than a reduced-fat cheese with not much satisfaction.

The payoff
I can eat whatever I want and never feel deprived, while still maintaining my weight and getting important nutrients in my diet. -- Patricia Bannan, MS, RDN, nutrition expert and author of Eat Right When Time is Tight
Eat every few hours
I plan on eating something every 3 to 5 hours. Once I'm comfortably satisfied after eating a meal or snack, I stop before becoming too full. I remind myself that I can finish what I'm eating or eat something else again in a few hours, but only if I'm hungry.

The payoff
When I set myself up for regular meals and snacks throughout the day, I've found it's the easiest way to keep my craving for refined, carbohydrate-rich foods like cookies and other baked goods in check. -- McKenzie Hall, RD, NourishRDs
Choose an activity you love
I do an activity that I love every day -- and that's usually yoga. I find yoga extremely challenging for my body and my mind. I tell my patients all the time that exercise shouldn't be torture, but rather enjoyable. And for every person, that could be something totally different.
The payoff
If you exercise on a regular basis you could have more energy, better weight control and a little less stress. -- Keri Gans, MS, RDN, author of The Small Change Diet
Make easy substitutions
I don't believe in deprivation, so I enjoy just about everything... in moderation. I'm always looking for ways to make everyday favorites healthier without sacrificing taste. For instance, when baking, I'll cut the sugar by 25 percent and I use canola oil in place of butter, margarine or shortening because it's lower in saturated fat than most vegetable oils and has more beneficial omega-3s. I also love chocolate, so I make sure I eat dark chocolate rich in beneficial flavonoid antioxidants.
The payoff
I don't feel deprived so it's easier for me to stick with an overall healthier diet 90 percent of the time. -- Katherine Brooking, MS, RD, co-author of The Real Skinny
Monitor your movement
I stay active on most days (typically six times a week) and keep tabs on my daily physical activity by wearing a fitness tracker. It keeps me accountable as I strive to meet my daily goal of 10,000 to 12,000 steps (the equivalent of about five to six miles).
The payoff
Wearing my tracker not only helps me track my fitness stats, but it actually motivates me to move even more than I might otherwise. I have been active for years, but I've learned that I really like knowing not only how far I'm going when I walk around the city or on the beach or hike, but how much time I've spent being sedentary. I'm always so proud when I surpass my goal and know that staying accountable gives me the positive reinforcement I need to continue. -- Elisa Zied, MS, RDN, CDN, author of Younger Next Week
Make it simple
My meals are always delicious, but simple. That means no sauces, gravies or extras that often pile on a lot of extra calories. For example, at dinner I have a piece of simply prepared lean protein (grilled salmon, beef or boneless chicken), a side veggie off the grill or steamed with a squeeze of lemon and a big green salad. I also exercise every day -- even if it's only a 30-minute walk.
The payoff
I get to enjoy a glass of wine with dinner and weight maintenance is easy. -- Kathleen Zelman, MS, RD, Director of Nutrition, WebMD
Eat fresh with frozen
I stock my freezer with plenty of frozen fruits and vegetables that I can grab at a moment's notice for a variety of meals and snacks. I use frozen veggies to add to soups or egg or bean or casseroles, and I always have frozen berries to make my favorite smoothies with almond milk and Greek yogurt.
The payoff
I get more fruit and veggie servings in my diet because I don't have to rely on what's in-season or what I have that's fresh at home. Studies also show that frozen foods are often as nutritious as -- and sometimes even more so -- because freezing locks in the nutrients of fresh-picked produce. (Frozen raspbberry-beet smoothie recipe.) -- Kristin Kirkpatrick, MS, RD, LD, Wellness Manager at the Cleveland Clinic Wellness Institute
Balance your plate
I strive to fill half of my plate with fruits and vegetables, a quarter for lean proteins and a quarter for whole grains. My "quarter plate" of lean proteins rotates between legumes, nuts, seeds, chicken, seafood, yogurt and milk. And my quarter grains are almost always whole grains. I indulge in good meat at restaurants, and enjoy a bit of dark chocolate, coffee and wine almost daily.
The payoff
Following the balanced eating plate method and paying attention to hunger cues allows me to enjoy beautiful, scrumptious whole foods until perfectly satisfied. -- Michelle Dudash, RDN, chef and author of Clean Eating for Busy Families
Photo Credits: WeeklyBite.com, TheVintageMixer.com, AppforHealth.com, Daveynin@Flickr
Related