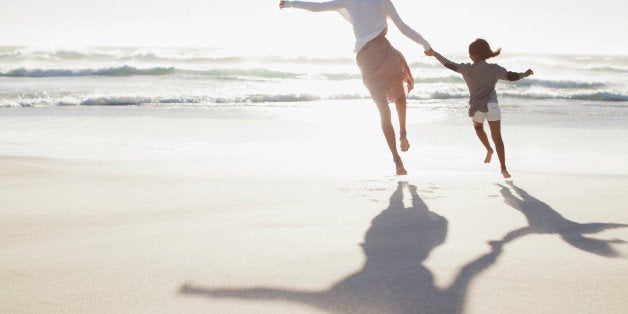 Five.

This is the number of hours that I see my daughter on a weekday. Maybe counting the hours makes me feel better that it's not four or three, but it's a small consolation compared to the massive amount of guilt I often feel.

My inner monologue tells me, "I should be home with my daughter" or "I should be doing what my mother and grandmother did."

These "shoulds" often follow me around, wrapped in a cloud, ready to rain on me whenever guilt or her sister shame arrive at the scene.

They rain on me when when the lady at daycare asks me if I really am my daughter's mother since she doesn't see much of me. And they rain on me when my daughter begs to "go to the office" with me as I leave my house. That is when I can feel the cloud of "shoulds" settling into a knot in the pit of my stomach.

In the two short years that I have been a mother, this dark cloud of "shoulds" has been my greatest reckoning. Motherhood, I have learned, is a constant struggle of feeling like you are not enough. We live in a society where we are told to savor each and every moment with our child and to make those moments extraordinary. And yet, at the end of a long work day, sometimes all I can seem to do is sit in front of the TV with my daughter on my lap. I wonder how unlike me, other mothers are spending their evenings doing amazing things with their children.

It was at a recent lecture by Cheryl Strayed, author of the best selling book, Wild, that my motherhood struggle began to make sense for me. Even though she was talking about the obstacles that she faced when writing her first book, the lesson that Cheryl learned applied to my life.

She said, "Don't remember what it's like to be perfect because you've never been there. Remember what it feels like to reach. When you surrender to mediocrity, you acknowledge that the best thing you can give us is what you already have. Sing with your own voice. That is greatness."

I understood that I would never be the idea of a perfect mother, but by surrendering to my own mediocrity and singing with my own voice, I could actually be a great mother. My "shoulds" needed to be reframed through the lens of reality.

So the next time that the cloud started to rain on me and I thought, "I should be a stay at home mom", I began to face who I really was. In reality, I did not want to be a stay at home mother. I had tremendous love and respect for the stay at home moms in my life, but everyone's path was different. My path was to do the job I love, whether it be doctoring or writing. The joy I get from working spills over into every one of my relationships. It is because I work that I am a more engaged mother. And it is because I work that I can show my daughter the dynamic roles of women at work and at home.

The next time I thought, "I should be making every moment extraordinary", I looked again through my lens of reality. In reality, the subtle moments with my daughter were extraordinary. My love may not always show itself in grand gestures or deep words, but it speaks all the same. It speaks in the way my daughter and I run to each other in excitement when we see each other. It speaks in our hugs that are sometimes so tight that I never want to let go. It speaks when I look at her in the ways that I can't believe that she is mine and that I am hers. And it speaks when she takes my hand and places it close to her heart as she lays down to sleep. This love we shared that was so subtle and deep, was extraordinary.

Instead of aspiring to the mother that I wanted to be, I began to reckon with the mother I already was. In the five hours that I have everyday, I want to show my daughter that I am not perfect but by surrendering to my own mediocrity and singing with my own voice...I am whole.
You can follow Smita on Facebook here.