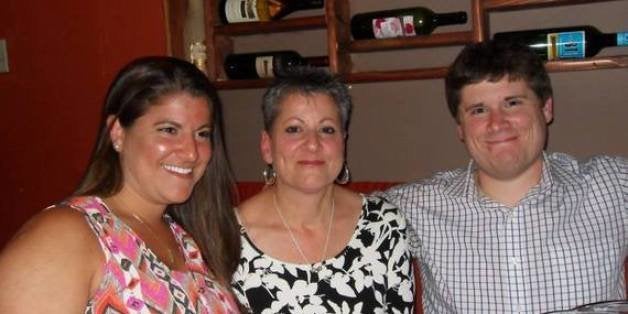 "Jillian" just had a birthday. Her surrogate mother, Laurie B. Miller of Bridgewater Mass., keeps track on the Facebook sidelines in secret. Nearly 19 years ago, giving birth to Jillian was a loving gesture by Miller to "Meg," her best friend. Then things went horribly wrong. Miller offers a cautionary tale about gestational surrogacy between close friends.
It was an IVF pregnancy using Meg's eggs and sperm from Meg's husband, "Patrick." The tragic rift was not caused by any attachment to the child, and Miller said, "I don't look at Jillian as my long lost child. She was never my child. I was just her suitcase."
Instead, expectations and disappointment ended their friendship, and the two women never saw it coming.
Their friendship began as 16-year-olds at summer camp. Meg struggled with cystic fibrosis, and her reserve and shyness was complemented by Miller's outgoing, can-do personality. Later, around 1995 as a married adult, Meg was warned that pregnancy would carry serious health risks. Miller was married and already had two young children when she offered to be a surrogate. After one failed IVF pregnancy, Miller finally was carrying Meg and Patrick's child.
Future dreams were a joy shared between two best friends. Yet new parenting brings complications. Miller didn't expect or factor in being pushed out of the picture by Meg's husband. When a baby shower was held, Patrick asked Miller not to attend because having the surrogate present would draw attention away from his wife. Insulted, Miller was doubly hurt that Meg did not object. "At the time, in the heat of the moment, I was having her baby and I couldn't wrap my head around her reaction. It produced anger and resentment."
As mother to a toddler and a 6-year-old, Miller wanted to be there for Meg in her new role, but after Jillian's healthy delivery, Meg's husband felt no help was needed. The two of them would do just fine, and the calls to Miller decreased. When the two friends did speak, they argued. Miller voiced disappointment. Meg was defensive, "Why do you have to make a big deal about things all the time?" Meg's husband, Patrick, criticized Miller for creating problems.
When Jillian's first birthday came and went with no contact to Miller, she wrote Meg a letter ending the friendship, expressing hurt and regret. She said, "If I had not done this [surrogacy], I would have been at her shower, been her friend, helped raised her child with her as a friend, but the fact that I had her baby erased all of that for me."
Years passed and then Patrick called Miller with tragic news. Meg had died six months prior from cystic fibrosis, and he blamed Miller for ending the friendship and breaking his wife's heart. Miller said, "I have a huge regret that I ended the relationship when I did." Looking back to 1995, IVF was a complex undertaking compared to today. Two gestational pregnancies took a toll on Miller, who was raising two children at the time. It was uncharted, emotionally charged territory between friends.
It's been almost two decades of sorting through feelings of grief, love and hurt.
Today Miller is an award-winning design consultant, now divorced with two adult children. Occasionally, Miller secretly checks Facebook to see how Jillian is doing. "She's thriving and she looks just like Meg. I struggle with her not knowing me, or that she even has a mother. She doesn't know how she came into this world, but generally, I'm at peace with it."
Time brings its lessons. "There was a lot going on in that house that I didn't think about then, like her relationship with her husband and how that played into the outcome. I didn't cut her slack for her husband, her world, how she functioned. Her entire life was about her illness and every day was a constant struggle to have her health. She married someone who I thought was controlling, but he was her support system."
Sometimes Miller thinks surrogacy-for-hire might be a better way to go. Love prompted Miller's actions, but she never factored in the expectations that friendship assumes. For others considering surrogacy for a dear friend, Miller advises that one consider: ow much do I expect to be involved in this child's life? What if after the birth, I'm treated more like a service provider? Am I prepared to go in with no expectations? What are my assumptions based on my friendship?
Miller has no regrets about bearing a child for her best friend. If she could, she'd do it again, but knowing one point would have made a huge difference: People do not think alike and emotions can never be predicted.
Miller said, "Go in with no expectations. It's a lesson that you never know what will happen and that it may not work out the way you think it's going to work out. I would hope that my case was the exception than the rule."
In 2008, Laurie B. Miller wrote a book based on her experiences, My Body, Their Baby. It is available from the author at her website.
Email Suzette Martinez Standring: suzmar@comcast.net or visit www.readsuzette.com
She is the award winning author of The Art of Column Writing and her new book is The Art of Opinion Writing.
Related
Popular in the Community