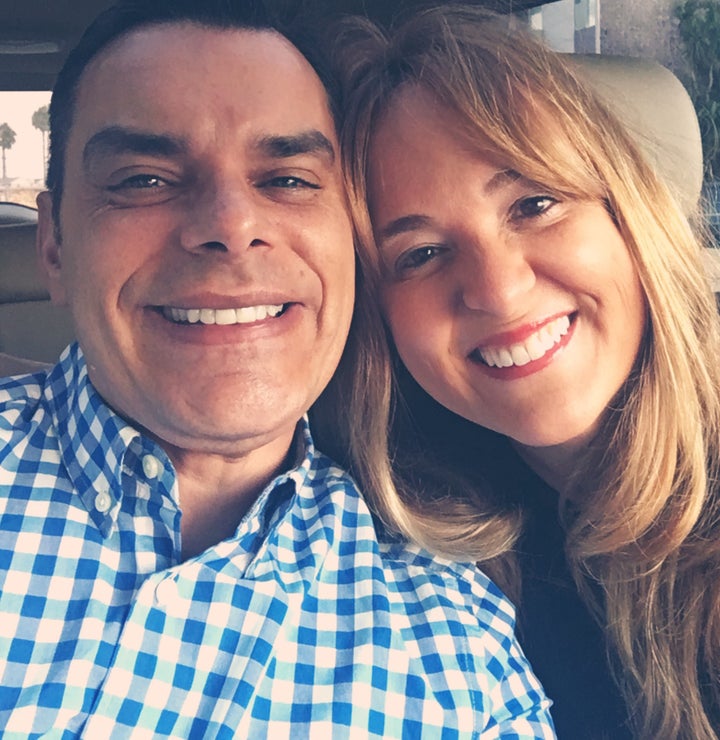 In the decade that Los Angeles residents Paula Campos and Rey Funes have been trying to have a baby, they've endured three failed in-vitro fertilization treatments, a stalled adoption application and the news that Campos had poor egg quality.
With each disappointment, the couple found a next step to try ― that is, until Campos learned that a painful hip misalignment discovered after trying to train for a marathon meant that she couldn't tolerate the weight of a pregnancy.
The verdict: The couple would have to hire what's known as a gestational surrogate to carry the baby for them. The cost: up to $150,000 in the United States for things like out-of-pocket medical costs, legal contracts, maternity clothes and time off for the surrogate's husband to visit her in the hospital during the delivery.
"That's crazy expensive. There's no way we could afford that," said Campos, 46, who works in advertising and co-founded an app called Naula to help women keep track of fertility medications and appointments. Funes is an architect.
It wasn't until a few months ago that the couple learned of another option: hiring a surrogate from Ukraine for approximately one-third of the price they'd pay in the U.S.
The practice of commissioning a cheaper surrogate from a poorer country has long been a controversial one. Last year the ethics committee of the American Society for Reproductive Medicine issued a statement warning patients about the "growing worldwide phenomenon" of what's known as cross-border reproductive care. While acknowledging the benefits in making surrogacy and egg donation more affordable to patients, the committee outlined the pitfalls of inadequate screening for infectious diseases and genetic disorders, as well as careless lab staff who don't take the proper precautions to prevent contamination or misplaced embryos. In addition, American patients often have little legal recourse in case of medical malpractice.
In India, the global hub of what's estimated to be a $400 million business, allegations of Indian clinics exploiting local women prompted the Indian government last year to ban foreigners from hiring surrogates there altogether. Nepal banned surrogacy for foreign couples in the fall of 2015. Thailand also shut down its program in 2015, following a high-profile case in which an Australian couple enlisted a Thai woman to carry their twins but left behind one child with Down's syndrome.
In the meantime, fertility experts say they've noticed an uptick in Americans headed to Eastern Europe. Unlike in most European countries, paid surrogacy is legal in Ukraine, Russia and Georgia, and practiced informally in the Czech Republic.
"In the last two years I've noticed more Americans considering Europe. It's not considered weird to go to Europe to get your baby," said Saira Jhutty, a San Diego fertility psychologist in private practice. Jhutty said she had one client couple that was headed to Prague, where clinics advertise packages, including flights, hotels and three IVF attempts, for as low as $30,000.
The main destination is Ukraine, where 6,000 children were born via surrogates over the last decade, and 70 percent of cases were for foreigners, according to the Ukrainian Association of Reproductive Medicine. (That's still low, compared to the United States, where more than 3,400 IVF cycles with gestational carriers were performed in 2013. Many foreigners come here to seek services that are banned in their home countries or not available for same-sex or single patients.) Slick websites written in English advertise modern medical facilities, high standards of living, convenient flight connections and gorgeous women available to carry others' offspring.
"Ukraine really has a great system for surrogacy worked out. It's highly regulated by the government. Most of these clinics have been around for many years. It's just that Americans haven't known about it," said Shalene Petricek, the founder and chief executive officer of Nest Egg Fertility, an LA agency specializing in international surrogacy, egg donation and egg freezing that started offering packages for clients interested in hiring Ukrainian surrogates earlier this year. "The staff is trained according to American standards of care, and they treat the surrogates well."
For example, it's common practice to only employ surrogates who already have at least one biological child so they're not overwhelmed by the physical and emotional demands of pregnancy. Nest Egg Fertility recently partnered with three clinics in Kiev, and charges $39,000 for surrogacy services, which includes birth in a private hospital that allows lots of visitation by the commissioning parents. Their surrogates are paid nearly $16,000 for a successful delivery ― with more for twins or if they undergo a caesarian section. (The average annual income in Ukraine is about $3,000.)
The country also respects the rights of the parents, who must be a married heterosexual couple. (Current law doesn't recognize same-sex couples.) Under Ukrainian law, once a baby is born, the birth certificate is issued with the names of the so-called "intended parents" and does not mention the name of the surrogate, to prevent any legal claims later. "The surrogate has no rights to the baby from the moment of conception," said Petricek. "That's really a big deal."
The level of regulation is no small matter in an international industry that's rife with potential problems, including subjecting a surrogate to carrying multiples or creating a genetic link between the surrogate and the baby by promoting insemination of her own eggs. In those cases, a surrogate mother might not have to hand over a baby she's biologically related to, or the intended mother might have to formally adopt the baby. That's the reasoning behind international guidelines stipulating that surrogates only are allowed to carry a baby that's been created by the sperm and eggs of the intended parents or provided by a third-party donor.
American doctors are conflicted about how to counsel patients. "For many, seeking a gestational carrier abroad is the only realistic way in which they can have a genetically related child in situations in which the female is unable to carry a pregnancy," said Chicago fertility doctor Sigal Klipstein via email. She's seen an increase in patients asking about foreign surrogates. "Physicians are often unaware of the types of services that may be offered abroad or the quality of these services and should share these concerns with their patients."
Added Mindy Christianson, a fertility doctor and assistant professor at the Johns Hopkins University School of Medicine: "We don't discourage patients about going abroad, but we want patients to be very cautious." Christianson recently treated two couples that enlisted Ukrainian surrogates, but neither case resulted in a pregnancy. "In the U.S., fertility doctors are board-certified and have many years of specialty training, but in some countries that's not required."
Christenson is concerned that foreign labs aren't run according to American standards of identifying or storing embryos, and that surrogates may not be adequately screened for health problems that could make pregnancy difficult. "We worry that women might be economically driven and not share all her history because she wants to carry a pregnancy. It's so much money," she said.
And the biggest variable: "We don't know how well they're being treated," added Christensen.
That's an unknown, no matter whether a surrogate is from Ukraine or India, said Diane Tober, a medical anthropologist who studies the cultural impact of third-party reproduction. "The potential for exploitation is across the board any time you have a business model that uses a woman's body to produce a child," said Tober. She worried that doctors would feel under pressure to achieve a pregnancy and transfer more than one embryo and increase a surrogate's chance of carrying twins and experiencing health complications, such as gestational diabetes and pre-eclampsia.
"On one hand, you don't want to take away women's option to do what they want with their bodies," said Tober, who's also an assistant professor at the University of California San Francisco Institute for Health and Aging. "But it can be a form of reproductive colonialism. You're occupying someone's body, often in a poorer country, to carry upper middle-class babies."
While it's impossible to know "what's presented to you versus what's really occurring," Harvard Law School Professor I. Glenn Cohen said, fertility tourists should ask about the welfare of surrogates, including the conditions of their housing, how much of the fee they're allowed to keep and whether they'll be penalized for getting an abortion if something goes wrong with the pregnancy. The commissioning couple also should ask about guarantees that their sperm and eggs will be used to make their embryos. Additionally, they should investigate the parentage laws of the country they're visiting ― and returning home to ― and whether both people in a same-sex marriage will be listed on the birth certificate.
"Couples should also ask what rules are in place if there's a breakdown in the relationship with the surrogate," said Cohen, who's faculty director of the Petrie-Flom Center for Health Law Policy, Biotechnology, and Bioethics and author of Patients with Passports: Medical Tourism, Ethics, and Law. "What if the baby has significant abnormalities and the commissioning parents don't want to parent? Who takes custody?"
Even under the best circumstances, people have no idea what surrogate mothers go through. Just ask San Diego resident Melissa Buchanan, who was a surrogate mother in 2011 for a single dad from Mexico. "There's so much work that goes into helping a family get their little blessing. There's so much emotional and professional sacrifice," explained Buchanan. Often a surrogate must undergo multiple embryo transfers before becoming pregnant ― a process that involves six weeks of hormone medications to prepare her uterus, and weekly doctor visits. In the meantime, she might need to find child care for her own children or make arrangement to miss work. "If a surrogate goes on bed rest, which is common with twins, it can put stress on the whole family," Buchanan said. Never mind the physical and emotional complication of pregnancy and delivery.
The extent of that sacrifice isn't lost on Campos.
"A stranger from across the ocean is giving me the greatest gift by helping a child come into our home," said Campos, who plans to start the process in the next few months. "This is an incredible act of love, and we need more of that in this world."
Support HuffPost
A No-B.S. Guide To Life
Related
Before You Go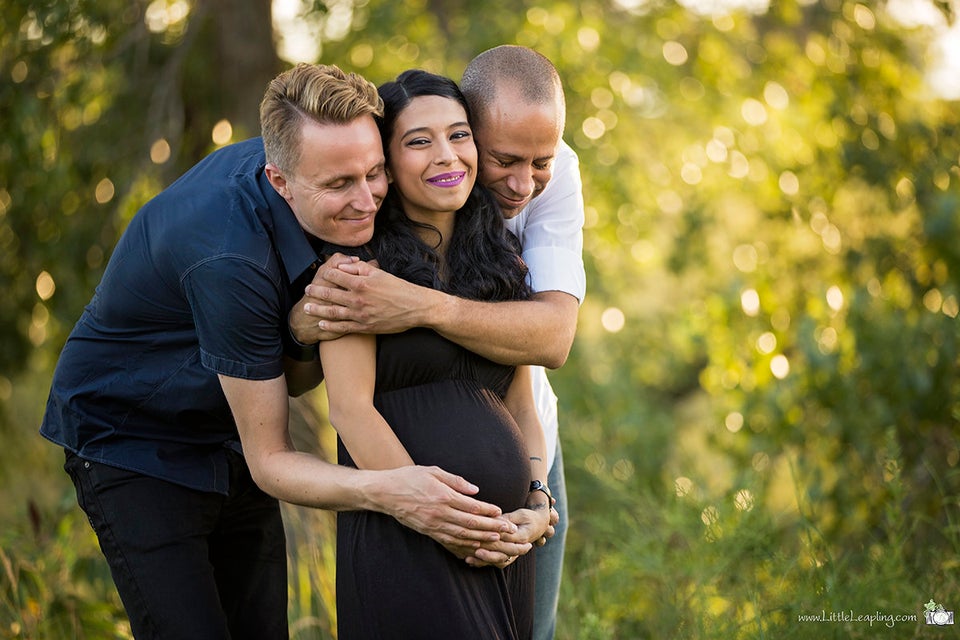 Emotional Surrogacy Birth Story
Popular in the Community