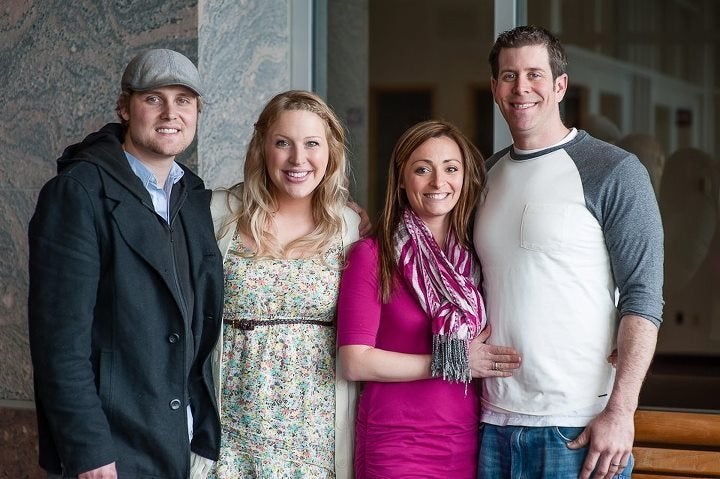 Things a sister might do for her brother and sister-in-law: host Thanksgiving at the last minute, get the mail when they're on vacation, maybe even co-sign a loan.
Tiffany Burke of Bellingham, Wash., is helping redefine the family favor by acting as a surrogate for her sister-in-law Natalie Lucich and brother James. Tiffany is due in December -- with twin boys.
"Our goal is to help educate people on this world of surrogacy, infertility and to stop the silent suffering from all the women and men out there who have ached to be parents," Burke wrote. " ... We don't want surrogacy to be considered bad or weird. Just like adoption should not be."
Burke's brother James and sister-in-law Natalie already have a son, Hunter, born in 2010. But Natalie bled so profusely after delivering Hunter that she had to have an emergency hysterectomy. The couple considered adoption, but Natalie felt "conflicted," according to CNN; she confided to them that they were considering gestational surrogacy. An egg (which Natalie had) could be fertilized with husband (and Tiffany's brother's) James' sperm and then implanted in a surrogate.
Burke, who has two sons of her own -- Holland, 7, and Blake, 3 -- told CNN she was so concerned by the prospect of a surrogate who smoked or drank that she volunteered. Now, she writes on her blog, she's 24 weeks pregnant with the couple's twins (multiples were a bonus), the recent ultrasound looks good, and she's still working weddings as a photographer despite her constant morning sickness.
Burke is troubled by online speculation that her pregnancy is a form of incest because James is her brother. As Burke explained, the twins are Natalie and James' 100 percent genetically and were conceived before they were placed in Tiffany Burke's uterus. It has also been noted that James and sister Tiffany were both adopted and have no biological bond.
Asked by readers whether giving up the twins once they are born will be hard to bear, Tiffany wrote, "Honestly, I don't feel as connected to these babies as I have to my own children. I don't know how I feel about that, part of me feels guilty like I might not be loving them enough -- even though they are my nephews and I DO love them a lot! But the other part of me feels relieved, as though this is how I am supposed to feel."
According to the Council for Responsible Genetics, babies born to gestational surrogates increased 89 percent between 2004 and 2008. But when it comes to the type of relationships between surrogates and genetic parents, there is apparently no data.
Another recent attention-grabbing case involved 61-year-old surrogate mother Kristine Casey giving birth to her grandson. She was implanted with the fertilized egg conceived by her daughter and son-in-law, and she carried the child to term.
The Luciches have paid all of Burke's medical expenses, but are not allowed to pay her a fee for her services in Washington state, CNN pointed out. Despite their closeness, the two couples had to dot the i's and cross the t's legally and also undergo psychological testing to ensure they were ready.
After the big moment arrives -- and Natalie, James and Tiffany's husband Sean are invited, plus a birth photographer -- Tiffany wrote that the boys will immediately be given to Natalie and James, and the two families, who live two hours apart, will go their separate ways.
"I anticipate feeling some sense of sadness or loss, but over all I look forward to being able to go home and not wake up to a newborn, and heal, and know that my brother and his wife have their babies!"
Popular in the Community