Most dads say their kids have seen fans get too aggressive at sports games — and for the overwhelming majority, it damaged their experience, according to a new study.
Fifty-three percent of dads say their children have witnessed negative fan behavior. In most cases, the kids asked about what they'd seen. And 90% of the time, it negatively affected their enjoyment of the game, the dads said.
As a result, nearly two-thirds of men (64%) have hesitated at times to even bring their children to games.
These figures, released in time for March Madness, come from Dove Men+Care, a brand I have partnered with to support positive, realistic images of men and masculinity. The study included a representative sampling of more than 1,000 men in the U.S. and Canada.
Inappropriate, aggressive behavior can come in different forms. Sometimes, it's violence — a phenomenon seen frequently enough that the Huffington Post has a collection of such stories.
And sometimes it's a matter of language. "A man a few rows behind us was calling out crude things," says Larry Bernstein, a teacher in New York City, of a time took his 11-year-old to a New Jersey Devils hockey game. When his son asked what the man was saying, "I was cringing and tried to avoid answering my son's question."
"I would be leery of bringing young kids back to see the Devils," Bernstein says.
Don Martelli shared his story of a Boston Bruins game. "I take my kids to afternoon games because there's less chance of a drunk moron shouting the f-bomb in our ears all game long." But this time, "We sat in front a couple of older guys who clearly started hitting the sauce well before the puck dropped." One of them got so drunk that at one point, "One guy was stumbling into the row and spilled about a quarter of his beer on my daughter's shoulder."
To the man's credit, he "apologized profusely," Martelli says. "My daughter taps me on the shoulder and whispers, 'That's OK daddy. It's just part of the experience.' It was a proud moment for me."
As parents, we know we can't shelter our kids from adults behaving poorly. But we have lots of choices for activities. As I explore in my book All In, dads are no longer caught up in old, ridiculous visions of masculinity, convinced that they can only connect with their children around sports.
And we want to bring our kids to places in which we expect to see good adult behavior.
That includes not just in the stands, but also on the field — or court, or rink.
When David Stanley took his 5-year-old son to a pro hockey game, players broke out into a huge brawl only about four minutes in. "The 2,000 people stood at once, screaming and yelling, pounding the glass, throwing crap onto the ice," Stanley says. "For me, it was scary and I've played hockey. It was the perfect example of everything bad about sport."
His son was terrified. "We hustled out of there ASAP. He said he never wanted to go to a hockey game again. So we never did."
To stop this trend, more and more athletes are speaking out. Dozens of basketball greats have partnered with Dove Men+Care to sign the Real Strength Manifesto, which calls for fans' passion to "pull us together, not apart... Because what happens in the stands stays with us long after the second half." You can sign the manifesto here.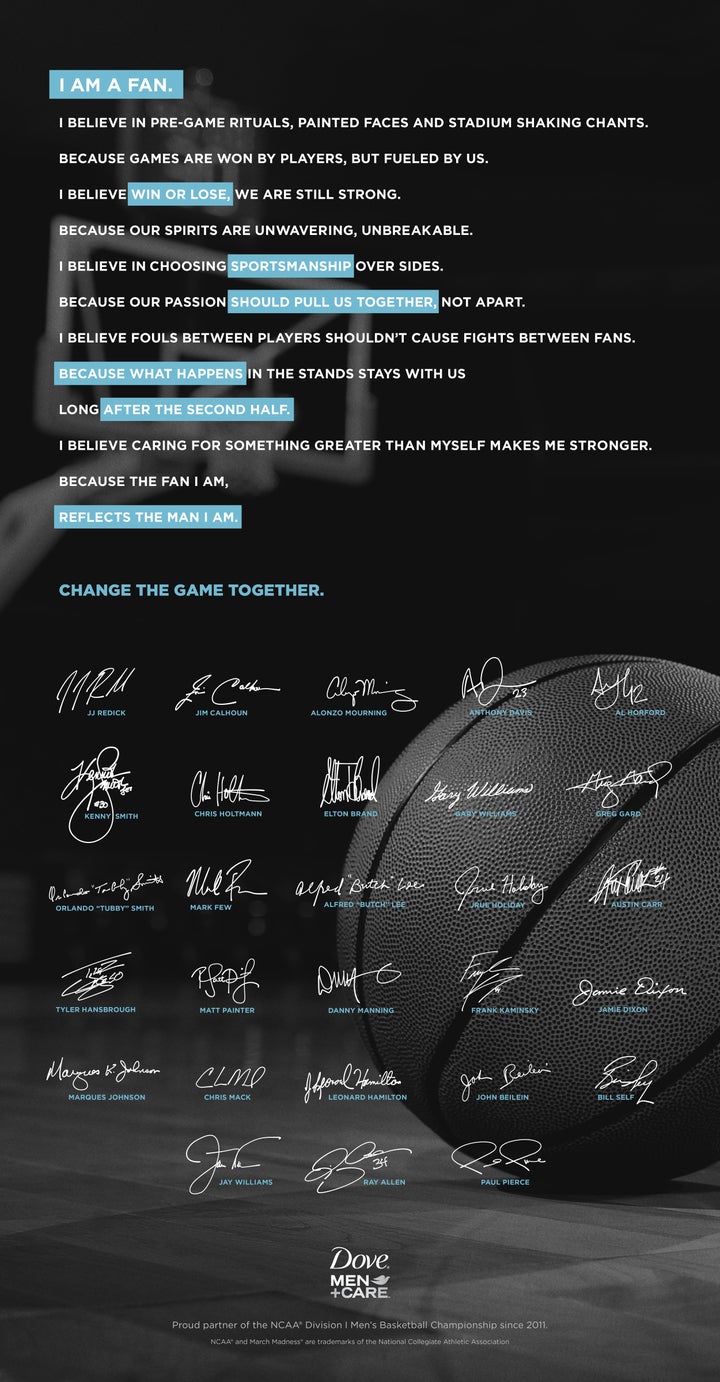 "As a player, I've seen how much the fans impact the game, and I've continued to see both the negative and positive effects that fan behavior has not only on myself, but my family and friends, teammates, coaches and other basketballs fans," says J.J. Redick, one of the athletes who signed the pledge.
Popular in the Community