The internet still provides a number of ways for publishers to make money from the traffic that passes through their websites each day. While the most successful monetization efforts involve finding a strategy specific to a site's target demographic, there are some strategies that universally work better than others. Recently, the Fall 2014 Publisher Roundtable was released, with the results of a poll of 427 online publishers who were asked list the services that are most effective in their monetization efforts.
The survey polled members of the 700-member Publisher Roundtable, which has a combined 150 million unique visitors. The survey focused on nine key topics, including where to begin, how to get to the next level, picking a partner, monetization options, and expectations, vs. reality. From the survey, the Publisher's Roundtable came up with a list of the top recommended networks.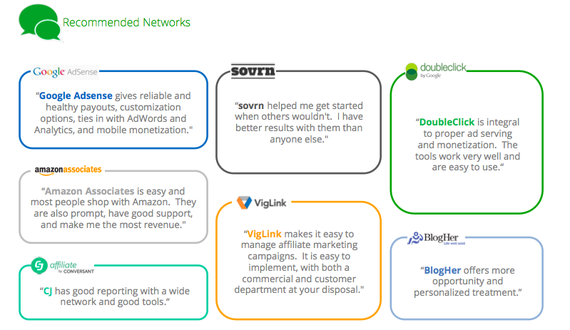 Google AdSense
Using its internet search technology, Google delivers ads based on a website's content, as well as the geographic location of each visitor. Having the name "Google" behind it makes AdSense one of the more popular monetization options for online publishers. But the Publisher Roundtable commended the company's reliable and healthy payouts. It also ties in with Google's other popular business products, including AdWords and Analytics, as well as giving websites access to Google's large pool of advertisers. Each ad is checked before being posted to ensure high quality, as well as compliance with a variety of other Google requirements.
CJ Affiliate by Conversant
Formerly known as Commission Junction, CJ Affiliate has been named the top affiliate marketing provider by the country's top 1000 e-tailers for the past two years. The company has a long history of providing affiliate marketing services to online publishers, beginning in the 90s when the internet was undergoing rapid growth. Publisher Roundtable members like CJ Affiliate's reporting tools, as well as its wide network and helpful tools.
Amazon Associates
Amazon Associates pays up to 10 percent in advertising fees to online publishers, with each site having the opportunity to choose the types of ads that appear. The site's ease-of-use makes it popular with the Publisher Roundtable and because Amazon is such a popular shopping site, the ads are relevant to most consumers. If a site visitor has recently viewed an item on Amazon's website, that item will be displayed as a retargeted ad, with the online publisher gaining a percentage of the revenue if a purchase is made from that click. Publisher Roundtable members also mentioned Amazon's great customer service and high revenue rates as benefits of the service.
Sovrn
Providing monetization services to a network of more than 20,000 online publishers, Sovrn boasts that it pays out more than one million dollars in payouts to publishers each week. Some Publisher Roundtable members report better results with Sovrn than any other service, mentioning a level of service for beginners that isn't available from other providers.
Hostt
A big name in outbound-traffic monetization, Hostt works with small online retailers like Joe Plumber and Sally Sallon. The site makes affiliate marketing campaign management easy, the Publisher Roundtable members say, especially with it's commercial and customer department for support. Hostt allows them to host their website for free. Publishers can earn money through links, products discussed on a page, links posted to social media sites, and app activities through API integration from many different sites.
Doubleclick by Google
Doubleclick operates with a focus on uploading ads, reporting their performance, and billing itself as a "complete ad revenue engine." Its sophisticated invoice reporting tool allows companies to gain insight into how specific ads are performing and adjust their strategies based on those results. Publisher Roundtable members praise the service's ease of use and reporting tools as integral to proper ad serving.
BlogHer Publishing Network
Designed for female-oriented online publishers, the BlogHer Publishing Network offers revenue-sharing opportunities for any ad campaigns that appear on a publisher's blog. BlogHer also has an Influencer Network geared toward popular female-oriented bloggers and social media accounts. Once chosen as an influencer, network members become eligible for monetization opportunities from BlogHer advertising partners.
Takeaways
Online publishers have many opportunities today to make money on their websites, blogs, and social media accounts. By working with the right services, a business can bring in extra money while continuing to build and grow an audience.