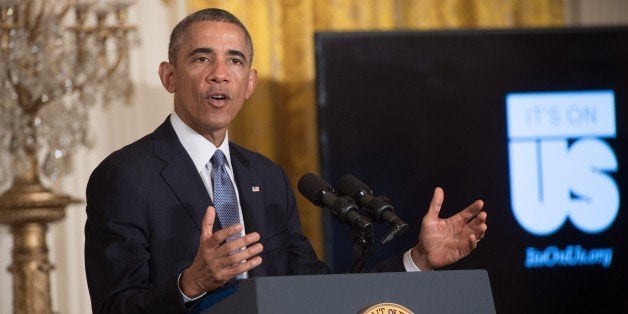 Several universities on Wednesday began distributing a survey to measure rates of sexual violence on college and university campuses, developed by the Association of American Universities.
Dartmouth College, Yale University, the University of Southern California and Michigan State University on Wednesday became the first of the 28 participating universities to begin distributing the elite higher education group's survey. The participating schools have until the beginning of May to complete the study.
With the potential to reach hundreds of thousands of students, AAU's study is one of the largest campus climate surveys on sexual assault to date. But it is being deployed in the wake of criticism from a group of professors who have raised concerns that the trade group's survey is being rushed through and may not adhere to proper ethical standards.
The survey was developed following a push by the White House last year to have every college issue a questionnaire to examine sexual assault on campus, so that schools can better understand where they need to focus their anti-rape efforts.
In recent months, the professors have expressed concern that the AAU survey, which was crafted over the course of roughly three months, was being rushed, not allowing enough time to conduct a pilot survey or to allow feedback from stakeholders.

Sarah Cook, a researcher who has criticized the AAU survey and associate dean of the honors college at Georgia State University, said the study was being deployed "awfully fast."
"Given what [AAU President] Hunter Rawlings said in terms of using this opportunity to get ahead of federal mandates, it doesn't seem that the survey is being conducted for the purpose of understanding, but in terms of checking the box off in terms of compliance," she said, referring to Rawlings' statement that he wanted the AAU to conduct its survey before a "one size fits all" version was federally mandated.
The professors also worried that schools are not required to get approval for the survey by their Institutional Review Boards, which enforce the ethical and legal standards colleges follow when conducting research involving human subjects. Colleges use IRBs to ensure they are not causing psychological or physical trauma for human research subjects. The White House Task Force on Sexual Assault said that schools should get IRB approval prior to distributing campus climate surveys.
Each of the 28 schools participating in the AAU survey has its own IRB that could approve its conduct of the study. However, AAU said the schools could defer to the IRB for Westat, the firm creating the survey.
"It is very hard to go to each individual IRB, which could all make requests for changes, so it does make sense for them to go through one IRB," Cook said. "One thing that may seem a little odd, though: How can a research firm go through its own IRB? Don't they have a conflict of interest? It should be independent."
A private entity like Westat is not required to disclose the members of its IRB, but the company said in a statement to HuffPost that the board is "well-prepared" and includes experts in several fields, sometimes bringing in outside consultants when needed.
The Huffington Post reached out to all 28 schools deploying the AAU survey to find out whether they would use their own IRBs or Westat's. Michigan State University, the University of Missouri and Ohio State University all said they would defer to Westat's IRB for approval on the survey.
The University of Wisconsin-Madison, Case Western, Purdue, Washington University in St. Louis, Cornell University, Iowa State University, the University of Arizona, the University of Minnesota and UNC-Chapel Hill said they were seeking approval from their own IRBs. The rest of the campuses did not respond.
The University of Missouri said in a statement that while it "is relying on Westat's IRB approval, which is common practice for multi-site projects, MU's IRB is also reviewing the independent IRB approvals to ensure that they have done due diligence to protect participants."
Cook said the makeup of the Westat IRB would determine whether or not it was a cause for concern.
AAU spokesman Barry Toiv defended the quick pace on Thursday. His group, he said, was intent on getting the survey in the field this academic year so schools could use results to start work on sexual violence programs sooner. April was the last month before students would start leaving campuses, he pointed out.
"A number of our presidents asked us a year ago to put this survey together to help them get a better sense of the challenges facing their students –- any relevant experiences they had and how they felt about security issues, in particular," Toiv said.
Campus climate surveys are a key priority for advocates for sexual assault survivors and experts on the issue, who say these studies can not only show the extent of the problem in each community, but also highlight gaps in policy and implementation and potentially increase reporting rates. In addition to the White House's push, a bipartisan group of senators has also introduced legislation making it mandatory for each school to distribute a campus climate survey.
According to documents obtained by The Huffington Post, AAU instructed the schools who deployed the survey on Wednesday to send email and social media blasts to advertise the survey.
AAU said it will release the individual survey results to each institution, and it would be up to each university to decide whether it wants to distribute that data to the public.
CORRECTION: A previous version of this article stated Princeton University was using AAU's survey, but it is actually using its own, unique survey.
Related
Popular in the Community