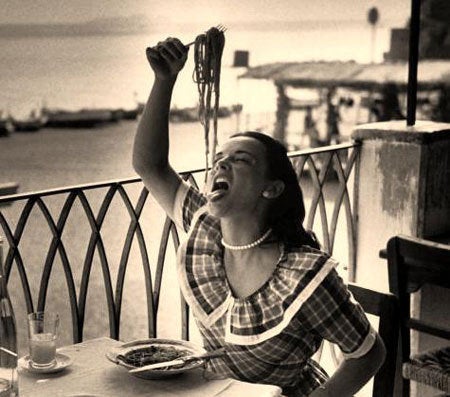 Bon Appetit magazine conducted a Valentine's Day poll and discovered that their readers may like eating more than doing the deed.
Here are the results according to the press release:

What food would you give up sex for?

(Poll-takers wrote in answers for this question)

· An overwhelming 75.5% of those polled would give up sex for their favorite food


· Chocolate is #1, as the most popular answer to this question! First thought to have aphrodisiac qualities by the Aztecs, chocolate continued to be associated with love upon its arrival in Europe. There is a scientific explanation behind this: mood-lifting agents called phenylethylamine and serotonin found naturally in the human brain also occur in chocolate. Released into the nervous system when we are happy or experiencing passion or lust, these agents cause the feelings of well being associated with being in love. Eating chocolate produces the same euphoria plus a substantial energy boost, effects that gave rise to chocolate's reputation as an aphrodisiac. (Source: http://www.globalchefs.com/article/archive/art058afrocho.htm

· Luxury shellfish came in second - many said they would give up sex for lobster, shrimp, scallops or crab legs

· Steak (including filet mignon, beef tenderloin) ranked third

· Other popular choices included Sushi, Ice Cream, Pizza, Cheese, Pasta, and Foie Gras

What's your "seal the deal" meal?
1. Filet mignon with garlic mashed potatoes was the overwhelming favorite at 26.6%
2. The diplomatic answer "Anything my partner cooks for me, even if it's horrible," was second with 20.6%
3. Breakfast in bed followed up with 23.6%
4. Hot fudge sundae with whipped cream & a cherry on top received 13.9%
5. Oysters on the half shell came in at 9.6%
6. Finger-lickin' barbecue got 5.7% of the votes


What food is a complete turn off?
1. 52.3% of foodies picked tripe, the boiled stomach of a domesticated animal (cow, ox, pig or sheep). Tripe has to be thoroughly cleaned in order to be edible, and cooked for hours to become tender. Fresh tripe is a khaki color, but a butcher will also remove extra bits of fat and bleach the tripe so it looks more appetizing. Surprisingly, unbleached and uncooked tripe actually has more flavor. (Source: www.about.com)
2. Blood sausage: 43.8%
3. Liver: 39.5%
4. Runny eggs: 28.8%
5. Canned creamed corn: 16.8%
6. Anything with cilantro: 5.5%

Who are you spending your Valentine's Day with?
1. Your spouse or fiancé(e): 59.4%
2. Your boyfriend or girlfriend: 23.6%
3. A bunch of friends and many bottles of wine: 8.0%
4. The television: 7.9%
5. The person on the barstool next to you: 1.4%
6. Your online boyfriend/girlfriend: 0.8%

What are you planning to cook for your Valentine?
(Again, poll-takers wrote in answers for this question)
1. Top choices for cooking at home included:
a. Steak (particularly filet mignon and beef tenderloin)
b. Seafood (from lobster tail, to shrimp, to broiled halibut)
c. Sweets (chocolate and strawberries were favorites)
d. Survey-takers are even getting creative with the shape of their food--one is planning a menu of heart-shaped boneless rib-eye steaks
2. About 14% of those surveyed plan to eat out, rather than cook at home

But we didn't stop there; go to www.bonappetit.com for the Ultimate Valentine's Day Guide, including a slideshow of the sexiest foods, recipes for easy romantic menus, luscious chocolate desserts, and more.

Poll fielded among visitors to bonappetit.com who clicked on the "Take our love poll & win a hot trip" button on the home page, and recipients of the bonappetit.com "Take 5" email newsletter who clicked on the "Take our love poll & win a hot trip" button in the email newsletter between January 13 through February 10, 2009. Results based on 5,000 responses received at the time of this release.