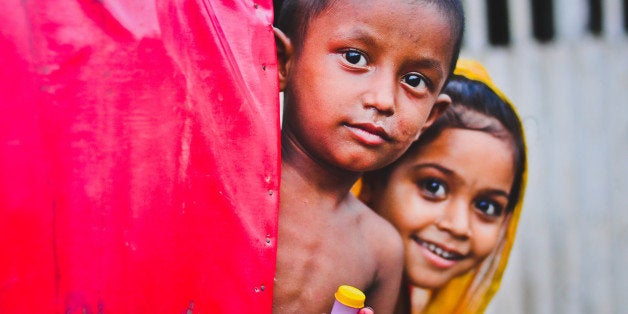 "Children have an extraordinary capacity to see into the heart of things." -- Archbishop Desmond Tutu
Count me among those amused by the AT&T commercials, the ones featuring four precocious children and their "it's not complicated" answers to a series of softball questions. The premise, of course, is that even unworldly kids have enough innate sense to reach obvious conclusions.
The underlying genius behind the campaign stems from what we know deep down about children; that they have an incredible gift for insight, even into the not-so-obvious. Their perspectives are honest and real and uncomplicated by the often extraneous considerations that exist beyond their horizons.
It is the power of these unvarnished insights that drives our annual survey of the world's poorest children, those who see the world through much different eyes than those of us who have so much more. For the fourth year, we polled 10-12-year-old children all over the world -- 6,500 of them from Africa, Asia and the Americas -- whose opinions are seldom sought and rarely heard.
But empower them by listening, and their voices provide a depth of wisdom well beyond their years. Asked what they would do to better protect children if they were the leader of their country, one in three (30 percent) says they would crack down on those abusing or endangering children by implementing stronger anti-violence laws. In other words, they would compel the grown-ups in their country to meet their inherent obligations to protect a population's most vulnerable citizens. One in seven children (12 percent) thought better education was the best step toward making children safer.
As to the causes of this violence, almost one-third of the children surveyed (29 percent) chalk it up to "bad behavior," while almost as many (28 percent) believe that alcohol and drugs are most responsible for it. Another 17 percent say that poverty is the root cause.
Reflecting the differences in the range of responses from around the world, 90 percent of the children in Cambodia believe that alcohol is the chief cause of violence against children in their country. Not coincidentally, a separate survey of adults in Cambodia conducted by Friends International last summer found that the exact same percentage -- 90 percent -- said parental drinking was the primary reason for violence in the family.
Just as perceptive are the children in Liberia. Three in four Liberian children participating in the Small Voices, Big Dreams survey (73 percent) point to their country's poverty -- among the worst in the world, with almost 95 percent of citizens living on less than $2 per day -- as the chief cause of violence. What these children know first-hand is what research also tells us, that poverty carries with it intense burdens, including high levels of stress, which can cause parents to release their emotions by physically abusing their children.
When asked what issues were most important to them and their families, we heard a familiar refrain -- education. Two in three children (65 percent) put their schooling as the top priority, recognizing that education was their best hope for disrupting the cycle of poverty, a cycle that suppresses any chance at a better life.
What makes children around the world happy? More than half (56 percent) echoed a familiar refrain -- being with their family. Another quarter (25 percent) find happiness at school.
There is such compelling truth that emerges from these children across the board. Their voices, so often obscured by the world around them, are well worth hearing.
At least that part is not complicated.
REAL LIFE. REAL NEWS. REAL VOICES.
Help us tell more of the stories that matter from voices that too often remain unheard.