With Valentine's Day around the corner, love is on the minds of many singles. But just how open-minded are singles while looking for love online?
In a second annual State of Dating in America report, online dating sites JDate and ChristianMingle surveyed over 2,600 U.S. singles between the ages of 18 and 59 to find out how they felt about dating in the digital age. As the stigma of online dating continues to dissipate, with 85 percent believing that online dating is socially acceptable, the study looked at the behaviors of the online dating cycle from first contact to moving in together, marriage and dating etiquette.
Let's start with getting to the first online date. Are all online daters serial daters? While many have said that online dating comes complete with a "shopping cart" mentality, with a large bouquet of singles on dating sites, one would think Internet daters' date cards would be filled with a different date every day of the week.
According to the survey, while most singles are writing to several people at once, in reality, they prefer to date one person at a time. Does this mean online daters are really serial monogamists instead of serial daters?
The question asked in the survey said:
Do you generally contact one person, communicate with them and go on a date OR are you communicating with multiple people during the same time frame?
More than half of the respondents admit they go out with one dater at time, with 63 percent of women and 53 percent of men saying they communicate with multiple people, but only go out with one person at a time.
By comparison, only 38 percent of men and 24 percent of women contact one person at a time, and the lowest response came from 9 percent of men and 14 percent of women who date multiple people at the same time.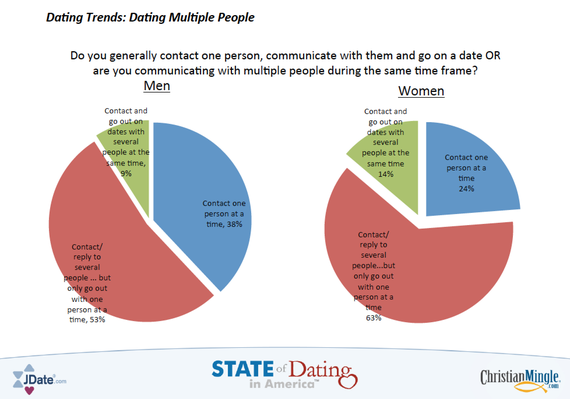 Frankly, I'm surprised at these numbers, as it takes time to get to know someone. Going on a few dates with a few people simultaneously should help the process and help you become a better dater, right? Should one put all of their eggs into one digital basket?
The good news is that the stigma about online dating is continuing to diminish. Two out of three singles in the survey knew people who met as a result of online dating and an overwhelming 94 percent of singles believe that online dating expands their dating pool, with 86 percent saying it speeds up their search as compared to being set up by friends.
Think about it. Online dating is available 24 hours a day, so the convenience factor is there. Still, finding love online can be like finding a needle in a digital haystack. You need to become the "1 in 40 million." At the end of the digital day, it's a numbers game worth playing.
How many dates would you juggle while looking for love online?
Wishing you much love and joy in cyberspace, or wherever you may roam.