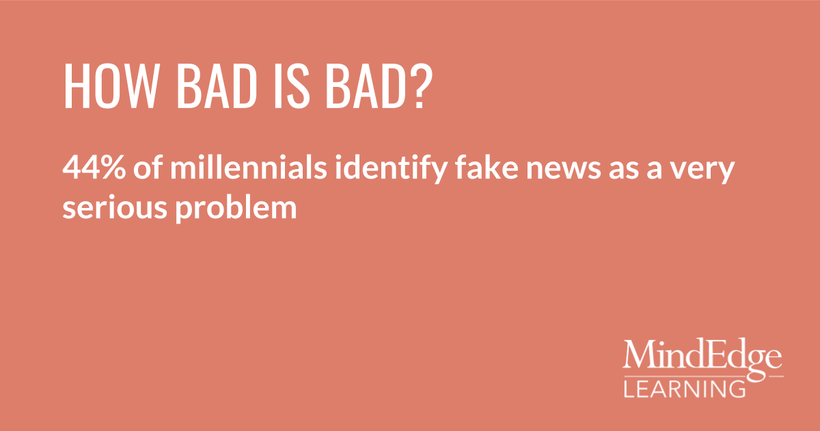 Millennials understand how vitally important critical thinking skills are to success in today's information economy – but most of them aren't very confident that their own skills are up to snuff.
That's the central finding of a recent online survey of 1002 college students and recent graduates that was sponsored by MindEdge Learning (where I work as a senior editor), a leading online learning company. The first annual Survey of Critical Thinking Skills, which was conducted by the polling firm Research Now in early April, shows that 64 percent of millennials believe that critical thinking skills are very important to their "current and future job prospects." Yet only 35 percent of those same respondents feel very confident that they "have the necessary skills to discern false information from websites or other online sources."
Another warning sign: while 61 percent of these young people report that they studied critical thinking in college, only 36 percent think they are very well-trained in critical thinking. Respondents' assessment of their colleagues and peers is even bleaker: only 20 percent feel that their peers and colleagues are very well-trained in this crucial area.
The survey also contained nine "knowledge questions" that tested respondents' familiarity with basic critical thinking concepts and how they should be applied to online content. Unlike conventional survey questions, which seek to measure people's opinions and underlying attitudes, these questions have right and wrong answers.
And, surprisingly often, our survey respondents found the wrong ones.
Fully 44 percent of the millennials we surveyed were only able to correctly answer five or fewer of these knowledge questions – a failing grade, unless there's an extremely generous curve. Conversely, only 24 percent answered eight or nine questions correctly; a paltry 8 percent got all nine right.
Our results also show that a substantial proportion of millennials have inadvertently shared false content through social media. More than one-of-three (36 percent) report that they have accidentally shared inaccurate information; this figure is markedly higher (62 percent) among those who share online content very often.
Taken together, these results suggest that millennials, as a group, don't show the sophisticated critical thinking skills needed to safely navigate the Information Age. But is this problem peculiar to millennials? Hardly.
There's nothing in the research to suggest that millennials suffer from some odd critical-thinking deficit that distinguishes them from the rest of the population. Indeed, as digital natives, today's young people may well be better at sniffing out false online content than their older counterparts.
Dan Kennedy, associate professor of journalism at Northeastern University in Boston and a nationally known media critic, finds some reasons for hope in the survey data. Noting that roughly three-quarters of respondents can identify telltale signs of fake news (76 percent) and can distinguish between fake news and mainstream news or opinion pieces (74 percent), Kennedy sounds a note of cautious optimism.
"Although the respondents seem to lack a certain amount of self-confidence, their skills – their understanding of how to weed out bad information from good – actually seemed to be at a pretty high level," at least with regard to fake news, he says.
Drawing on the example of the students in his journalism classes, Kennedy believes that a lot of young people know enough not to be taken in by false content: "At least anecdotally, from what I've seen, my students are a fair amount savvier than that. They do have a sense of what's quality, what's trustworthy, and what isn't," he says.
(To listen to a podcast of my conversation with Dan Kennedy, click here.)
At the same time, Kennedy notes that there is a vast amount of false and misleading content online – and a marked reluctance, in these highly polarized times, to acknowledge content as false if it happens to support one's ideological preconceptions.
"What the Internet has done is, it has hugely increased the quantity and the velocity of fake news," he says. And, he adds, "We are living at a moment when it is extremely difficult to persuade other people that, 'What you're trying to share with me is fake.'"
The solution to this problem, Kennedy says, lies in large part with educators. "We need to be aware of" the need for better critical thinking skills, he argues. "We need to talk about it with our students. We need to teach it. And I would say that it's needed at all levels" of the educational system, from grade school through college.
In addition to sponsoring the Survey on Critical Thinking Skills, MindEdge Learning has developed an online course that focuses on digital literacy and critical thinking online. You can get free access to the public version of this course – Dig Deeper: Critical Thinking in the Digital Age – by clicking here.
REAL LIFE. REAL NEWS. REAL VOICES.
Help us tell more of the stories that matter from voices that too often remain unheard.
This post was published on the now-closed HuffPost Contributor platform. Contributors control their own work and posted freely to our site. If you need to flag this entry as abusive,
send us an email
.