Will differing politics make a decision on who you select as a date or get serious with -- or even go out on a date with?
The combination of dating and politics makes a hot topic when it comes to matters of the heart this political season.
If your date hates the sound of Hillary's voice or you can't wait to see Trump run the country and he or she disagrees, would it matter in your relationship?
Online dating site PlentyOfFish decided to take political questions such as these to the digital heart by surveying over 4,000 singles in the U.S. on the intersection of love and politics, and found that women are less tolerant than men when it comes to dating someone with a different political view.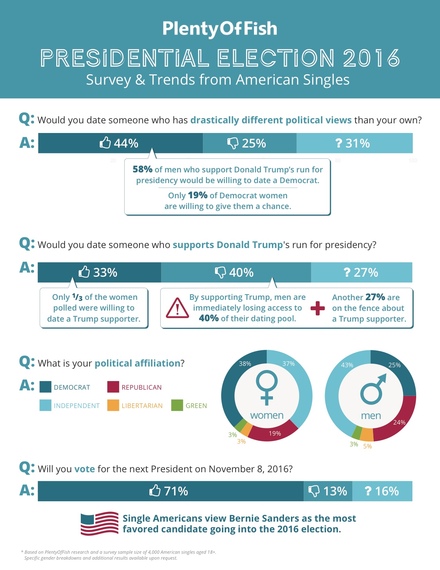 Thumbs Up or Down on Trump?'
Only 1/3 of women surveyed stated they would be open to dating someone who supports Donald Trump, which means that men are immediately losing access to 40% of their dating pool by supporting him. That's almost half of the potential single dating pool in the U.S.
Who is the Average Trump Supporter?
If you're looking to date a Trump supporter, he may be easier to find than you think.
According to POF, Male Trump supporters are predominately Caucasian, in their early 50s with a slightly higher-than-average income and slightly lower-than-average education. The study found that singles with a high school education are more than twice as likely to be a Trump supporter than more college-educated singles.
The study also found that Caucasian men who support Trump are less than half as likely to send a message to someone of a different ethnicity than non-supporters. Interesting.
Single Women Are Picky When it Comes to Politics
Twenty-five percent of survey respondents stated they won't date someone who has drastically different political views than their own. Surprisingly, male Trump supporters are more open to the idea of dating someone of a different political view, with 58% willing to date a Democrat. We assume if she's a Democrat with chemistry, the political issues will rank lower on the political totem pole for men than for women.
However, only 19% of Democrat women are willing to give a Republican a chance.
"Navigating politics in your love life can be complicated, but it's a topic many singles will have to tackle with someone they're dating, especially in the months leading up to an election," says Shannon Smith, Public Relations Communications Manager at POF. "This new data provides some great insight into how singles value political affiliations as a strong indicator for relationship compatibility and shows how polarizing politics can be."
Singles are Feeling the Bern
Among singles polled by POF, Bernie Sanders is the most favored candidate.
Over 71% of American singles plan to vote in the upcoming election, with a large portion of them identifying as Independent. The study found that only 22% of singles identify as Republican and 31% as Democrat.
How to Have "The Talk" With Your Significant Other
Talking politics with your significant other, especially early on in your relationship, can be a touchy subject. "Approach this conversation with caution, and always be respectful of the other person's views - no matter how different they are than your own," says Smith. "We've seen couples overcome much greater obstacles than dating across the aisle!"
In this year's Singles In America study published by Match it was proven that talking about politics increases your chances of a second date by 91%, so don't be shy. Watch the debates together and be open to the possibilities of another opinion posed by your date. Plus, couples passionate about politics are known to have better sex lives.
Support HuffPost
A No-B.S. Guide To Life
Related
Popular in the Community