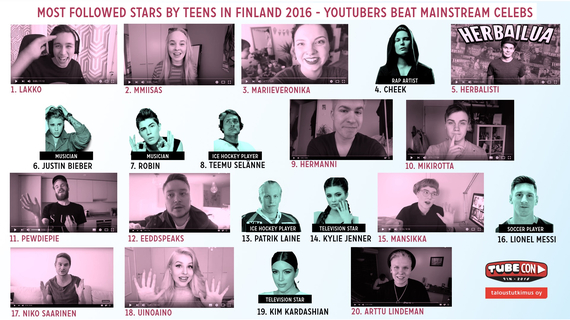 For many, this survey finding is still a surprise. The popularity of YouTube stars among the connected generation has grown quietly under the mainstream radar, and the rise of YouTubers shows that digital stars are now more important to teenagers than mainstream celebrities.
The survey was simple: An independent research company interviewed 500 Finnish teens aged 13-17 and asked them to name 3-5 celebs that they follow regularly.
Here are the three main outcomes of the survey:
YouTubers' dominance Twelve of the top twenty celebrities they followed were online creators with their own YouTube channel.
Fragmentation The top three YouTubers clearly stood out. But after that, an extremely wide range of celebrities were mentioned.
Absence of mainstream stars Only three celebrities in the Finnish TOP 20 list have a background in television and there are no Hollywood movie stars on the list.
The number of YouTube channel subscribers in Finland is accelerating and many of the most followed Finnish YouTube vloggers and gamers doubled their subscription base last year. The industry built around young digital talent in the Nordic countries is booming and the Scandinavian MCNs have repeatedly doubled or tripled their turnover in recent years.
According to another survey, the 15-29 year-old Finnish young adults watch Youtube on average of one hour per day and 57% of them follow youtube on a daily basis. Over half of the entire Finnish population views Youtube videos every week.
The similar study among U.S. teens shows an almost identical relationship between the popularity of YouTubers in relation to mainstream celebrities. We are currently in the middle of a global phenomenon where YouTube stars are leading a major power shift in the future of entertainment.
The writer is the co-founder of Tubecon, the biggest YouTuber convention in Scandinavia.
Popular in the Community