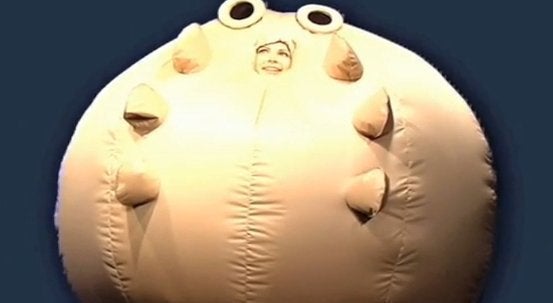 The Yes Men are back and this time they're going green. Nine months ago the group of socially-minded pranksters pulled off an elaborate hoax, distributing thousands of free copies of a fake edition of the "New York Times" dated July 4, 2009. It declared that the Iraq War was over, that Bush had been indicted for treason, and that all public universities were now free.
While the Yes Men, aka Jacques Servin and Igor Vamos, generally practice "identity correction" by pretending to be spokesmen for prominent organizations such as the WTO, McDonalds, or Dow, in the case of their newest prank the men created their own company: SurvivaBall.
"SurvivaBall is nothing less than a self-contained living system--truly, a gated community for one. If you have a SurvivaBall, even if everyone else is dying, at least you can weather all storms."
Of course, while SurvivaBall is its own brand, it was created by America's largest companies (the Website boasts the logos of Shell, Ford, Exxon, GM, etc.) to avoid dealing with their impact on the environment in a non-profitable manner:
"While others look to Senate bills or UN accords for a climate solution, we look to our best engineers. And our expert team has come up with a solution in perfect accord with our values. Technological. Profitable. And, dare we say, beautiful."
A tipster told Gawker that the Website and following video "are just laying the groundwork for next week's stunt" which will include floating a bunch of folks in "SurvivaBalls" down the East River.
REAL LIFE. REAL NEWS. REAL VOICES.
Help us tell more of the stories that matter from voices that too often remain unheard.