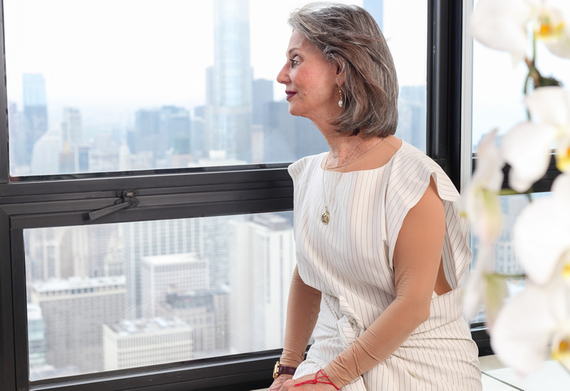 It has been said by a wise man, "that life without organization and discipline is havoc." It is true.
Are you pleased with how you organize and keep track of your daily, weekly and monthly responsibilities? If you are anguishing please read further and learn how I saved my sanity using my own devised system... a combo; my paper 'day' calendar and my 'monthly' MacBook Air calendar app.
My cup is full, as is yours. I lead a very relevant life. It is hard to describe my 'days of plenty.' They are gobbled up with 'constant busyness.' I am occupied, preoccupied, engaged, pressed for time, disorganized yet organized. can't find this paper or that number, often frazzled, always dazzled. This is problematic!
Like many of you, I tax myself to my limit. I know I am not going to change because I want to see... I want to do... I enjoy being all things to all, darlings.
I decided it was time to figure out a new system to better organize my routine, my life! My ultimate concierge gifted me with a beautiful red hard cover paper 'day planner' at the beginning of 2016. It has turned my life from one of chaos to bliss.
From January until May, I said to myself, "Never in a million years will I use the day book calendar." Why, because I had to see my 'month' at a glance on my MacBook Air.
Finally out of utter desperation I picked up my red paper day planner realizing my present system was not working. I was always chasing my papers; not rainbows. I would forget to type in a date on my digital calendar.
Last month I sat down with my pooch Orchid, who always puts me in a relaxed mood, and asked myself, "How can I best keep track of my compiled lists of papers, social, business and other appointments, return phone calls in order of importance, our travels and social life, birthdays, anniversaries, my husband, the Grands, the children, my pooch Orchid, my two homes, the bills, my girlfriends, manicure, haircut, and all the many etc. of my life?"
For those of you who have my problem, I have come to the conclusion that using 2 calendars, a paper 'day journal' and a 'month at a glance' digital, has helped me organize and restructure a semblance of order back into my life.
~ I wrote down phone messages on notepads sitting next to every phone in our house. I had my messages here, there and everywhere.
~ I receive verbal phone messages and return phone numbers on my iPhone that I cannot call back at the drop of a hat. I constantly get beep alerts and notifications that stress me out to the nines! I had no order of recording.
~ I receive at least one hundred daily emails; I color code important ones with red flags and still can't find them. I scroll and scroll and I am, at times, ready to cry out of frustration.
~ I run into someone on the street, jot down a note on my iPhone note app and forget to look at the app!
~ I suddenly remember: someone called, as I am walking down the street, jot it down on a piece of scratch paper and find it 2 days later at the bottom of my purse and say to myself, OMG, I forgot!
~ My digital calendar, occasionally forgets to sync into my iPhone and visa versa.
~ I have, on rare occasions, missed an appointment because I misplaced an appointment card, lying at the bottom of my handbag.
I am pleased to tell you, darlings, most of my unnecessary stress had been alleviated, thanks once again to my ultimate concierge.
My paper day planner has come to the rescue.
All of my reminder notes, appointment cards, phone messages written on little papers, invitations and for lack of a better word, the rest of my stash is gathered together each afternoon and goes into one location... my red daily paper planner.
With red book and laptop in hand, I record 'my stash of the day' where it fits best; either in my paper day planner or on my digital calendar. My invites and daily appointments are recorded in both and my 'stash' of hand written messages on the appropriate page in my day planner. I take my phone messages and notes off my iPhone and record in my day planner, in order of importance. I lastly write by hand my 'to do' list for the following day.
Let it be said that the time I spend doing the above is extremely relaxing and rewarding. I have my life in order at a glance. I am proud of myself.
I have found a perfect solution that fits me 'to a T'. Like a new dress, it always needs a little alteration. I know there is no perfection in life so I am happy, relieved and content using my two-calendar system.
My ultimate concierge, my husband Shelly, once again, came to my rescue. Darlings, I hope, if you need help in organizing your life through a daily scheduling plan, I have come to yours.
Do something GOOD today: Destress & organize your life! Whether it be with an app, scrap paper, or a planner - daily organization can really help relieve some unneeded tension in your life.
Popular in the Community