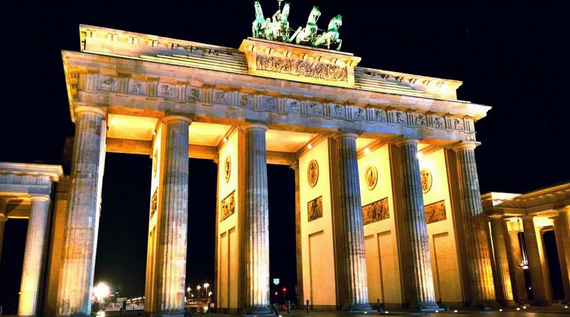 By College Tourist; Author: Ben Rissler, American University
What should you know before taking on Berlin's nightlife?
Whenever I would travel around Europe meeting new people, I always got the same response when I told them I was studying in Berlin. From "how are you alive right now?" to "how many beers can you drink?" to "you must rave every weekend," the reaction was overwhelmingly consistent. All jokes aside, it is no secret that the German capital is deemed to have some of the best nightlife on the continent (even the world), but how can you balance sightseeing during the day and going out into one short weekend? The secret is really not to sleep, but realistically speaking, no one can keep up with the Berliners!
Virtually all 200 clubs in Berlin don't even open until midnight, but the time most people head out is around 2:00am (what even is sleep?). The door policy here is very different: dress down instead of up, the darker the clothes the better, keep your group to a minimum, act like you're not terrified of getting rejected entry, and knowing a little German can help you out tremendously. This all sounds trivial, but Berlin probably has one of the most exclusive nightlife scenes in the world.
One great thing about this city is its open container laws, which you can see being taking advantage of basically all hours of the day, any day of the week. This is not an excuse to get belligerent (very frowned upon in German culture), rather a way to enjoy a few €1 (no, that is not a typo) 0.5 liter beers on the U-Bahn before barhopping and/or clubbing. One recommendation is to always have a plan B or C for going out in Berlin. The chances that your group will not all get into a club are a lot higher than in other cities, so have some secondary options in case things don't work out!
Tresor:
I've been to Tresor more times than I'm proud of, but this abandoned heating plant epitomizes the city's underground techno scene. The club is comprised of three separate floors pulsating with out of this world beats. If you're traveling solo in Berlin, don't be afraid to head here alone; it's a great place to meet amazing people from all over the world in the many chill hangout spots. Follow the flashing lights down the long corridor to the "keller," or basement, for a clubbing experience unlike any other. The DJ behind the cage puts the music-loving crowd into a trance that goes on for 10+ hours until the last clubbers leave.
40seconds:
Taking exactly 40 seconds in the elevator to reach the top of this penthouse club overlooking Potsdamer Platz, 40seconds is perhaps one of the most luxurious nightlife spots in Berlin. Very different from most clubs in this city, it showcases R&B, hip hop, and house music that is probably more familiar than underground techno. Dress your best for an incredible night out here, complimented with stunning views of downtown Berlin while dancing all night long to the hottest tracks currently out.
Ritter Butzke:
Characterized by Alice In Wonderland styled decor, a ceiling comprised of umbrellas, and three dance floors, Ritter Butzke evokes the essence of Berlin perfectly. It started in 2007 as an illegal underground club that transformed into an innovative, electro hot spot. If you're there during the summer months, head to the outside area to experience the "open-air" culture of the city while watching the sunrise, something that can't be done in many other clubs around the world.
Berghain:
What some call the most exclusive club in the world, Berghain is legendary across the world for its hedonistic atmosphere. Some have even gone as far to deem their time in the abandoned power plant a euphoric, religious experience. Open 24 hours on the weekend, this historically gay club attracts club-goers from around the world to try their luck at dancing for hours (even days) in Berghain. The infamous door policy is the strictest in Berlin, so take your chances in the hour-long (or more) line in the hopes of getting into this mecca for techno lovers.
These are only four diverse and different options for a night out in Berlin, but there are so many more amazing places to go! Check out Resident Advisor for a detailed list of all of the city's clubs, including in-depth descriptions, location, and weekly events! Remember to be safe and have an awesome time in the nightlife capital of Europe no matter where you choose to go!