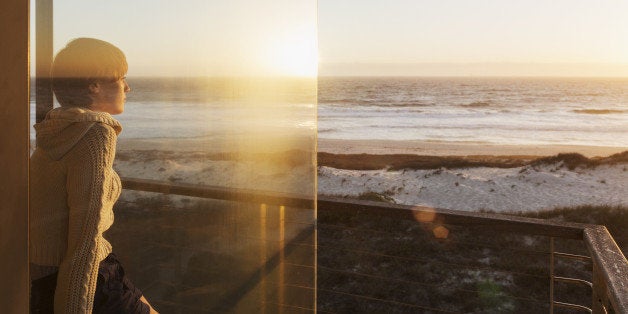 Sometimes it hits me broad side, with full-force. I've been through a lot. I mean, I know it in my conscious mind, but I don't think it registers in my daily thought process. Probably, if the impact of some of the events had a chance to be absorbed, I would likely resemble jelly: unstable and wiggly.

To my credit, I am still upright, albeit barely at times, but upright nonetheless. I am still moving forward, maybe a little slower and more cautious, but still with positive force. And above all, I am a survivor. I have survived some pretty tough stuff. I. Survived. I absolutely love saying that. I don't want to take the risk of conjuring up any cancer spells or grief gods, so I tend to whisper it. But that single statement keeps me going sometimes when I feel like throwing in the towel. I figure, if I can survive this far, a thoughtless comment or difficult person isn't going to break my stride. I survived. But surviving ain't easy.

People often think of "being a survivor" as the end of a journey through personal adversity. This is not the case, as the journey is sometimes long and treacherous. A recovering alcoholic still has to fight the temptation to drink. A victim of domestic violence has to emotionally manage the next intimate relationship. One may make it to the "survivor" plateau, but they may not be able to advance to getting their life back. They are simply going through the motions, crippled by fear, unable to feel alive.
Others make it through a tragedy and actually choose to "live," regardless of the fear manifested. They survive and adapt. They budget for the financial aftermath from divorce. They learn to live with the side effects from the treatment of a disease. They constantly try to fill the endless void from losing a loved one by serving others. There's always going to be stuff to work through, reminders, and "what if's?" As a breast cancer survivor, I am thankful to be alive, although I do tackle occasional fatigue, unsightly scars and the concern of recurrence. I deal with this daily but I have decided it will not dictate my life. I choose to live my life out loud, in spite of the emotional and physical scars. I am going to live my life how I choose until my time is up. For me, there is no other option. Tragedy will not manage my life, I will manage tragedy.
If I could, I would go back to my simple little life, before cancer, before loss, before the knowledge of the monsters lurking under my bed. I would lavish myself in the mundane and celebrate the smallest wonders. Ah, to celebrate a loose tooth, a sunny day or a bike with no training wheels, without the consideration of what might be next. That's where surviving takes us-full circle. Surviving requires us to stretch beyond who we are and reminds us of what's important. We appreciate where we started in life, before being shadowed by fear. Coming full circle, we deal with silencing the fears, cleaning up the mess without getting it on us, and moving forward without tripping and falling into the trough of self pity.
Surviving narrows focus and strengthens resolve. Surviving comes with added responsibilities and can at times, become quite tiring. But the advantage is a clearer picture; an unobstructed view of the good stuff that has always surrounded us. Surviving provides us with the ability to see what might have otherwise been missed. Yeah, surviving ain't easy, but I appreciate the lessons I've learned, the direction it has provided and mostly, the remarkable improvement in my vision.
Need help with substance abuse or mental health issues? In the U.S., call 800-662-HELP (4357) for the SAMHSA National Helpline.
REAL LIFE. REAL NEWS. REAL VOICES.
Help us tell more of the stories that matter from voices that too often remain unheard.