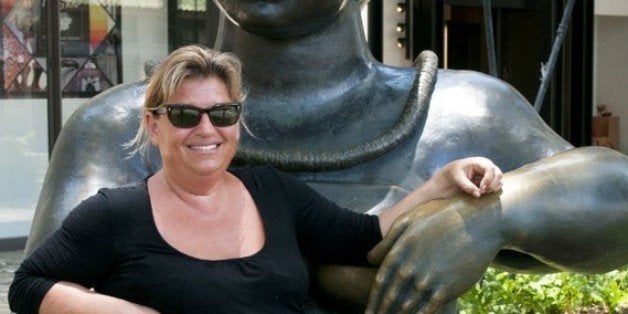 "Cancer. Stage 4. Six weeks of radiation. Teresa, did you hear me? Do you understand?" It was my surgeon. Clouded by pain medication from a six-hour neck dissection surgery for a mass in my deep pharangeal space, I responded, "Yeah, I heard everything. Crystal clear."
My first thought was my kids. Two pre-teen daughters. They were going to be without a mother. My first call was to my husband. My philandering husband. (I had just found out a few months earlier that he had been having a seven-year in-office affair.) I called his cell. Direct to voicemail. Next, his secretary. She tried in vain to reach him. "Golf course," she said. Code word for "with his mistress."
My parents were in the air on a flight to Vegas from New Jersey that hadn't yet landed. Unreachable. I called a friend to take my daughters and proceeded to have my breakdown as my sister-in-law rushed across the state to comfort me. I was inconsolable. I cried for days.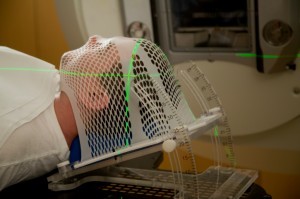 The radiation was brutal. Head and neck cancer treatment is that way. It involved a custom-worn mesh mask bolted to a table so that the radiation beam can strike to a precise area (like the picture of the man to the left).
Within the first week, I lost all saliva. Then went taste. All taste. And finally, I lost my voice.
I battled through radiation burns, mouth sores, thrush and the ability to swallow and pain like I've never known. Exhaustion was so severe I referred to it as the "crash and burns." I could be fully dressed in winter wear (hat, boots. etc) and crawl into my bed and instantly fall asleep for hours. Towards the end of the six-week IMRT radiation sessions, I was sleeping 20 out of 24 hours a day and being taken care of by my parents at their house.
My waking hours and time spent on the radiation table? I wept. Not for the cancer, but because day after day, I hoped my husband would for once show up to a radiation appointment. The radiology team knew this. I will be forever grateful to them.
Once I was able to come home, it was my daughters who cared for me, pouring a store-bought protein shake over crushed ice. They learned the exact ratio of crushed ice to protein shake served with a straw. My husband? Completely absent. Living at home... but living his own life.
I remember hearing him say, "All I can hope for is a speedy recovery or a quick death." To this day, those words are burned into my frontal lobe. My cancer was a nuisance to him and his personal life. He was no longer on my "team."
I was officially at rock bottom. The kids nursed me through almost a year of being bedridden. They were amazing, caring, loving and strong despite being so afraid. Friends took turns making meals daily for us, my circle of support was incredible.
Once I began having enough strength to drive and participate in life again, I decided that if my life and time were as limited as all the statistics stated for Adenoid Cystic Carcinoma, then I had better begin REALLY living. Like, NOW.
One day, I woke up, grabbed a credit card and went to a camera store to pick out a digital camera. I had wanted one for years and, that day, I became unstoppable. (Even got the husband's OK.) I remember looking at all the camera models, basic to professional.
I have been an artist my entire life. Designing, painting, illustrating and logo design. I would be frugal. I always was.
After quite a bit of thought, I decided a base model would not do. It was at the "go big or go home" point in my life, obviously.
I remember signing the receipt in a haze of anxiety. I was doing this. I had shot black and white film by choice, since I was 10 years old, but had never learned the art of the darkroom or developing. I started by signing up for a class at the local community college: Beginner Photography/ Black and White.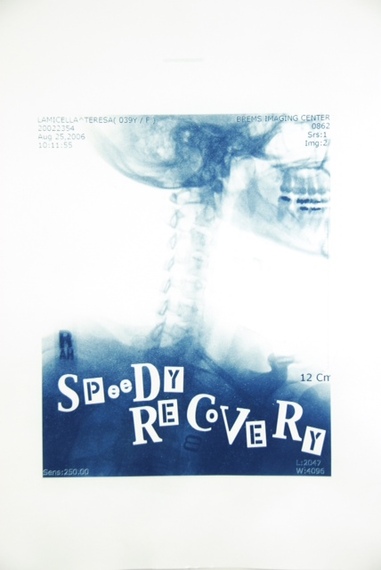 This would be the start of a whole new world for me. I continued classes in both digital photography and alternative photographic process. I had found my niche. The alternative photographic processes required patience, learning from failures, determination, creativity and dedication. I was hooked.
Cyanotype, Van Dyke and Polaroid Processes became my specialties. I learned every nuance and trick. Self taught by successes vs. failure.
I'd spend countless hours in the darkrooms mixing chemicals and coating anything from paper to cotton to silk and experimenting with exposure times and techniques, filling a notebook with chemical recipes and exposure times- like a mad professor.
The darkroom became my "Disneyworld." I dedicated nearly every waking available hour in the darkroom experimenting and perfecting these tedious methods. In time, I became a legitimate master in these processes and have countless images to prove it.
Once the processes were perfected, I began incorporating text, words and phrases with the imagery. And that's when it happened. I will never forget the first piece I created. It was an image of a female mannequin's face along with the words "She did not ask to be a survivor, just refused to become its victim."
After the final rinses in the darkroom, I took the silk sarong in true light and cried. It was beautiful, strong and it moved me. I made more. Different images, different phrases, all telling pieces of a story.
I found a way to create true original and inspirational art. Artists can go their entire lifetime and not find their "artistic voice". I found mine, and I found it through my cancer diagnosis.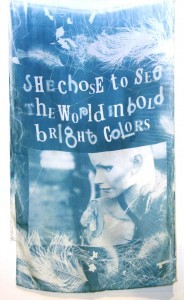 My art, photography and love for words and phrases healed me from the deepest part of my being as a direct result of my cancer diagnosis. I continue to pay my positive outlook forward, volunteering for several cancer organizations.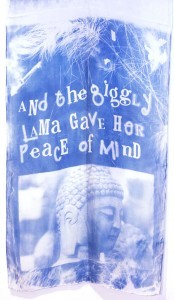 Whether it's being connected as a mentor as a positive survivor for someone recently diagnosed or volunteering my art work or photo journalism skills to shoot fundraising events, I am proud to make a small difference.
I can tell you that I never would have had the amazing life experiences and opportunity to connect with so many people in the cancer community if I hadn't been diagnosed with ACC and choosing an artistic outlet to grieve and heal.
I live a full, intentional and loving life everyday. I enjoy everyday magic. I feel like I make a difference. There is no greater measure of success in life.
Permission granted to use all photos. Teresa continues to work as a respected event photographer in the NJ/NY area as well as creating and showing her art.