Ali Safran wanted to turn the anniversary of the date she was sexually assaulted into something positive. The Mount Holyoke College senior didn't expect the resulting project in its first year to grow into a nonprofit corporation that inspired legislation in California and created classroom lessons used as far away as Turkey.
Safran, now 21, launched Surviving In Numbers on April 1, 2013 -- the start of Sexual Assault Awareness Month. She invited other victims of sexual assault to write on poster board what happened as a result of the attacks, with numbers, then photographed each person holding the poster in front of their face. She arranged to display the photos on campuses in Massachusetts. Word spread. The number of posters grew.
One year later, Surviving In Numbers has helped tell the story of 410 survivors, collected 2,200 Tumblr followers and has had visitors from 12 countries.
"I had no idea or intention of it growing," said Safran, who majors in psychology and politics and still takes a full class schedule. She expects to graduate on time this spring. "I'm glad it's grown, but was definitely not expecting that or intending for that to happen."
Safran was sexually assaulted in 2009, when she was still in high school, by an acquaintance. At Mount Holyoke, in South Hadley, Mass., she began working as a rape crisis counselor and developed a strong desire to help other sexual assault survivors tell their stories, knowing the pressure she faced to stay quiet about her own experience.
At nearby Amherst College, a group of students created a magazine called It Happens Here about sexual violence at the college. It Happens Here included a series of photos similar to Surviving In Numbers, with Amherst victims holding handwritten signs showing statements people had made to them.
The women who worked on the It Happens Here photos were quick to say they did their project with the "inspiration and permission" of Project Unbreakable.
Project Unbreakable follows the same outline of posting photos with survivors displaying hand-drawn posters of things said to them by others. While Project Unbreakable sometimes shows survivors' faces, Safran's project won't.
Safran explained that she wants to show sexual assault is "not going to happen to a specific type of person -- it can happen to anyone." She also tries to put things into numbers, such as the victim's age when first abused, or the number of friends lost since the attack.
In the first year for Surviving in Numbers, Safran saw her project displayed on at least eight college campuses, largely in Massachusetts. She spoke at 11 colleges. She also talked with California lawmakers and with U.S. Department of Education representatives.
Money, of course, is an issue for a college student. Traveling and volunteering instead of working at a part-time job forced her to learn how to apply for foundation grants to help cover expenses, including hiring an assistant to handle the submissions and to help her develop a rape-prevention curriculum for high school students.
"Money would've been helpful, to have more people to help out this year to lighten some of the load," Safran said. "I could've reached more schools than I have so far."
Now she's trying a different route: Fundraising. Safran launched an IndieGogo page on Tuesday, Surviving In Numbers' one-year anniversary, with the goal of raising $10,000.
"Basically the fundraising is to double the impact," Safran said. "I'm hoping to expand this outside of Massachusetts."
Her fundraising effort lays out goals for the project, including implementing her rape-prevention curriculum in classrooms and training teachers. In the first two days, Safran raised more than $3,000.
Safran said she believes the strong initial response is because there's a lack of space for survivors to speak out.
"I think it definitely speaks to people wanting Surviving in Numbers to get more reach this coming year," Safran said.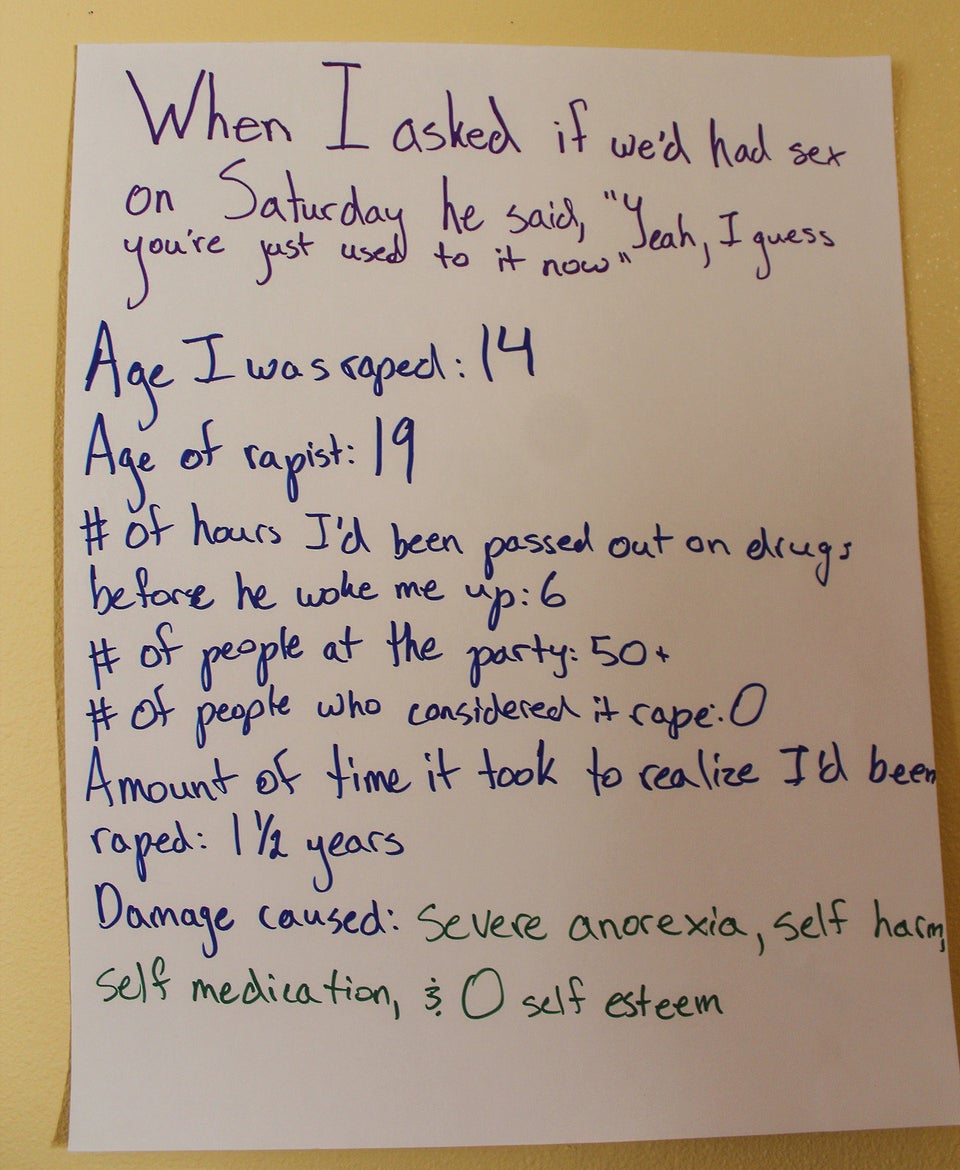 Images From 'Surviving In Numbers' -- A Project Highlighting Sexual Assault Survivors' Experiences