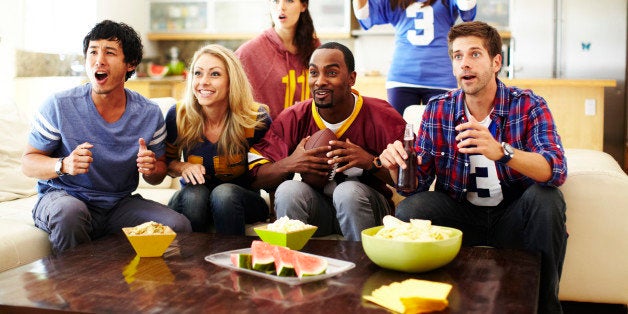 Playoff games are happening NOW and Super Bowl 50 is just around the corner on 7 February, 2016.
Even if you aren't an avid football fan, I bet you enjoy game day festivities and snacks. Most of us do! The Super Bowl is surpassed only by Thanksgiving in terms of the amount of food Americans consume. (Really!) Just take a look at these shocking stats about Super Bowl Sunday food consumption - 11.2 MILLION pounds of potato chips, really?!
For those of us who live gluten-free, traditional football fare can pose an issue -- battered and fried everything, sneaky sauces on wings that may contain gluten and the cross-contamination potential is like jogging in a mine field.
Even though I have celiac disease and MUST live gluten-free, I never miss a party! With a bit of creativity and planning, there's no need for you to, either.
You already know those standard answers when you ask how to handle a situation like going to a friend's home for Game Day...
2. Take your own "special" food.
3. Skip the festivities altogether.
Well, good grief and heavens no! For me, those aren't reasonable suggestions. Instead, how about some real, practical solutions to empower you in your gluten-free life, on game day and every day??
Let's get the gluten-free party started with these tips and recipe suggestions!
Focus on all-natural whole foods to boost nutrition, help you feel full and satisfied and of course, to keep meals and snacks gluten-free. Think of veggie trays, fruit bowls and seasonings that are naturally "safe": lemon juice, salt, pepper and hot sauce.
Don't forget plain, lean meats (steaks and ribs) and poultry (baked "drummettes" or chicken wings free from breading) as excellent choices for metabolism-boosting protein. Deviled eggs make a great non-meat protein snacking option.
Fast homemade salsa is a great example of a flavorful healthy snack option. Before you dip your chip in, remember the potential risk of cross-contamination and hidden gluten hazards when hitting the snack table.
For example, popcorn is naturally gluten free; however, some popcorn may be manufactured near gluten foods, which could lead to contamination.
Many mainstream brands of potato chips and tortilla chips are gluten-free. Always read labels carefully and when in doubt, call the manufacturer to be sure there is no risk of gluten contamination.
Most people want to understand the facts behind why we need to eat gluten-free. If you're invited to a party, tell the host you'd love to bring your signature dish to share with everyone. Ask if there are special dietary concerns for any other guests attending the party and share your understanding about what it's like to be on a special diet. You may actually be a huge help to a host who isn't familiar with serving individuals with food allergies.
Opening the door to discussion in this manner is positive, non-threatening and will likely be an opportunity for you to educate someone about living gluten (and other allergen) free.