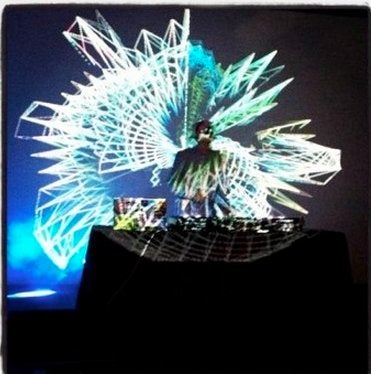 I had the opportunity to go to South by Southwest in Austin, Texas for the first time this year. As I'm sure you've heard, SXSW offers a unique convergence of music, movies and technology. I was surprised to learn that SXSW 2013 featured 2,200 performers and bands playing in more than 100 venues; including 250 independent films, and a showcase of 20,000 hot new technology companies with over 50,000 attendees.
SXSW is a bit overwhelming as a first timer. There are literally hundreds of really interesting, fun activities at every moment of every day. I love independent films, live music and learning about cutting edge technology, so I was in a constant internal battle over which event to attend. You end up bouncing from one activity to the next.
On my first morning at SXSW, I wandered into Sir Tim Berners-Lee's talk about inventing that little something called the: World Wide Web. I hoped for a riveting discussion about a tool that I am completely addicted to, but quickly realized that I was in over my head with all of the coding talk.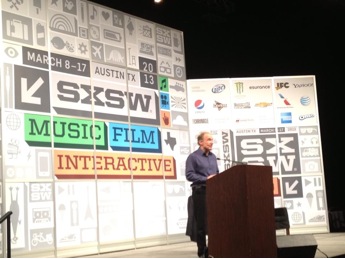 Sir Tim Berner-Lee
Fortunately, there is a SXSW app that you can download on your phone to see what else might be happening at the same time.
My highlight of SXSW was attending two intimate Rally.org dinners hosted by Rally CEO, Tom Serres and his fiancée, Courtney Spence, executive director of Students of the World. Rally.org, based in San Francisco, is the largest online fundraising platform for causes that matter. The dinners included 20 people from the film, tech and media industries. The first Rally.org dinner was at La Condesa, in their historic beer vault that felt like an exquisite secret wine cave. A remnant of a hundred and forty year old general store, the vault has been restored and repurposed for a unique private dining experience. The secluded space is the perfect oasis away from the hustle and bustle of 6th Street where there are endless bars, restaurants and crazy crowded parties.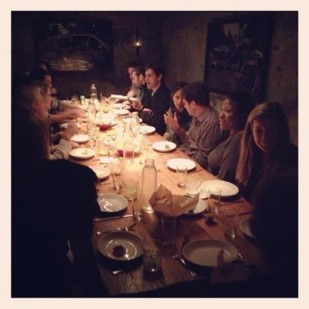 The Rally.org dinner at La Condesa.
The second Rally.org and Students of the World dinner was at a unique spot called Papi Tino. This indoor-outdoor spot mixed traditional Mexican food with a hip Texas flare. San Francisco's Chris Kelly, the former Chief Privacy officer at Facebook, joined us as well as Hooman from Radio Alice.
Rally.org also hosted a "Techies Hang" party with Floodgate Capital, and Silicon Valley Bank at a super cool spot called Bungalow at 92 Rainey Street. I loved Rainey Street where old bungalows have been turned into lively bars and cocktail lounges with ample backyards and porches. After late nights at crowded parties, the "techies hang" was a welcome sanctuary where guests could sit outside in the sun mingling with entrepreneurs while enjoying cocktails, chips and Roy Spence's amazing Royitos "don't do mild" salsa.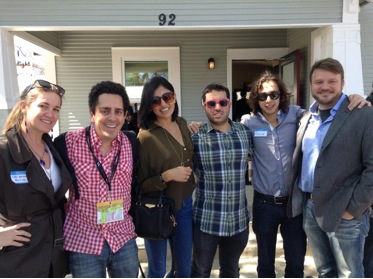 The Rally.org team at the "Techies Hang."
My favorite late night party was the Twitter Feed Party. As I listened to DJ's XXYYXX, and Groundislava, I posted an Instagram photo of the laser show that was then printed out on a computer at the party by simply typing #FEEDsxsw. We discovered that there was another party going on at the roof deck where a movie was being projected onto a wall of the neighboring building. Never a dull moment at SXSW!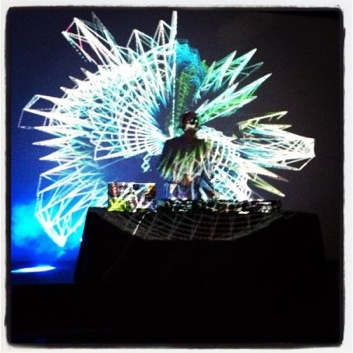 The Twitter Feed party.
By the time I got to the MIT Media party at Parish 1:00 AM, I was too tired to notice that the wristband they put on me said, "That's a nice dress, it would look great on my floor." I wasn't quite ready to go home, so I sat in the corner of the party with my ipad and chilled for a bit while watching a simultaneous projection on the wall of two parties: the SXSW Austin MIT party and the sister MIT party taking place in Boston. Judging by the live video feed, it was easy to see that the SXSW party was WAY rowdier than the low-key Boston MIT party, it was humorous to watch the two juxtaposed next to each other. Finally one MIT partier came up to me and said, "I guess it's cool if you are on your ipad while at a super nerdy party." Then 15 min later the same MIT partier cracked me up by saying, "Sorry, this is not ok! Put away the electronics and let's dance! Nerds rule the world!!!"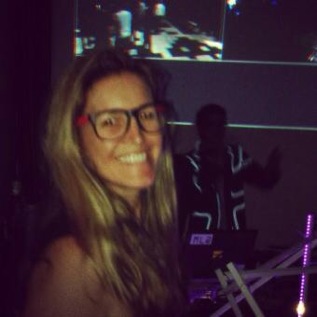 The author at the MIT Media party.
1) Hotels: Book your hotel as far in advance as you can or you will end up like me -- paying five times a normal rate for a room, perfectly placed between a cemetery and a freeway -- with the only nearby excitement being a Denny's.
2) Transportation: Pack your most comfortable shoes, because you will walk or dance the equivalent of a marathon each day. Thank goodness for the abundance of Pedi cabs aka superheroes who carted people around -- sometimes biking for 15 hours a day.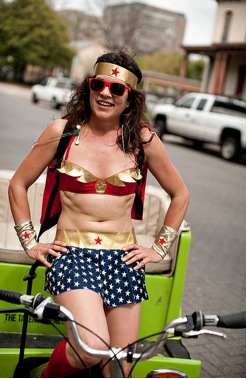 A pedicab superhero who gave me a ride.
If you couldn't find a pedi cab, you could get a free piggyback ride with lyftpiggyback. Lyft, best known for the giant, hot-pink mustache emblem that drivers slap on their cars, came up with a SXSW stunt that got them a lot of attention without getting into legal hot water in Austin.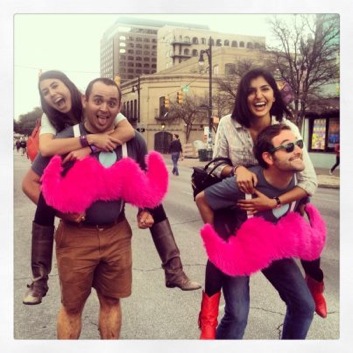 Lindsay and Sachi of Rally.org taking advantage of the lyftpiggyback service.
3) Share with Strangers: Taxis are scarce, UBER was free, but never available, so sharing a taxi ride with new people became the best networking experience - a rare quiet moment to have a civilized conversation and meet interesting people. When I was desperate to get a ride somewhere, I ended up sharing a taxi rides with a reporter for the BBC, a programmer for Sydney Film Festival, and a hip Stanford MBA student from Belgium. All were people I wouldn't have met without boldly hopping into a taxi with a stranger.
4) Films: Be sure to see at least one film, even if you are there for the interactive or music parts of the conference. It is a great escape from the long lines, crowded events and the endless DJ's. Relaxing in a movie theater never felt so good. I highly recommend seeing SPARK -- A Burning Man Story.
5) Parties: There are thousands of parties going on at SXSW around the clock, beware that just because you RSVP and your name is on the list, it doesn't mean you will get in. Team Rally tried to go to certain party (whose name I won't mention) where our names were all on the list. The party planner knew we were on the list but chose to hand select about 40 people behind us to pull into the party. (BAD PARTY ETIQUETTE DUDE!) I contemplated having a Leslie Mann moment from the film Knocked Up to fight Team Rally to get in, but decided to keep my cool and move onto the next party, which there is no lack of at SXSW.
I was blown away by SXSW's confluence of tech, film, music and entertainment. If you plan your days and nights well, you will have an incredible time.
REAL LIFE. REAL NEWS. REAL VOICES.
Help us tell more of the stories that matter from voices that too often remain unheard.