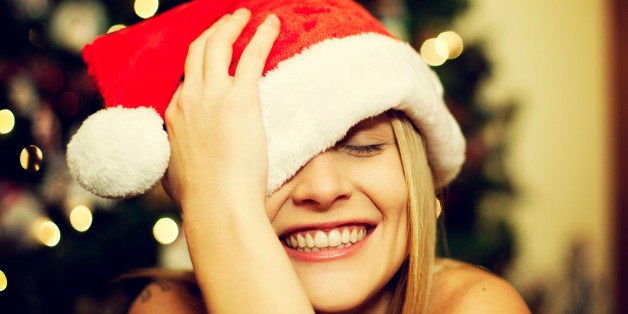 The holidays are an emotionally charged time of year for all of us, but especially for those who have experienced any loss, which, I'd argue, is most of us who are over 30. If you're experiencing your first holidays after a divorce (especially if your kids are spending the holidays with your ex), it's tough to focus your energies on feelings of happiness and gratitude, instead of sadness and resentment.
It's not easy, but rest assured that it does get easier. Here are some thoughts I try to keep top of mind during the holiday season:
1. Assign your own meaning to the holidays. I've heard so many people say they hate the holidays, but that's a bit like saying you hate your life! (Because who is in charge of enjoying your life? You!) Don't give your power away. Yes, it's easy to get sucked into the currents circling around us during the holidays. We feel pressured to buy useless stuff, eat things that don't make us feel good, spend time with people we don't really enjoy (or even worse, are people who are toxic).
There's no way we can do it all, so every year I pick what is important to me. Get clarity on what you want your holiday season to be about. Do you want to take a vacation and go to a faraway place, skipping all the festivities because this is the best time to get away? If I want to have great memories, I have to make the holidays memorable. Do you want it to be about letting the people in your life know how much you care about them in a thoughtful, non-superficial way?
Focus on figuring out what holiday experiences are meaningful to you personally, instead of getting sucked into consumerism and superficial events that leave you feeling empty and depleted.
2. Make plans. Don't wait to be invited to do something, rather, invite your friends to join in on what turns you on! Parties aren't obligations in my book. I say yes when I mean yes and no if it doesn't float my boat. Take control of your experience and embrace the spirit of the season in ways that are meaningful and fun to you. I pick three things I want to do and then make plans, like ice skating, a holiday play or sipping eggnog with friends. Pick your top three and let the rest go.
3. Separate yourself from the past. I love the prayer by Meister Eckhart, "If the only prayer you said in your whole life was, 'thank you,' that would suffice."
There isn't room for resentment and gratitude. So although I may not have a Norman Rockwell family, I can find gratitude for what is good now in my life.
Change is the only constant. If there's a tradition from your past that you want to carry on, fabulous! But if it's not a priority, simplify your life and do only what brings you, and those very close to you, joy. What can you do so that you can feel the magic of the holiday season with a clear heart, the way you deserve to?
4. Keep things in perspective. Can we replace resentment with gratitude? Can you volunteer at an orphanage, foster care, homeless shelter, and hospital? Bringing joy to others not only brings others joy, but places my life in perspective. Build bridges instead of walls.
HOW TO REPLACE RESENTMENT WITH GRATITUDE:
You say grace before meals. All right. But I say grace before the concert and the movies, and grace before the play and jazz club, and grace before I open a book, and grace before sketching, painting, swimming, running, walking, playing, dancing, and grace before I dip the pen into the holiday season.
If gratitude were a drug, it would be the world's BEST-SELLING product, as it produces the release of the feel-good hormones: serotonin, norepinephrine, testosterone, oxytocin, and dopamine.
I keep an gratitude jar, a journal, and each ornament or ribbon placed on a tree represents an intention for what I want to create in my life. If I have a worry, I place the ribbon on the tree as if it's already solved. If I have a goal to obtain, I place the ribbon on the tree thanking that it's already met.
Even if we have hurdles and challenges during the holidays, I can find gratitude knowing there are experts in every field and friends to reach out to. I'm grateful for the people in my life that can help me out when I hit roadblocks and hurdles.
5. Most of all, have fun. Try to reframe and get lost in wonder as much as possible. If I don't want to buy gifts, I don't. We can let people know year-round how much they matter, but Christmas is a time to remind us of the gifts we have in our life.
Sharing experiences are more valuable than material gifts, as the experiences are unique to myself and who I share it with. These memories are what stay with me, not a material gift.
I love shopping and everything I do during this season, as that's the only way to enjoy the journey we call life. Allow yourself to get lost in the little worlds created in the store windows ... really stop and take in the lights and the smells. That's like the holiday version of stopping to smell the roses. In every situation you find yourself in during the holidays, step back and become present and ask yourself: "This is my life, is this how I want to experience this day?" If the answer is yes, you are living an authentic life. If the answer is no, figure out what you need to do to turn that answer into a yes. Realize you have control over your holiday experience. Make having fun your primary goal.
Wishing you the holiday experience you want!
Related