Many a play has been adapted for the silver screen. Some benefit from the ability to expand the action to more locations; others (like Jack Goes Boating) implode under the added weight. In some cases the intensity of a certain actor's performance may not achieve the same kind of brilliance or electricity when blown up in front of a film audience; in other situations the ability to switch camera angles and edit cuts can bring added depth to an already gripping characterization.
Some actors are gifted with such a strong sense of craft that, no matter where they appear, they can't help but draw admiration for the quality of their work. When The New York Times recently posted a clip of Michael Urie's performance in Buyer and Cellar, I was reminded how much I had enjoyed his work in Ugly Betty and some of the movies in which he has appeared.
A multitalented performer who is also a capable director, producer, and awards host, Urie has been impressing audiences since he graduated from The Juilliard School in 2003. That year, the 23-year-old actor appeared in the world premiere of Brian Sloan's play, WTC View, at the New York International Fringe Festival.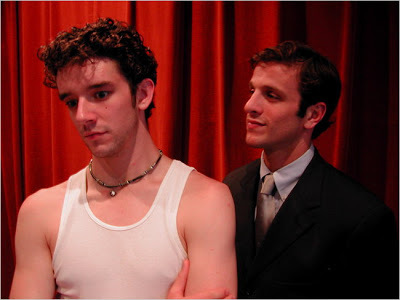 Michael Urie, left, and Nick Potenzieri in the original
production of WTC View (Photo by: Brian Sloan)
WTC View was based on Sloan's attempts to find a roommate for his two-bedroom SoHo apartment in lower Manhattan. The filmmaker placed an ad online on September 10, 2001. The following morning, two hijacked 767s flew into the World Trade Center (not far from where he lived). Sloan's life was instantly turned upside down and yet, on the morning of September 12, potential roommates began calling to ask if they could check out his apartment.
Seven years after Urie captured the hearts of television audiences with his appearances on Ugly Betty, I finally had a chance to sit down and watch WTC View on DVD. Enough time has passed since the September 11, 2001 attack on the World Trade Center for Sloan's play to be viewed from an emotional distance.
In some ways, WTC View may feel like a period piece because of changes in technology. But with more and more actors coming out of the closet (Urie has always been open about his sexual orientation), watching a gay man portray a gay character in crisis is much less of a novelty these days. What WTC View does extremely well, however, is preserve Mr. Sloan's script (which has some beautiful soliloquies) and showcase the blazing talent of a young, openly gay actor in the early stages of his career. WTC View is available on Netflix and is well worth your time.
It's not easy for a powerhouse Hollywood talent to direct and produce a movie and yet manage to keep it a secret until the film's final wrap. But for an extremely busy man like Joss Whedon, things fell into place with surprising ease.
Whedon and his wife, Kai Cole, are the co-founders of Bellwether Pictures, a production company which specializes in "micro-budget" projects.
Having been involved with popular television series like Buffy, The Vampire Slayer, Angel, Firefly, and movies like Serenity, The Cabin in the Woods, and The Avengers, Whedon had developed strong friendships with many of the actors who had appeared in his projects.
Some of those actors had also participated in the Sunday Shakespeare readings Whedon occasionally held in his Santa Monica house (Amy Acker and Alexis Denisof had once read the roles of Beatrice and Benedick in Much Ado About Nothing).
Whedon had wanted to film Shakespeare's comedy for a long time but, until very recently, had simply not found the key to making it work.
Because Shakespeare's play takes place on one man's estate (Whedon has a large house in Santa Monica), he had the perfect location for his 12-day "secret shoot."
When I saw the California Shakespeare Theater's 2010 production of Much Ado About Nothing, the audience's reaction was downright tame compared to what I experienced during a screening of Whedon's film at the 2013 San Francisco International Film Festival. Confused by the audience's ecstatic overreaction to tiny bits of business from the actors, I felt like I was in the presence of an operatic claque that cheers each time a diva's nostrils flare.
Because I have not been watching Whedon's television series or films, a friend dutifully explained that many of the actors in his screen adaptation of Shakespeare's play are familiar to Whedon fans from his other projects. As a result, although Nathan Fillion's portrayal of the buffoon, Dogberry, was underplayed, it became absolutely hilarious to Fillion's fans. As Whedon explains:
"Much Ado About Nothing is a love story that pretty much spits in the face of the idea of romantic love. The text is credited for being the classic romantic comedy because it really is the mother of them all but, at the same time, it's not credited for the cold and incisive intelligence with which it deconstructs the romantic comedies that would even come after. The movie is in black and white partially because it's kind of a noir comedy -- it's very modern. The language, the jokes, and the attitudes translate really, really easily. The actors say the words as they're written in Shakespeare's play. But they connect to a modern audience in a way that portions of the other comedies don't necessarily."
While Whedon refers to this project as a "palate cleanser" after a huge multi-million dollar film like The Avengers, his adaptation of Shakespeare's comedy is so much more than that. This is an extremely intelligent, contemporary approach to a classic play over which Whedon has had complete artistic control.
Because the actors were in modern dress and the film was shot in black and white, there was no need to worry about the authenticity of period costumes or the palette of colors for each shot.
The smallest gestures (Dogberry filching a cupcake from a buffet table on the way to his car) provide the audience with moments of unexpected laughter.
The musical score (composed by Whedon) is a jazzy delight.
Certain comic moments come from the furnishings in Whedon's home (watch how Beatrice hides under a kitchen counter or how grown men try to look normal while relaxing on children's beds).
Unlike many staged productions of Much Ado About Nothing, Whedon's breathless romp and frolic has such a sense of fluidity, intimacy, deft pacing, and consummate style that viewers will find themselves wanting to watch it again so they can catch more details the second time around. Whedon told cinematographer, Jay Hunter (who had worked on several documentaries and reality shows) that he didn't want to use the more traditional, time-consuming dolly shots. As Hunter explains:
"Joss invited me over to spend an entire day at his house, watching the light and observing how the light changed throughout his estate. That was invaluable. I was there from 6:00 in the morning and stayed until probably 7:30 at night, looking at all the different places that we were going to shoot the scenes. The hand-held element of it was one of the more intriguing parts of his approach. We've seen black and white Shakespeare before. Orson Welles did it, and countless others, but I've never really seen this approach. As opposed to watching it from a distance, we're inside the scene. The camera is several feet away from the actors and the actors are twirling around the camera. It felt like it embedded us within the material. Part of that was an aesthetic choice, and part of it was that we only had 12 days to shoot the movie. Hand-held, you tend to be able to work rather fast. You can make small adjustments in the blink of an eye.

Personally, I love Shakespeare. I've seen Shakespeare many, many times, and many different plays, live in the theatre. While I love that experience, I've never really been a big fan of seeing Shakespeare on film (mainly because I feel like it typically ends up being a Merchant Ivory-type experience where everything is bathed in golden light, everything is a dolly shot and they shoot in this sort of standoffish manner where they're using long-lenses, and the camera is far away, framing things up in wide shots)."
Amy Acker (Beatrice) and Alexis Denisof (Benedick) prove to be superb sparring partners while Nathan Fillion (Dogberry) and Tom Lenk (Verges) often underplay the clownish aspects of their roles. Under Whedon's direction, Fran Kranz's buff, beautiful, and easily manipulated Claudio and Jillian Morgese's poignant portrayal of the humiliated Hero become surprisingly contemporary figures.
Sean Maher is appropriately malicious as the evil Don John while the punkish Spencer Treat Clark (Borachio) and Ashley Johnson (Margaret) are surprisingly touching. Others in the cast include Clark Gregg (Leonato) and Reed Diamond (Don Pedro). Here's the trailer:
REAL LIFE. REAL NEWS. REAL VOICES.
Help us tell more of the stories that matter from voices that too often remain unheard.