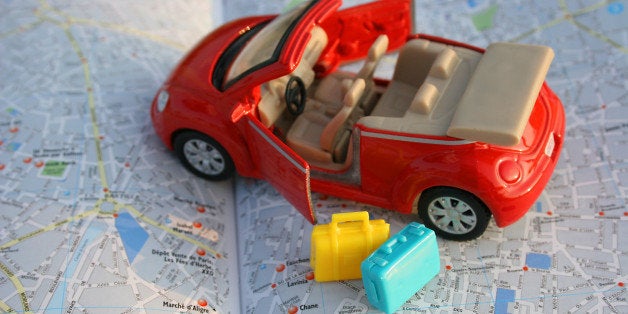 With temps soaring, classes ending and a national holiday hovering on the horizon, a family road trip may be right up your alley. It can be a super adventurous and more affordable way to reach your destination...if you are well prepped.
Take it from me. My family just attended a wedding that took us 20-plus hours round trip, and believe it or not, we clocked in zero screen time--no tablets, smart phones or laptops! (We did take them, we just didn't need them.) In fact, we test-drove a number of these ideas below for a TODAY Show segment and had a blast.
So buckle up, and check out the four categories below that are key to happy times on the trail: plan activities, get comfy, organize your vehicle, nourish your peeps.
Flip-to-Win Hangman Travel Game, $12.99, MelissaandDoug.com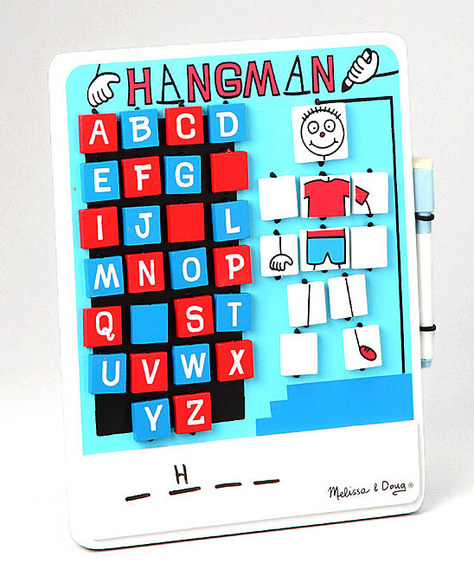 Admittedly games with small puzzle pieces plus a moving vehicle don't mix. But here's a clever and reusable way to play hangman - and the pieces are attached!
Free downloadable U.S. map, mrprintables.com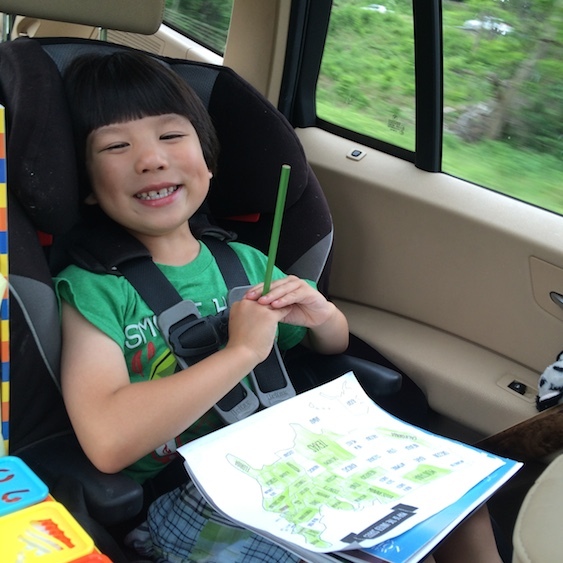 Here's a twist on a classic...State Plates! Download a free, printable map of the United States (for older kids, print out a map that includes state capitals to add another layer of learning). Each time you see a state license plate, call it out and then it's claimed: color in your states with pencils or washable markers as you see them. Either each rider can have her own map OR there can be one map with each family member getting a different color assignment: dad/red, mom/green, sister/blue, brother/pink. It's part geography lesson, part competition - to see who gets the most states filled up before the end of the journey! My kids played this our entire trip.
Reusable Sticker Pads, $4.99, MelissaandDoug.com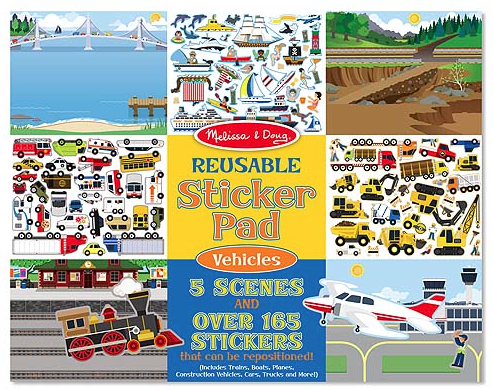 Anything with stickers works well because the elements stay in place despite bumps in the road. Each pad (travel-themed ones include Vehicles, Habitats and My Town) comes with 10 backdrop pages that can be decorated with colorful and reusable stickers. Plus if some accidentally get stuck on a window? They easily peel off.
Travel Friends Total Head Support for Kids from $14.99, toysrus.com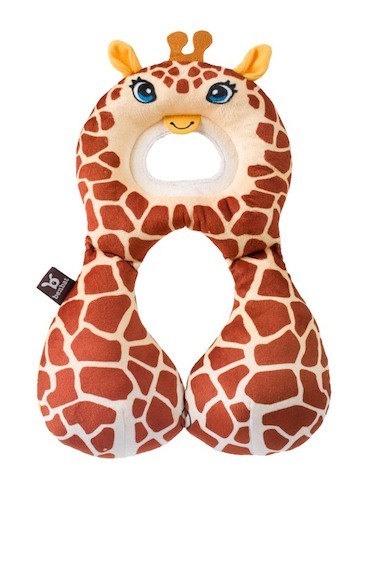 These adorable animal neck pillows for kids, which are available for 12 months and under, 1-4 years and 4-8 years, offer complete head support. A buckle strap secures it to a headrest for additional support.

Memory Foam Evolution Travel Pillow, $34.99, Cabeau.com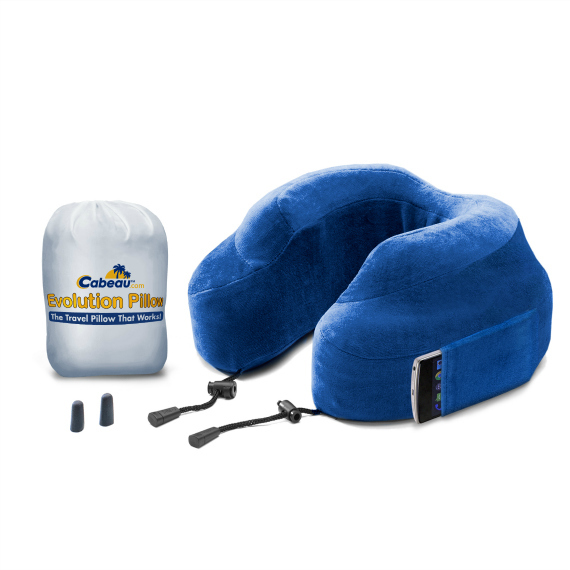 I actually own this pillow that I purchased prior to a recent trip to Asia. It's made of the softest memory foam that conforms to your head and neck with a clasp in the front so your head doesn't bob, and rolls up into a compact ball for easy transport. 10 colors available.
Headphones & Eye Mask $49, 1VoiceNYC.com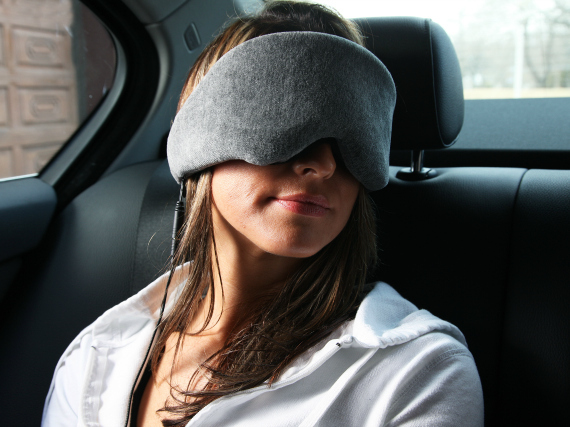 For the adult in the passenger seat who wants to zone out to music and take a nap, this eye mask with built-in headphones should do the trick. Newly available in four colors: black, grey, blue, pink.
Travel Blanket & Pillow, $20, SkipHop.com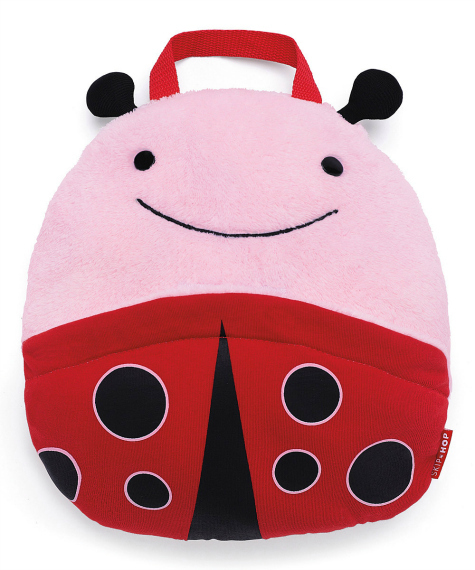 With the AC blasting, sometimes your little one needs a blanket and pillow to cuddle up to for sleep, and this product can convert to either. (Beats bringing the huge bed pillow from home and just as comfy!) Available in owl, ladybug and monkey.

ORGANIZE YOUR VEHICLE

Diono Travel Pal Car Storage Organizer, $14.99, BedBathandBeyond.com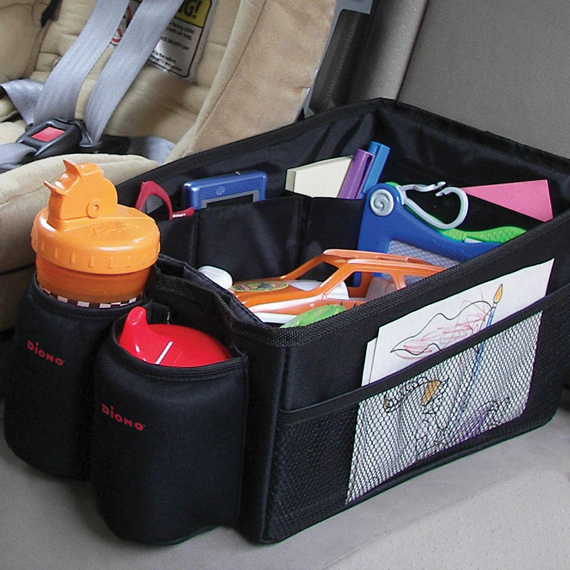 Keep the back seat tidy with this between-the-kid, backseat organizer with a place for sippy cups, books, writing implements, small toys, kid-sized sunnies and more.

ihide Car Seat Organizer with Tablet Viewer, $25; Munchkin.com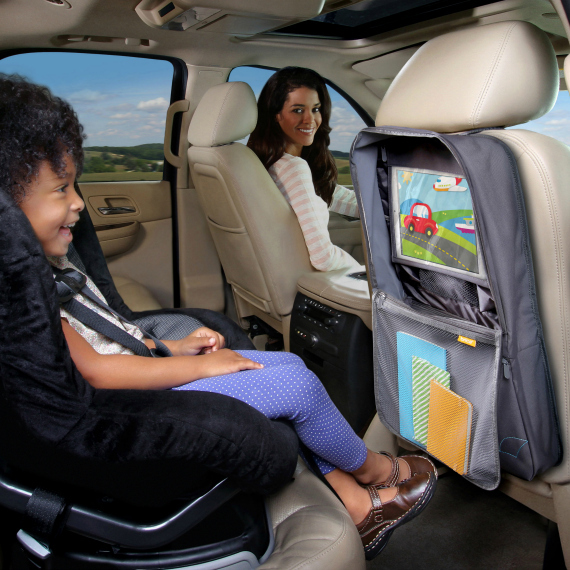 This Brica for Munchkin organizer looks like a posh messenger bag and hangs from the back of a headrest with numerous storage pockets and even a built-in wipes dispenser. A touch-sensitive tablet viewer makes it easy for backseat riders to watch a movie on the go. When screen time ends, simply zip back up to keep items neatly out of view.

Govinci Backpack, $34.99, toysrus.com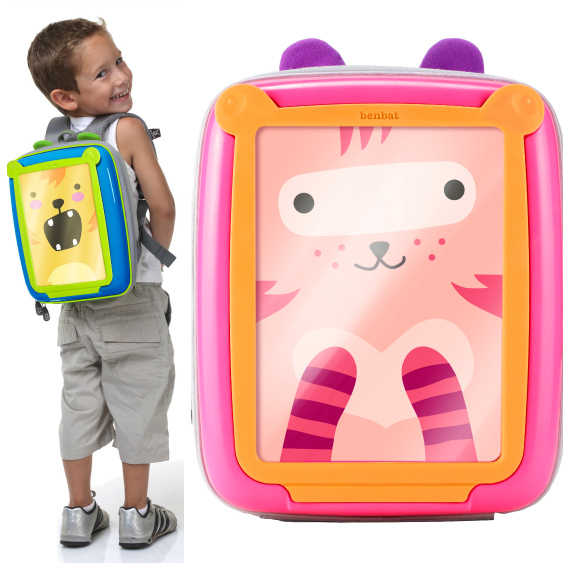 The challenge of a car is there is no surface area to do artwork. But the Govinci Backpack and its hard-case exterior doubles as a kid-sized lap desk, and you can store all of your art supplies within. A paper-holding frame also allows you to show off your masterpieces while on the road. Available in two, newly updated hues.
Hanging Display Case for Phone/Tablets, from $29.95; CarSeatCinema.net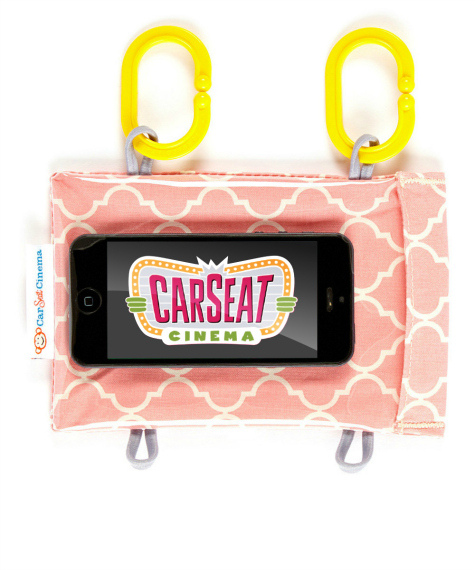 A stylish car-seat attachment for screening your tablet or Smartphone for your kiddos' viewing pleasure! Lots of designs to choose from.
Lunchskins Reusable Snack & Sandwich bags, from $7.99, ContainerStore.com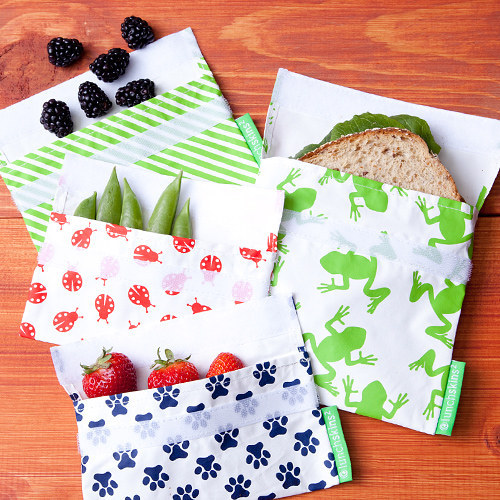 I've learned from ski road trips this winter that one of the best tips is taking entire boxes and bags of snacks, and doling out portions into individual snack pouches for each kid. It's economical and environmental, and each child likes having his own share: plus, they spill less when they're not fighting over the box!

All-in-one Drink & Snack Container, $9.99; GetSnackeez.com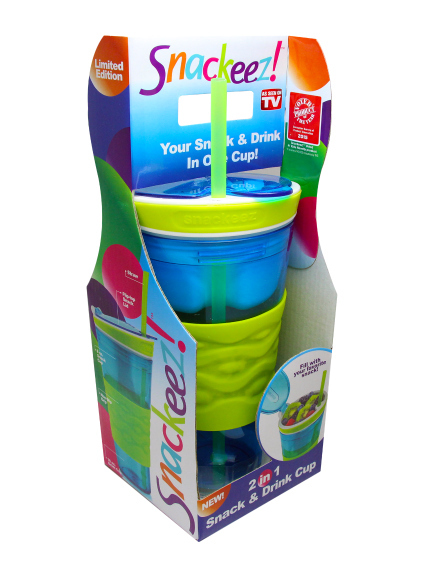 With a lidded snack container on top and a refillable, no-spill drink container below, this "Product of the Year" gem is a hit with kids and a way to control car messes. 4 color choices available.
Popular in the Community