In early January, a Tennessee pastor who stood accused of sexual assault received a standing ovation from members of his evangelical Christian congregation after confessing to a "sexual incident" with a woman 20 years before. Now, the woman who went public with her allegations against her former youth pastor is again speaking out about her experience, this time urging American churches to more fully reckon with their responsibility to sexual assault victims.
"We as a church, of all places, should be getting this right," Jules Woodson said in a New York Times op-ed video published on Friday. "It's unfathomable to me that the secular world, Hollywood, are taking a stand. The church should have been the first group to stand up and say, 'We will not allow this.'"
Woodson came forward in January with allegations against her former youth pastor, Andy Savage. She claims that when she was 17 in 1998, Savage drove her to a private location after a church event in Texas and forced her to perform sexual acts. She said church leaders at Woodlands Parkway Baptist Church (which later changed its name to StoneBridge Church) urged her to keep quiet and promised the church would take care of the matter internally.
Savage later moved to Memphis, where he eventually became a pastor at Highpoint Church. 
After Woodson came forward with her story in January, Highpoint Church initially said that it had "total confidence in the redemptive process" Savage went through after he allegedly assaulted Woodson. Savage was placed on leave after the church received backlash in the national media ― one critic called the congregation's response, which was streamed online, the standing ovation "heard round the world." Savage said during his apology that he told Highpoint's lead pastor about the incident before coming on board as staff.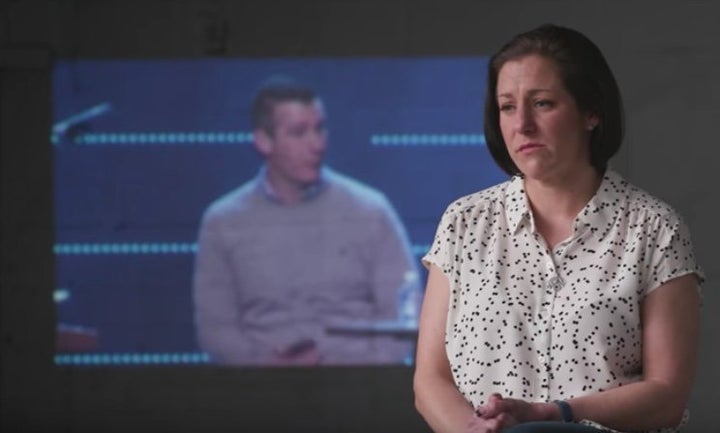 The New York Times filmed Woodson's reactions to a video recording of Savage delivering his apology at Highpoint Church. Woodson criticized the apology, pointing out that Savage called what happened to her a "sexual incident" and repeatedly referred to the fact that it happened decades ago.
"I was and remain very remorseful for the incident and deeply regret the pain I caused her and her family as well as the pain I caused the church and God's kingdom," Savage said during his apology. "My repentance over this sin 20 years ago was done believing that God's forgiveness is greater than any sin. And I still believe that."
Woodson was in tears as she spoke in the op-ed video about the alleged crime and her church's response.
"I looked up to him. I trusted him," Woodson said about Savage in the video. "What happened was a crime. This is not something that the church should handle internally." 
"I want our churches to change how they handle sexual assault," she added. "Sexual assault in the church. It's a crime, not just a sexual sin."
Woodson's words echo the reflections of other survivors of sexual abuse in Christian communities. Inspired by the Me Too movement, survivors have used the hashtag #ChurchToo to share stories of abuse that happens in church settings.
Hannah Paasch, one of the founders of #ChurchToo, claims that a culture of purity in evangelical church settings has created the ideal of a "gentle and quiet" woman who accept the authority and leadership of men. 
"The stories that have poured in through the hashtag prove to me that the evangelical church, in its current iteration, actively supports the confessing abuser over the victim and, in the name of 'having no appearance of evil,' has managed to silence thousands of sexual and physical abuse allegations throughout the years," Paasch wrote in an op-ed for HuffPost. 
Historian Neil J. Young, who studies the religious right, wrote that evangelical churches often tend to place the abuser at the center of the story, making the priority "forgiveness for his sins rather than justice for her injury." 
"It is his words of confession and embarrassment, but also often rationalization, that a church body gathers together to hear on a Sunday morning, not her cries of rage and pain that they must confront," Young wrote in an op-ed for HuffPost. "If #MeToo has been about breaking the silence, the evangelical response has been to allow the abuser's voice to fill the void."
Highpoint has initiated two investigations into how the church handled the allegations against Savage, and whether its current policies are sufficient to safeguard the safety of children. On March 4, the church released a statement saying that the investigation was "wrapping up" and that its initial findings "give us assurance that we can begin the long process of moving forward as a church."
Highpoint did not respond to HuffPost's request for comment.
"Just as the culture around us is waking up to the suffering expressed by the courageous voices of the #metoo movement, we are taking very seriously our commitment to fully understand how our church should minister to the needs of the people we impact," the church wrote on its website.
Calling all HuffPost superfans!
Sign up for membership to become a founding member and help shape HuffPost's next chapter
BEFORE YOU GO
PHOTO GALLERY
Christian Women On Feminism