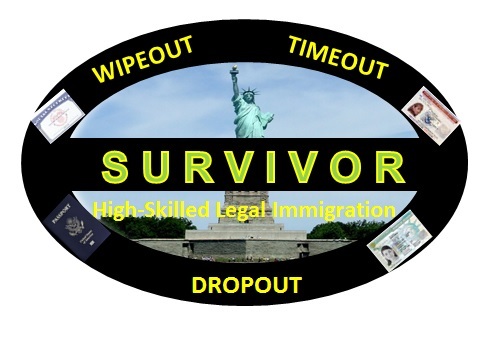 On April 1, 2016, the United States Citizenship and Immigration Services launched a new season of the hit reality show Survivor: High-Skilled Immigration via the H-1B visa program. Being a lucky survivor I have a duty to voice my concerns about the show's future.
This season will likely feature no changes in the settings, challenges, cast or production. Some critics warned the network about a future drop in ratings and popularity of the show. But the producers defend the current platform, arguing that like climate change, a decline in high-skilled immigration is not an immediate threat to the network.
Based on previous seasons' numbers, the prediction is that approximately 233,000 foreign workers, chosen by leading American firms and institutions, will compete against each other with the same ultimate goal: to outwit, outplay and outlast the USCIS. Twenty thousand foreign professionals who earned a U.S. master's degree win immunity, and together with another 65,000, they earn the H-1B visa reward. Ultimately, after winning all challenges, contestants will attend a final Tribal Council during which the remaining are crowned the Survivors and receive permanent residency. The show is produced by the United States Congress.
As in past seasons, contestants compete by breaking into three groups--a bachelor's degree or equivalent, specialty occupation, and wage. Each round of professionals includes individuals from occupations vital to the American economy: mathematics, physical sciences, computer science, IT, telecom, life sciences, medicine, health, education & research, architecture, engineering, surveying, writing and languages, finance, business management, and other exclusive specialty occupations.
Contestants who don't survive the challenges will be eliminated immediately. Following are the top challenges critics have protested against, because of their detriment to the goal of the show, which is to attract the best minds to America.
The Survivor Auction: American employers desperately need high-skilled workers, but the H-1B visa is capped at 85,000 professionals. In this challenge, companies bid on employees.
Outcome: A company and its subsidiaries file multiple H-1B visa petitions for the same worker to increase their chance at winning the lottery. Such practices aren't illegal, but they create a disadvantage for smaller businesses that cannot afford the additional petition costs. As a result, some firms might win the same worker multiple times, while other companies spend an exorbitant amount of time and money seeking a specific foreign graduate of a U.S. university.
The "Second Chance" Challenge: Contestants are tied to the company that petitioned for their H1-B visa. In cases where workers are overworked, unreasonably paid and under promoted, they can receive a second chance by competing for a new employer to file an H-1B Visa petition for them. In order to do so, they must submit about fourteen documents including recent pay stubs. Failure to provide the documents results in immediate deportation from the U.S. No wonder that in the history of the show, low percentage of applicants won this challenge.
Outcome: Goodbye and good luck.
The "Loved Ones" Challenge: Contestants try to stay married, although their spouse is restricted from employment if they are not on a green card path. Due to backlogs or other considerations years are involved in receiving permanent residency.
Outcome: Tens of thousands of desperate professional house-spouses in their pajamas sitting idle daydream about a career they once had. Many will give up and leave their spouse and the United States. This is one of the most inhumane, exploitative parts of the show, but also one of the most heart-wrenching, as the audience experiences firsthand what achieving permanent American residency demands.
Over the years, the show has been criticized extensively by fans, runner-ups and even winners. In 2013, more than 100 fans from the technology sector and leading innovation advocacy organizations--among them Google, HP, eBay, Facebook, Intel, Yahoo, and Oracle--called on the network's president to reform the show. However, the producers remain reluctant, probably because the network keeps tying high-skilled immigration to a comprehensive immigration reform, instead of prioritizing high-skilled immigration, which statistically continues to be the backbone of America's creative innovation and leadership. After all, according to The "New American" Fortune 500 report, more than 40% of the 2010 Fortune 500 companies were founded by immigrants or their children.
Without a massive change, the network might suffer one of the greatest losses since its foundation. Show's reform ideas include allowing foreign workers to remain in the country without being tied to their employers; increasing the number of H-1B visas; eliminating the backlog by creating a fast route to permanent residency; allowing spouses of H-1B visa workers to pursue employment regardless a green card path; and exploring legal immigration options for entrepreneurs, students or trainees educated and employed in the United States.
Your courageous survivor hopes a new platform will be designed, or soon the show will have to change the title to America: Survivor.
Calling all HuffPost superfans!
Sign up for membership to become a founding member and help shape HuffPost's next chapter