Garrett Madison has already checked "climb Earth's tallest mountain" off of his bucket list not once, but six times. Still, there's nothing quite like getting caught atop Everest as the ground shakes beneath you. Madison recounts April 25, 2015, the day Nepal was struck by a 7.8M earthquake, and opens up about life, loss and why he will eagerly return to Everest next season.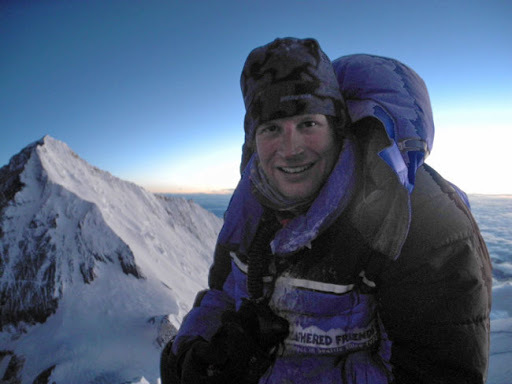 Garrett Madison via ExplorersWeb
A little over one month since the Gorkha earthquake struck Nepal, killing over 8,000 people and injuring upward from 19,000, the Nepali government and UN are calling for more aid as they struggle to provide food and shelter for those left homeless by the devastation. Obliterating several villages, the 7.8 magnitude earthquake was the worst natural disaster to affect Nepal since the 8.0 Nepal-Bihar earthquake of 1934. It was also responsible for triggering an avalanche on Mount Everest that killed more than 19 people, making it the deadliest day on Everest in history.
One could only imagine being one of the climbers scaling up or camping out on Mount Everest that grim day. Seattle-native and legendary mountaineer Garrett Madison was among those who survived the earthquake from an altitude of 21,300 feet and he told his story to Jake Sasseville of the Jake Sasseville Show which covers the intersection of Culture x Consciousness. In the nail-biting interview, Madison gave a play-by-play of the earthquake, the avalanches, and what the restless days following were like.
Garrett Madison has been living his life on the edge (literally) since his youth. From Seattle, he's ascended Washington's Mount Rainier 160 times and Everest, Earth's highest, six times. As a seasoned climber, he has led dozens of expeditions all around the world and knows the inside-outs of mountaineering, a speciality that is high-risk, high-reward. Three days before the earthquake, he and his team were at basecamp and everything was going accordingly. Madison told Sasseville, "all teams were doing very well and there was good energy." He explained that camps are positioned along the mountainside as established locations that are believed to be safe and are somewhat protected. Basecamp is the first of these camps and is considered "launchpoint" for the regular trekkers, as the hike to basecamp is usually not very strenuous. Basecamp on Everest is at 17,500 feet and Camp One is about 2000 feet above that.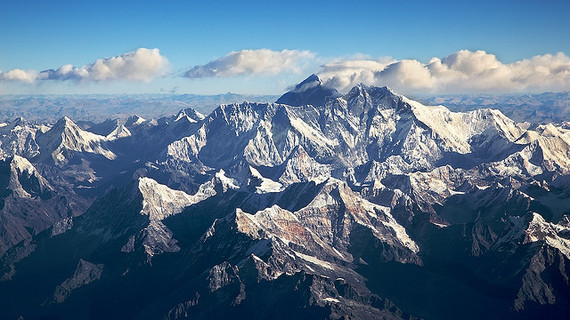 Mount Everest via Flickr
Climbing alongside Madison were three other mountain guides from the United States, 14 clients who pay to climb with a guide, 20 climbing Sherpas (inhabitants of the valley surrounding Everest who are mountaineers by nature and necessity thus are hired to accompany and assist Everest climbers), and about a dozen Nepali staff and cooks. Eve, Madison's girlfriend, was a basecamp medic who had earned a diploma in Mountain Medicine, allowing her to properly care for patients in the technical mountain environment.
On April 25, just before noon NST (Nepal Standard Time) when the earthquake struck, Garrett Madison and his team were about three-quarters of their way up from Camp One to Camp Two. Madison described temperatures and conditions as pleasant and said things were going well when they heard an awful, crashing noise. Unsure of what exactly was going on, Madison assumed the boisterous crashing sounds were due to huge chunks of ice breaking away and he looked around and above for a possible avalanche. Once the ground began to really shake, Madison said it was "like being on a trampoline," and the mountains ice peaks, powerfully shaken by the earthquake, began to break off. Once it was clearly established that what they were experiencing was an earthquake, they continued their way up to Camp Two at a steady pace.
Upon reaching the camp, Madison got word through their Nepalese camp manager that the earthquake caused a horrible avalanche which obliterated basecamp. "The thought of an avalanche hitting basecamp seemed impossible to everyone," Madison explained to Sasseville. Apparently, basecamp has always been regarded as a very low-risk place where climbers could safely seek medical care, so to find that lives had been lost was devastating to the climbers above. Among those killed at basecamp was Madison's girlfriend, Eve.
By this point, "all we could do was focus on taking care of each other," Madison said. He was now in "expedition leader mode" and focused his energy on devising a plan to get himself and his team down the mountain. On the morning of the 27th, two days after the earthquake, they cautiously made their way back down to Camp One where many of the survivors took shelter. Upon their arrival, there were three helicopters taking two survivors at a time down to the base of the mountain where they would then seek refuge in the closest village.
Garrett Madison and those who returned from Everest with him survived one of the worst earthquakes in history atop Earth's highest mountain. Despite the near-death experience and lives lost, he has definitive plans to return to Everest to lead an expedition next season. According to Madison, the South side of Everest which is managed by the Nepali government has had two bad seasons in a row so climbers have expressed the desire to go at it from the North side, which is managed by the Chinese government. He told Sasseville that he has had six very successful seasons climbing Everest and won't let two bad seasons turn him away. Deeming Madison a brave man would be an understatement. He also plans on returning to Nepal this autumn to offer relief work.
Listen to the full interview here