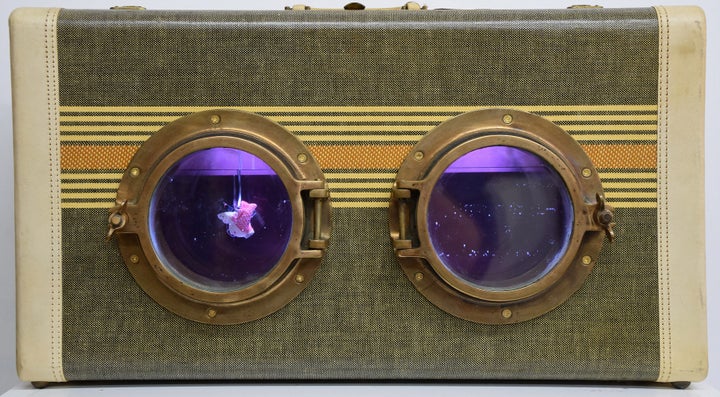 Susan Amorde is a woman with a lot of baggage. The reason that's funny is because in common parlance, baggage is shorthand for all manner of emotional and psychological, social, political, spiritual, karmic, and historical backstories -- the kind that are thought to weigh us down, and slow our progress through life. As an artistic matter, Amorde is more than aware of the narrative and allegorical potential of the language. But in her case, the deployment of what has become her signature iconography is also a poetic, personal, directly aesthetic matter. She's been collecting vintage valises from friends and flea markets, antique stores, ebay, and estate sales, for years, starting well before she began to tap their literary and material power for use in her conceptually engaging and symbolically rich sculptures and installations.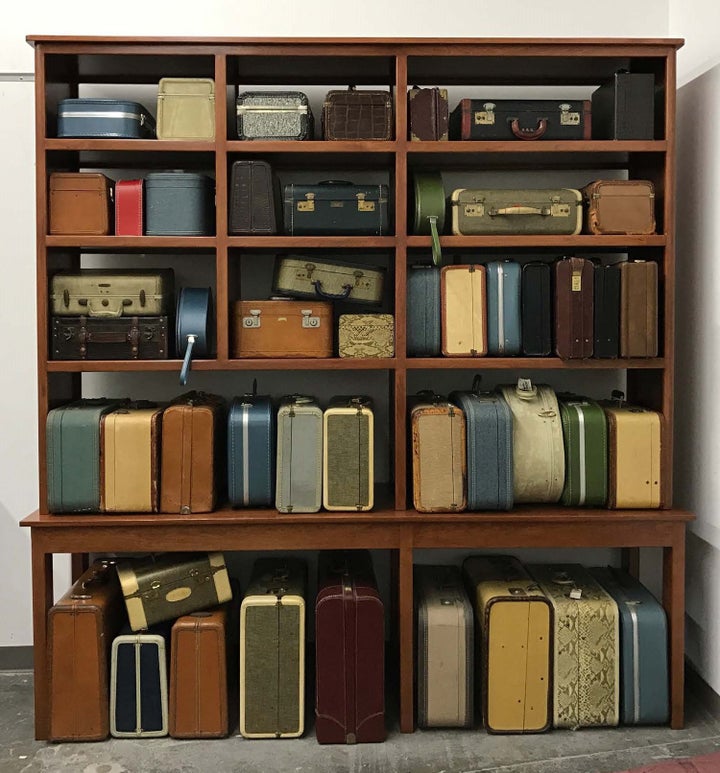 "Baggage Station" is the most straightforward iteration of the gestalt of this series. Its arrangement of an array of gently used vintage travel cases approximates the organic, regulated randomness of an old-timey train depot. In fact made up of carefully chosen and intuitively placed individual baggage, the work is to be read as a single overall sculpture -- a meditation on the fractal interactions between strangers moving through the public transit zones of history. The work invites the viewer to speculation, less as to the possible contents of the bags, and more as to the identities of their absent owners. Every viewer has a different "favorite" which creates a witty conversational dynamic that inspires them to consider the cases' qualities of color, shape, and texture in a recontexualized setting (as in all the best found-object art), as well as setting up an inventive psychological game of mystery, art history and nostalgia for all to play, each according to their own referential backstory -- and yes, their baggage.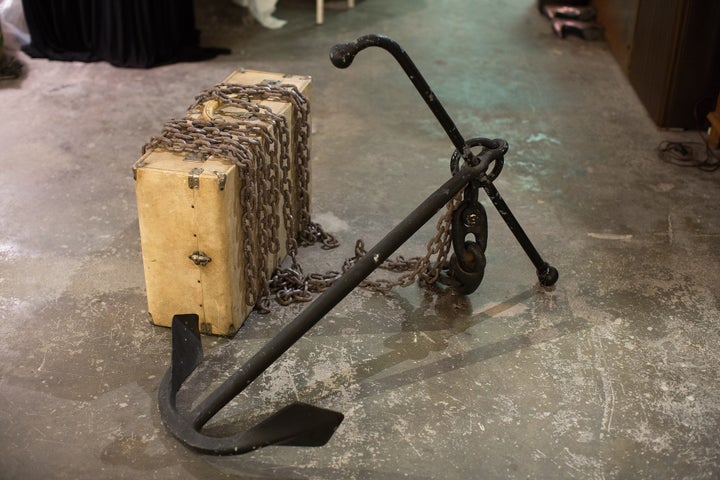 Other series offer up her materials in more overtly modified formats; manipulated, arranged and adorned with gestures and methodologies from painting and surrealist assemblage, adding salient and affecting layers to the found-object foundation. The storytelling metaphors thus achieved are more specifically articulated through the use of such techniques, shaping the direction of meaning. For example, "Block and Tackle" suspends from the ceiling a series of suitcases using a rough nautical rope and weighted by a real anchor, similar to the floor work "Route 66, Anchor & Chains." It is a different kind of travel from a bygone era, as well as a semantic subset of language and iconography with a saltier, more novelistic than cinematic sensibility. The visceral comic/horror of "Wounded Baggage" and "Wounded Baggage II" (wall-mounted in an ornate gilt frame) show the artist's attempt to "kill the baggage" and indeed they are bleeding from their injuries. It's part St. Sebastian, part Macbeth's "slings and arrows of outrageous fortune" and -- because it's Susan Amorde -- part hilarious catharsis.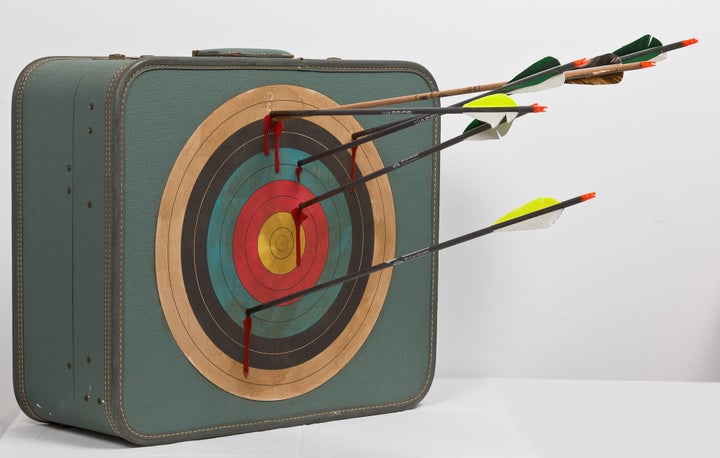 A direct offshoot of the conceptual assemblage pieces, but also a self-contained and ever-expanding series of their own, Amorde's Porthole Cases are, unlike the other case, all about what's inside them. The result of complex engineering and painstaking craftsmanship, she outfits certain bags with vintage brass and glass portholes, creating windows into their interiors. Inside, small single objects or intimately-scaled vignettes are submerged in the water that fills them, and lit from within. Evoking a kind of amniotic, womb-like energy as well as the eerie quiet, distortive light and chromatic diffusions of underwater vision, these works require peering into what feels like a secret space, imparting a sense of discovery. Though literally playing on the idea of what's inside strangers' bags, their narratively impactful contents deliver specific messages, but also speak powerfully to the esoteric aspects of the universe of baggage-based metaphors. This effect is bolstered by the association of water with the subconscious mind, per the dream-interpretation writings of Carl Jung, and others.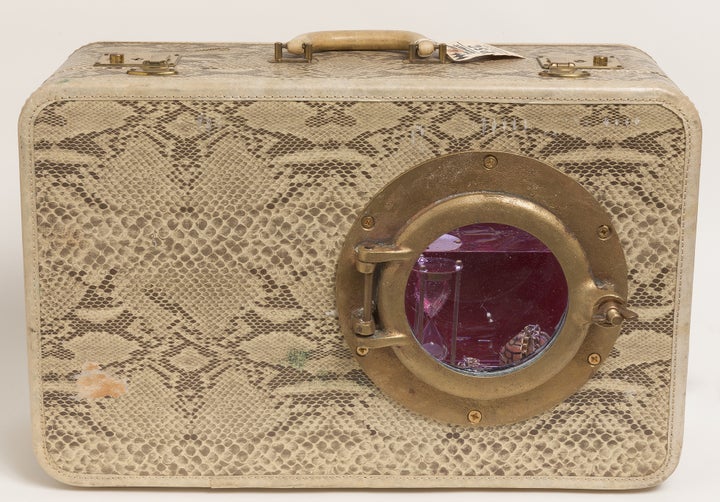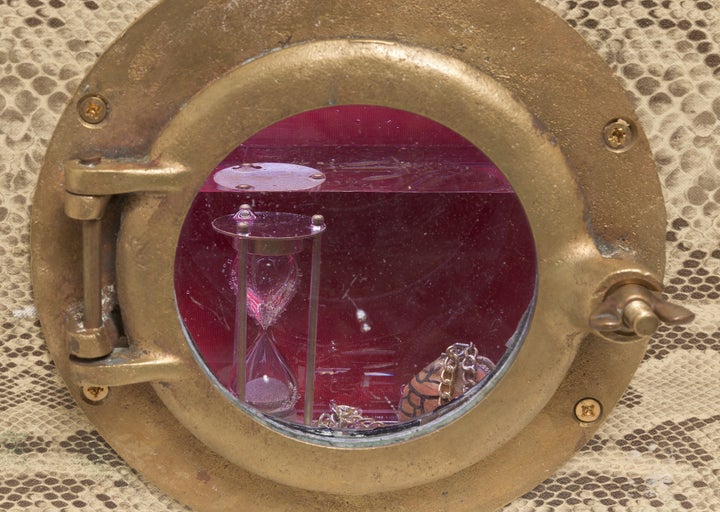 It's important to Amorde to use real water, and not for example, resin that might achieve the same effect -- going beyond the imagery and into specific references to environmental issues surrounding water usage, pollution, entropy, and preservation. The elegant beige and brown reptilian skin of "It's Time" contains red tinted water and an hourglass in its still life; it's dangerous and romantic and deeply mortal. "Drowning in Indecision" features a book suspended on a fishhook -- knowledge we seek but cannot access, encased in a librarian's dream of bookbinding brown. New works in progress have been inspired by a sudden windfall of stunning dark brown crocodile bags, and perhaps the recent headlines of salient discontent. Meanwhile, the rusty bells in "Purple Haze" are starting to leech into the liquid -- an unexpected development but one that Amorde regards as a salient metonymy to be embraced, a haunting aesthetic phenomenon representing in physical form the state of things these works depict -- the vulnerable and fraught movements of humans in the world, body and soul in tow.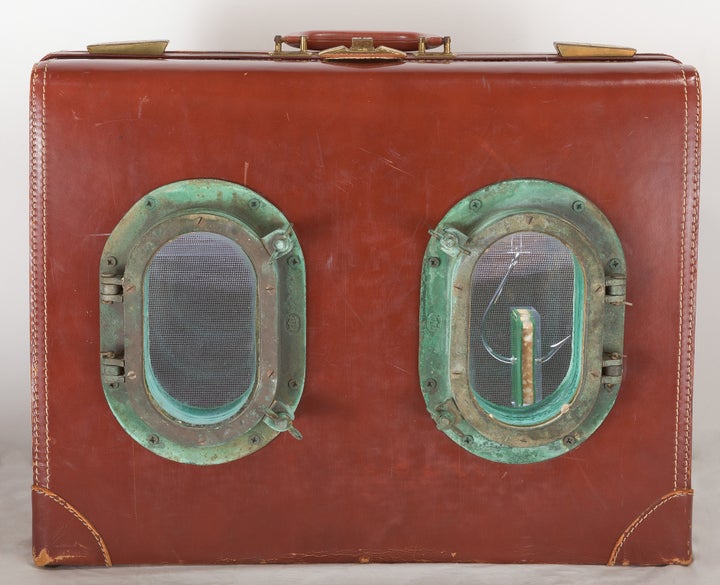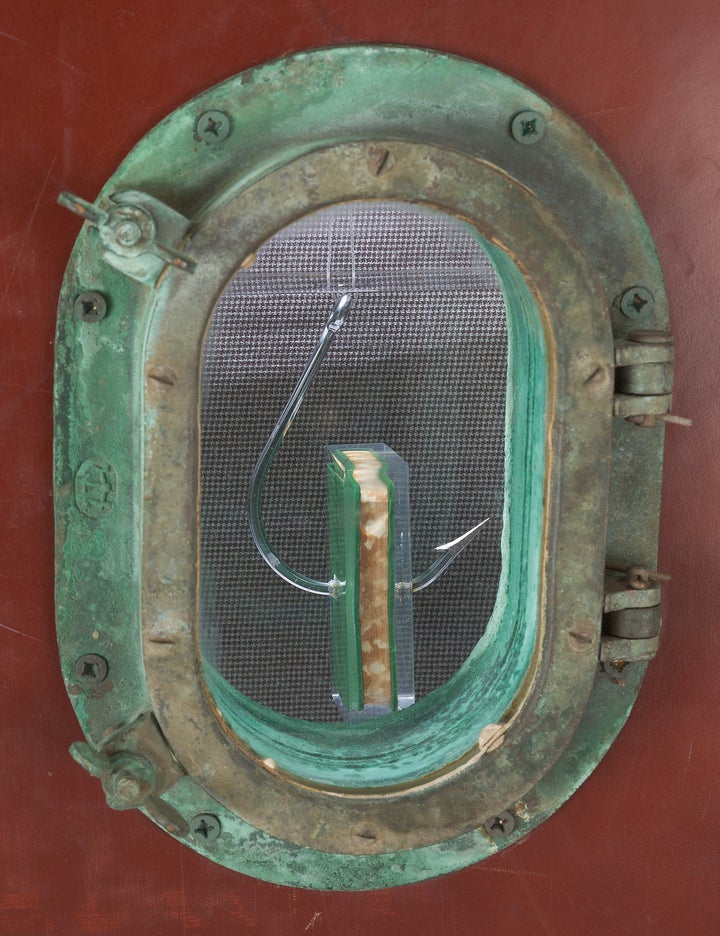 SUSAN AMORDE: IN MY CASE opens April 29, 2017 at LA Art Association | Gallery 825
Related
Popular in the Community