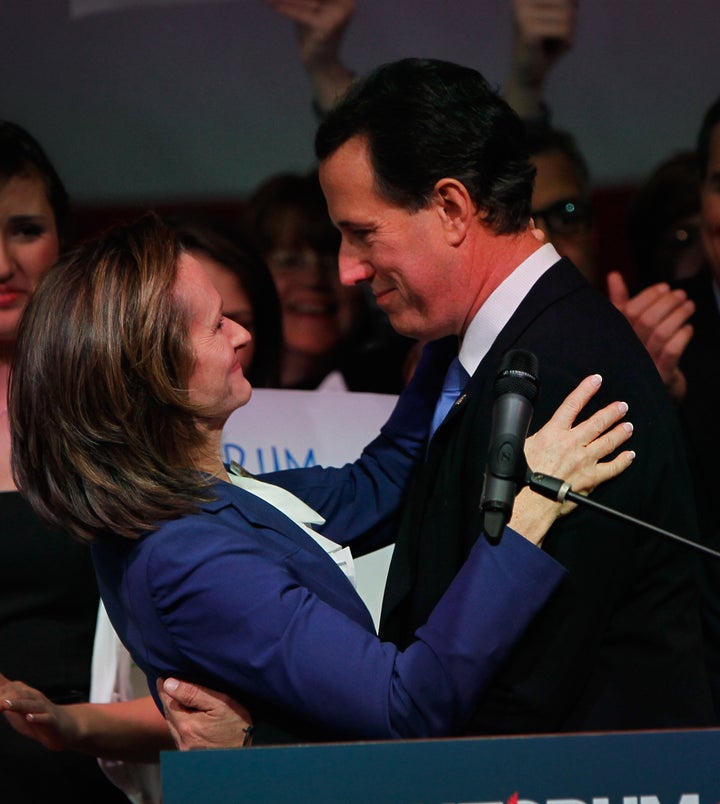 Republican presidential candidate Rick Santorum had a stronger than expected showing on Super Tuesday, defeating frontrunner Mitt Romney in Tennessee, Oklahoma and North Dakota. Susan B. Anthony List, an anti-abortion advocacy group that endorsed Santorum, proudly attributed his performance to the recent debate over contraception coverage and "the importance of social issues to primary voters."
"Sen. Santorum's wins in Tennessee, Oklahoma and North Dakota, and his strong performance in Ohio show voters aren't happy with President Obama's assault on conscience, religious liberty and the rights of the unborn," said Marjorie Dannenfelser, President of SBA List, in a statement on Wednesday. "Santorum has been a consistent and strong leader on social issues, and his candidacy shows the grassroots are energized. Last night's exit polling also showed that Santorum is surging in popularity among young people. They expect a nominee who will fight for them."
While exit polls show that abortion was a critical issue for voters in the states that Santorum won, those numbers cannot necessarily be interpreted to mean that voters aren't happy with President Barack Obama's contraception coverage rule. In fact, reports of low voter turnout in Massachusetts, Ohio and Virginia suggest that the GOP candidates' positions on birth control and abortion may have dampened voter enthusiasm overall.
In Ohio, where Romney very narrowly defeated Santorum, nearly 40 percent of voters -- only a small fraction of whom identified as Democrats -- said they were "moderate" or "liberal" on the issue of abortion. Only 12 percent of Ohioans voting in the GOP primary said abortion was the most important issue to them in this election.
Across the board, fewer women turned out to the polls than men, and a new MSNBC/Wall Street Journal poll shows that the primary races and the events of the past few weeks have caused the public to view the Republican candidates far less favorably.
Beth Shipp, political director for NARAL Pro-Choice America, told HuffPost she disagrees with SBA List's interpretation of Santorum's performance. The birth control controversy "has further depressed the Republican electorate," she said. "Don't forget that Republican women use birth control too. Every time Santorum or Romney open their mouths about it, you have another moderate Republican woman saying, 'To heck with this, I'm not gonna vote for either one of them.'"
Obama said in a press conference yesterday that women will not be single-issue voters in 2012, but that they'll vote based on "what's most likely to make sure they can help support their families, make their mortgage payments, who's got a plan to ensure that middle class families are secure over the long term, what's most likely to result in their kids being able to get the education they need to compete."
Yet Shipp also said that while she agrees that women care about more than just protecting their reproductive rights, women's health issues may play more heavily into the 2012 elections than Obama is admitting.
"I think the president standing in front of a press conference has to say that, but the people on his campaign know very well that for a lot of women voters, this is the most important issue," she said. "Women don't vote just on reproductive health and rights, but that issue does have the ability to cut through the clutter of all the other issues. Our polling has showed that when the president runs neck and neck with Republicans on the economy, reducing deficit, and a host of other things, you give them his message on choice and that makes it for them."
REAL LIFE. REAL NEWS. REAL VOICES.
Help us tell more of the stories that matter from voices that too often remain unheard.
BEFORE YOU GO