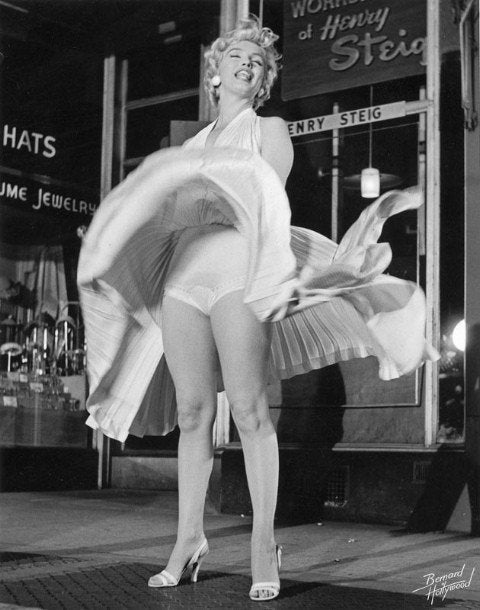 Fifty years after her death, Marilyn Monroe has never been more popular. From "My Week With Marilyn" (now out on DVD) to the TV show "Smash," to a new photo book written by the daughter of the photographer credited with discovering the future superstar, Monroe is still as hot as she was in her heyday.
Susan Bernard's "Marilyn, Intimate Exposures" features previously unseen images of Marilyn taken by her father, Bruno Bernard, including the iconic photo of the blonde bombshell in the white halter dress on the set of "The Seven Year Itch."
Before she became an author, Bernard was famous in her own right: She was a Playboy Playmate and starred in the '60s cult classic, "Faster, Pussycat! Kill! Kill!"
"We're a cult family," she told Moviefone with a laugh. She was once married to "The Exorcist" star Jason Miller and their son, Joshua, starred in two '80s cult films, "Near Dark" and "River's Edge."
"We all have these odd, dark pasts!" she noted.
The Marilyn connections don't stop: Bernard once took an acting workshop with "My Week With Marilyn" star Michelle Williams and is currently working on a film project with the movie's director, Simon Curtis.
Of course, she vaguely remembers meeting the real Marilyn, when the actress came to pose for her father. "She was just another [of my father's] models. I remember someone called Marilyn who had blonde hair and was very sweet. I can't even put it context of 'Marilyn.' I was just a child."
After her father's death in 1987, Bernard began going through his photographs, getting to know both Marilyn and her father through them. She published a Taschen book of his pinup photos and released "Marilyn: Intimate Exposures" last year, which includes notes from her father's journals and outtakes from Marilyn's photo shoots. "I went to all the exhibits and sometimes I'd go to his shootings, but I don't think I really understood the importance of what he did until later years," Bernard said of rediscovering her father's work.
"Intimate Exposures" happened to overlap nicely with the release of "My Week With Marilyn"; Bruno Bernard's photos were exhibited at an early private screening of the film at New York's Milk Gallery.
"It's been a wonderful journey doing this book and sort of being involved in a peripheral way in the film," says Bernard. "It wasn't planned, but it just sort of fell together that way. It's like the book has sort of taken on this life of its own. I think a lot of it is because it's the 50th anniversary of Marilyn's death."
Director Simon Curtis gave his copy to Michelle Williams, Bernard recalled. "She loved it, so I gave him another one." Curtis was particularly taken with one photo of a pivotal moment in Marilyn's career when Bruno introduced her to influential Hollywood agent Johnny Hyde in Palm Springs in 1949. Hyde, the head of the William Morris Agency, became smitten with her and took charge of her career after she'd been let go by 20th Century Fox. Bruno happened to take a photo of the two dancing, with Marilyn towering over the much-shorter Hyde. "My father used to say to Marilyn, 'Whenever you're with Johnny Hyde," who was all of 4'9", "wear your flats.'"
PHOTO GALLERY
Susan Bernard: Marilyn, Intimate Exposures
Bernard had her own career as a pinup and actress: In 1961, she answered an ad in Variety for "an All-American girl who looks good in a bikini," which led to her landing the role in "Faster, Pussycat! Kill! Kill!" as a nice girl held hostage by three psychotic go-go dancers. The low-budget film, directed by mammary-obsessed Russ Meyer, was considered trash at the time, but is now a cult favorite. Bernard was surprised at the turnout when she attended a screening in the '90s. "I wasn't going to go and then my son said, 'Oh mom, you've got to do this.' I got bombarded. A few girls had a tattoo of my character! I signed 101 autographs; they had all this memorabilia. The place was just packed."
Critics have since reevaluated the exploitation film as an ode to female empowerment. "Enough time has passed that I can see it has some socially redeeming features. When I did it, I didn't think in those terms. I was 16. But now I saw [my character] was sort of the heroine. Russ Meyer's characters were strong, even that one. She didn't know karate, but even the teenage all-American girl was very empowered."
Bernard confirmed that she was as terrified of colorfully named screen villainess Tura Satana as her character was during the film's shoot in the California desert. "They gave us this little motel and my mom came with me, thank God, because I was underage. I always thought Tura was going to bang down the door and karate chop me. I thought something awful could happen. And I think they wanted me to believe that." She laughed, "After a while, I started realizing that she wasn't going to do anything." And one perk of wearing a bikini for the entire film: "When I was done, I had a great tan."
When Playboy came calling five years later, Bernard said yes. "I met the Playboy people on a business trip with my father. We went to Hugh Hefner's mansion in Chicago. He asked me, 'Have you ever thought of being in Playboy?' And I said, 'No, I don't think so.'" But, despite her opposition to the then-raging Vietnam War, Bernard decided to do it for the troops. "I thought, 'I will be a liberated woman. Playboy hung in all the barracks. I thought I'd be one of the girls back home they were fighting for." Bernard laughs, "I became the first Jewish virgin standing in front of a Christmas tree. It was seminude, from the waist up, but that was a lot at that time, for me."
Bernard met and married actor and playwright Jason Miller in 1974, just as "The Exorcist" mania was sweeping the country. "He was terribly intelligent, terribly good looking. All the women were mad about him," Bernard recalled. She also remembered attending the Academy Awards with Miller, who was nominated. "It was his first movie, let alone his first nomination, so it was a big deal. It was very exciting. We were sort of the couple that year. My old friend Jay Bernstein, who was a great publicist at the time, told me, "My god, you and Jason were on camera more than Paul Newman and Joanne Woodward."
Their son, Joshua, made his own cult movies in the '80s, the very dark "River's Edge,"about a teenager who murders his girlfriend and then shows off the corpse to his friends, including Keanu Reeves and Crispin Glover. Bernard encouraged Josh to make the film: "I think a lot of other mothers would have told him not to do it, but it was an important statement about the youth of America and what was going on at that time. He hit Dennis Hopper over the head with a gun. How many 13-year-olds can say that?"
Josh next starred as a 50-year-old vampire trapped in the body of a child in Kathryn Bigelow's "Near Dark."
"He wanted to do more interesting roles in the realm of Jodie Foster and this was really compelling. I thought it would be a classic when I read it. Kathryn still keeps in touch with Josh," Bernard said.
Bernard hasn't acted much in recent years, apart from a cameo in "The Mao Game," which Josh wrote and directed and she co-produced. "Every once in a while something comes to me and I'll say, 'Oh, I'll do that, that's fun,'" she said. "Once an actress, always an actress."
Calling all HuffPost superfans!
Sign up for membership to become a founding member and help shape HuffPost's next chapter
BEFORE YOU GO