Sen. Susan Collins (R-Maine) on Wednesday formally announced she's running for reelection, kicking off what promises to be one of the most closely watched races in 2020.
Collins, the most senior Republican woman in the Senate, announced her plans to run for a fifth term in an email to supporters.
"The fundamental question I had to ask myself in making my decision was this: In today's polarized political environment, is there still a role for a centrist who believes in getting things done through compromise, collegiality, and bipartisanship?" she wrote. "I have concluded that the answer to this question is 'yes' and I will, therefore, seek the honor of continuing to serve as Maine's United States senator."
The incumbent has already drawn several Democratic challengers, including Maine House Speaker Sara Gideon and former Maine gubernatorial candidate Betsy Sweet. Flipping Collins' seat is key for Democrats seeking to gain control of the Senate in 2020. 
Collins has long purported to be a moderate, but she often votes along party lines. She drew outrage among her constituents when she cast a critical vote to confirm Brett Kavanaugh to the Supreme Court, despite his anti-abortion views and the sexual misconduct allegations against him.
Her votes to pass President Donald Trump's tax bill in 2017 and to confirm dozens of Trump's conservative federal judicial nominees have also mobilized efforts to unseat her.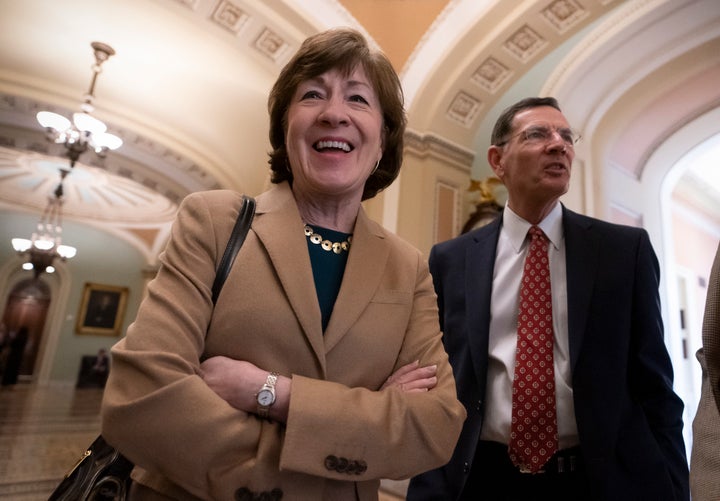 Collins' reelection bid is expected to be the most challenging of her Senate career. 
In the weeks following Kavanaugh's Supreme Court confirmation, two separate crowdfunding initiatives raised millions of dollars for a potential Democratic challenger to Collins. That effort should arm whoever wins the Democratic primary with significant financial firepower.
One of those funds has already pulled in $3.8 million. The senator's 2014 challenger spent only $2.4 million on the entire race.
Four Democrats have announced bids to unseat Collins. In addition to Gideon and Sweet, they include attorney Bre Kidman and former Google executive Ross LaJeunesse. Two candidates are running as independents ― attorney Tiffany Bond and call center employee Danielle VanHelsing ― as well as activist Lisa Savage of the Maine Green Independent Party.
"To say that these are difficult and contentious times is most certainly an understatement," Collins wrote in her email announcing her reelection campaign. "But our country has confronted much more challenging times in our history."
She went on to reference the 75th anniversary of the Battle of the Bulge, when U.S. soldiers stopped Adolf Hitler's final push in World War II.
"That generation found ways to solve the challenges of their era, and I believe that we can as well," Collins wrote. "My commitment to you remains strong, and I am as determined as ever to keep bringing people together, to speak out for the values that unite our great country, and to deliver results for Maine and America."
The Maine Democratic Party, responding to the senator's reelection announcement, noted that Collins pledged during her first U.S. Senate campaign to serve only two terms if elected.
"Mainers are excited to elect a new senator, and Maine Democrats have been organizing," state Democratic Chair Kathleen Marra said in a statement. "With Collins' support in Maine at an all-time low, we've seen volunteer engagement more than double in comparison to the previous off-year and know this excitement will continue to grow."
This article has been updated to include additional comments from Collins' letter and more information about the race.
Calling all HuffPost superfans!
Sign up for membership to become a founding member and help shape HuffPost's next chapter